Bordeaux has been working hard to unpick the impression that all it has to offer are wines at premium price points from elite chateaux. In our Q&A Mary Gorman MW, North America Market Advisor at the CIVB (Bordeaux Wine Council), tells us about her strategy to challenge the current perception, and help a new generation of consumers to discover Bordeaux and all its potential.


You completed the WSET Diploma in New York after relocating from Ireland back in 2002. How did the WSET Diploma help you move from a career in business into the wine industry?
I had already taken the WSET Intermediate (now the Level 2 Award in Wines and Spirits) and Advanced (now the Level 3 Award in Wines) Certifications in Ireland, and I was about to embark on the Diploma when we moved. Prior to the move I had worked in international business and management consulting in the tech industry for over 14 years (for 6 years in Paris as well as in Ireland), so studying for Diploma in NYC at the International Wine Center was a significant game changer for me.
The Diploma programme itself is incredibly deep and broad, covering the entire world of wine as well as the business side. It catapulted me into the US wine world and community, as fellow students included top wine professionals from all aspects of the wine industry – from import, wholesale, retail, and on-premise to wine marketers and journalists. This perfect combination of knowledge and networking helped kick-start my career in wine – which includes wine education, wine competition judging, wine writing, marketing and consulting – and also saw me become a Master of Wine in 2011.
Today you're the North America Market Advisor at CIVB, what does your role entail?
I started working with Bordeaux over three years ago. My mandate was to make Bordeaux relevant again, and to change the conversation from one dominated by the top classified growths with three and four digit price tags that were perceived as inaccessible to regular wine consumers.
In many ways I am the 'face' of Bordeaux Wines in the US. Basically, I am responsible for developing our strategy and the marketing and education plans for North America. I work with The CIVB back in Bordeaux to develop the strategy and then I work with our various agencies here in the market to execute the plans.
Activations include consumer and trade programs as well as PR, digital and advertising efforts. With consumers we try build brand awareness and purchase consideration. With the trade and influencers we try to build engagement and develop marketing and educational support activities for them across the USA.
With thousands of wine choices you have to fight to remain relevant.
How important is the role of education to the CIVB in the USA?
Education is pivotal – probably one of the most important things we do. We have almost 40 Accredited Bordeaux Tutors here in the USA who support us in delivering consumer education and trade training. We also integrate an educational element into all our programs, such as staff training for retail or on-premise promotions, classes at food and wine festivals or consumer events, and masterclasses and seminars at dedicated wine conferences and symposiums.
Bordeaux is a large wine region, with huge diversity of wines – not just red, but also dry and sweet white, rose and even sparkling – and something for every budget and consumption occasion. Education is fundamental to both building engagement with the trade and increasing consumer confidence in navigating the many wines and appellations of Bordeaux.
Bordeaux has typically been synonymous with expensive and fine wine. Are you seeing any changes to this perception in the USA, and what role is Napa playing?
True, Bordeaux has been and still is to a certain extent synonymous with what we call the 'top 3%' of its wines. We are working really hard to change this perception and open wine lovers to the reality of Bordeaux being affordable, accessible and diverse, whilst retaining its hallmarks of quality and authenticity.
Over the past two years we are definitely seeing a renewed interest in Bordeaux – especially the Petits Châteaux,wines that retail under $35, and also in dry white Bordeaux. The US is actually Bordeaux's #1 export market for dry white wines. Wine drinkers in the US love Sauvignon Blanc – hence dry white Bordeaux is perfect for the US palate. In red wines we are seeing most growth in the Bordeaux/Bordeaux Supérieur and Côtes de Bordeaux categories.
Napa has played an important role in driving growth in the US wine market. For us, it helps that many of its wines are made from the same grapes (Cabernet Sauvignon and Merlot) as Bordeaux – so familiarity is not an issue.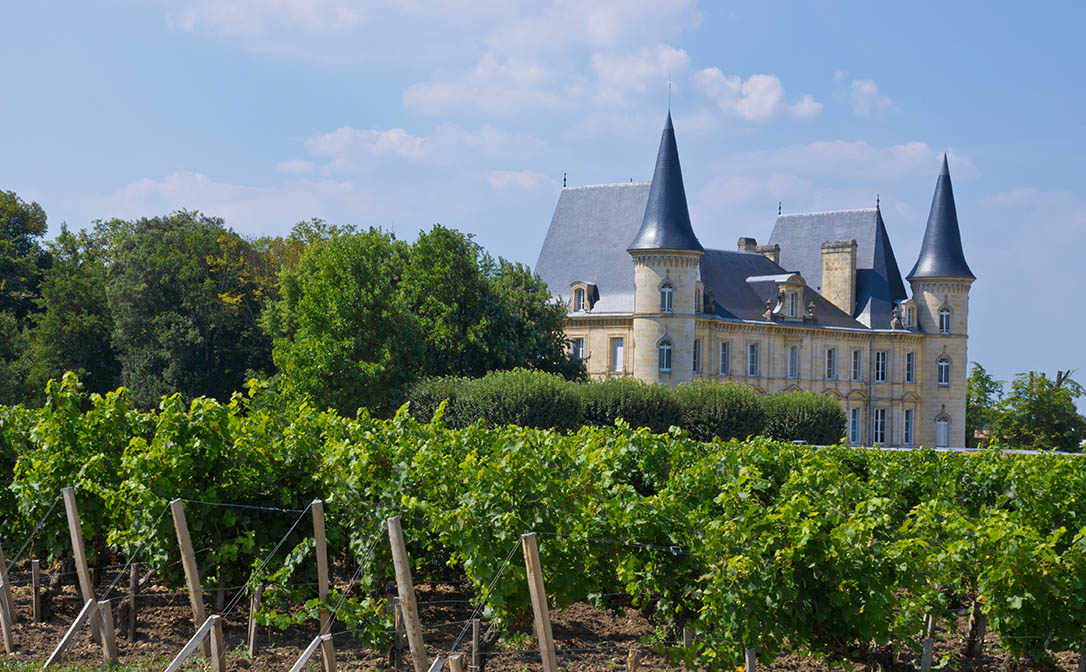 A chateau in Bordeaux
Wine consumer demographics are rapidly shifting in the USA, how is this impacting the consumption of Bordeaux wines?
Particularly with millennials (though I hate using that word!), we see they are coming to wine earlier and that they are more adventurous and curious than previous generations. They were born into a very diverse wine world – one where Bordeaux has had to constantly earn its place at the table.
Gone are the days when all wine drinkers aspired to Bordeaux. Wine consumers today are savvy, with access to so much information at any time. All wine marketers have to work harder to reach today's wine consumer and build loyalty. With thousands of wine choices you have to fight to remain relevant.
You've been teaching at the International Wine Centre in New York since 2002, how has the American wine student changed over the last 15 years?
While a bit clichéd, wine is the 'new golf': the growth in the number of students enrolling has been phenomenal – both wine industry professionals and enthusiastic consumers.
Within the trade it is great to see professionalism develop so much. Everyone wants to have a solid accreditation on his or her resumé such as WSET as it opens doors and enables them to progress their careers.
Likewise for the consumer, the desire to be able to confidently navigate wine lists and wine stores is huge – wine drinkers want to make their own knowledgeable choices, not just take what is offered. In many ways the balance of power is shifting to the consumer and wine professionals all over have to work harder not just to attract consumers, but to retain them medium to long term.
This Q&A was prepared for #WSETweekUSA as part of our #grapetograin series.