Although Kemal Can Ocak DipWSET studied engineering, he was driven to follow his passion for wine. After achieving the WSET Diploma in 2019, Kemal won the AWMB Wine Marketing Award. He frequently serves as a judge at international wine competitions, but his biggest interest is wine photography – Kemal is the founder and owner of the Instagram account "Wine is an art" with more than 100,000 followers from around the world.
Firstly, would you tell us a little about yourself?
I am living in Ankara, Turkey. I spent my early years on the Mediterranean coast where I had an abundance of good quality food and friends. After years of working in engineering, I found out that wine and photography are the two main interests that motivate me in life. My social media channel Wineisanart is a great way to combine my two interests.
Although I haven't thought to monetise my photos, I have been often asked. I do not turn down those requests from people for a larger resolution of my wine photos so they can print them to hang on their walls. It is a feeling beyond money to know that my photos are hanging in the homes of some wine lovers from around the world.

Which came first, your interest in wine or your interest in photography?
This is a very difficult question. My interest in photography and wine grew together. I think they are feeding each other! In 2015, I started to travel more often to different wine regions, which, along with taking WSET courses, furthered my passion for wine. Of course, I wasn't taking wine photos back then. It was while visiting a natural wine producer in Turkey, I was impressed by the magical view of Mount Hasan on my way. Instantly, I came up with an idea to photograph it and add a glass of wine to the landscape. It got a lot of appreciation on Instagram. This is actually how my "Wineisanart" photography series was born.
What was the most challenging photo you ever took, and why?
Crowded places, moving floors, wind all create very difficult conditions. As you can imagine, wine glasses are easily broken, usually, I try to travel with at least two glasses. I remember that a photo I tried to take with the glass in waves in the sea was the hardest. I wanted to make the wine glass seem as if it was floating in the sea. I don't remember how many glasses I broke during the trial shots!
Another difficult photo was the one I took at Maiden's Castle in Istanbul. Usually, I wake up really early to take pictures to avoid the crowds. This time, to shoot a sunset, I had to take the photograph in a crowd of people. There were dozens of people watching me with curious eyes. It was like a movie set. On the bright side, I was followed by 100 new people during the photo session who asked about my Instagram account.
You have now attracted over 100K Instagram followers. What tips would you give to others wishing to build their own social media profiles?
Honestly, I could not have imagined that I could reach these numbers. Since social media platforms have become a necessary way to communicate, you need to learn the dynamics of the social platform you are sharing on to compete with others. Even though the key to success on Instagram is the skilful use of words and photo together to tell an interesting story, that alone is not enough now. You need to think – What is the best time for engagement with your followers? Which #hastags are most popular and are most likely to see your post featured on users timelines?
Unlike in traditional marketing, in my experience of Instagram users, they do not want to see company branding too much. An effective way to catch attention and increase engagement is to show them what is happening behind the scenes rather than posts just about the brand and the products.

How has your WSET Level 4 Diploma in Wines shaped your career? And how have you used it to your advantage in your wine photography?
The WSET Level 4 Diploma is a great way to build a strong professional network and I have started to take advantage of it. It helps a lot, it is a very effective door opener. Since I became a WSET Diploma Alum, I have been asked to be a judge in many international wine competitions. Wineries have invited me to help blend their new vintages. The WSET Diploma has shaped my reputation as a wine professional. It provided me with the knowledge to keep up with the best of the wine world.
Reflecting the knowledge I have learned in the diploma programme in my photographs has also helped me to communicate with wine lovers. A good photographer is actually a good visual storyteller. To take a great wine photo, you need an eye of a photographer and palate of a wine professional. You need to understand the wine region you are in and the wine you are going to photograph. This helps you to reflect its evolution from vine to glass.
Which of your photos is your favourite, and why?
Originally, I had planned to take this photo at sunset (see below), but I broke my glasses in the trial shots. I had to drive 50km to the nearest glassware shop to find replacements! It meant I had to take this photo at sunrise instead of sunset the next day.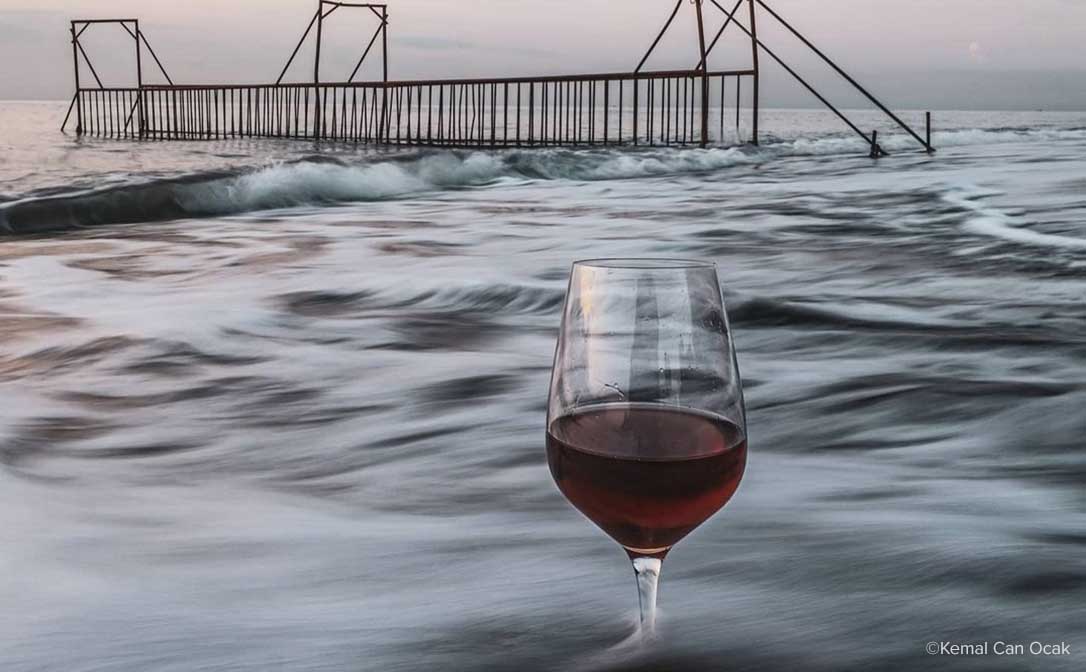 If you had the opportunity to photograph any wine region in the world where would you go and why?
Recently, I've been more interested in volcanic island wines. I would very much like to go to the island of Pico, located off the Atlantic coast of Portugal. I am sure that these volcanic vineyards, which were added to the Unesco World Heritage list in 2004, will present unique images for photographers who like wine. My other choice is Mendoza, Argentina. It would be great to photograph its high mountainous landscapes which gives its wines a distinctive character, with a glass of malbec.
If you're ready to discover where a #WSET qualification will take you, click here to find out more about our full range of qualifications, available both in a classroom and online