If you're feeling a bit overwhelmed by the breadth of choice - of quality, flavours and types of sparkling wine now available around the world, we've created a quick summary of some of the styles you might find – there really is a sparkling wine for any type of celebration.
Champagne
Indisputably the benchmark for sparkling wine. So much so, that many people use Champagne as a catch-all term for all forms of bubbly. To be called Champagne, however, a wine must meet strict criteria; such as coming from this specific region in Northern France and being made using the traditional method. This is typically made from a blend of Chardonnay, Pinot Noir and Meunier. The vast majority is made in a non-vintage style, meaning that the base wine is made from grapes grown in more than one vintage.


These wines tend to have high acidity, with a range of flavours and aromas including citrus and stone fruit. It is premium and typically expensive, though there is a range of styles made across the category. Non-vintage wines are usually the least expensive and tend to show fresh fruit and citrus characters. Vintage Champagnes, made only in the best years, are usually more complex, combining pronounced apple and citrus-fruit flavours with notes of nuts and honey from bottle age. Vintage Champagne is made in very small quantities and can command very high prices.
Keen to learn more about both still and sparkling wines? Continue your journey of exploration with our Level 2 Award in Wines.
Crémant
Though Champagne receives most of the attention as France's shining, or rather, sparkling star, crémant should not be overlooked. French crémants can be made throughout many of the country's wine regions, though the most well-known examples come from the Loire Valley, Alsace and Burgundy, and I've found them reliably delicious and refreshing! Crémant wines are also made in the traditional method, but they are typically less expensive than their more famous relatives in Champagne.
Cava
Cava is Spain's answer to traditional method sparkling wines. This does not refer to a specific region but rather Cava is the Spanish term for bubbles from specific regions across the country. Cava can be made with local varieties or with traditional Champagne grapes - Chardonnay and Pinot Noir. Cavas tend to have lower acidity than their French counterparts, giving them an approachable, easy-drinking style.
Pro tip: To open a bottle of sparkling wine hold the cork still and twist the bottle (not the cork). If you're finding it tricky, use a tea towel to grip the cork and the bottle.
Asti and Moscato d'Asti
For occasions that call for a decidedly sweet, yet refreshing sparkling wine, Asti - a low alcohol, Moscato-based sparkling wine from northern Italy - fits the bill. The best examples of Asti boast flavours of peaches, grapes and roses, making it a wonderful accompaniment to desserts and baked goods. For a slightly drier option, Moscato d'Asti is another sparkling wine from the same region. It is less sweet, lower in alcohol and lightly sparkling in style.
Prosecco
In terms of volume, Prosecco is the most produced sparkling wine in the world, it is made in northeastern Italy from the local Glera grape. Typically, it's best consumed young as its style is fresh, with aromas of green apple and melon, with a touch more sweetness than you'd find in Cava, and is typically quite affordable.
Did you know: Germany is the biggest consumer of sparkling wine in the world, followed by France, USA, Russia and Italy.*
Lambrusco
Most bubblies tend to come in a white or rosé style, but Lambrusco, from central Italy, is a red sparkling wine. Lambruscos range in colour from light, ruby red to deep purple and can be bone dry or semi-sweet.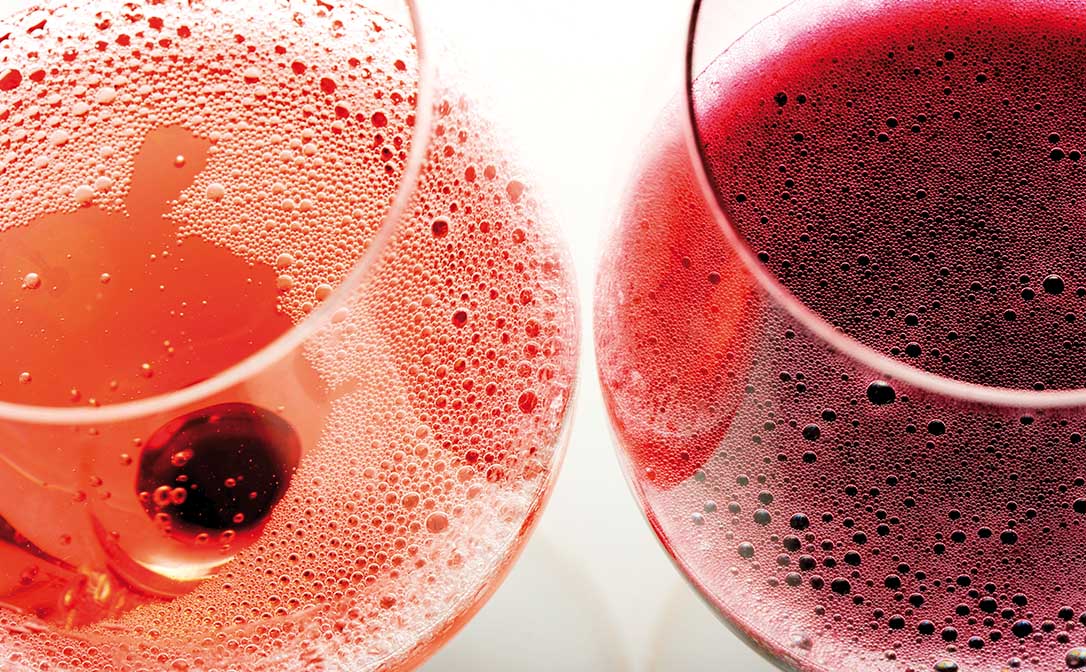 Shades of Lambrusco
Australian sparkling wines
Though Australia has a reputation for bold Shiraz, Chardonnays and Cabernets, the country also produces some elegant and complex traditional method sparkling wines, especially in its moderate and cool regions, like the Yarra Valley in Victoria, Adelaide Hills in South Australia, and Tasmania. Typically, these wines are made with Chardonnay and Pinot Noir.
Sparkling Shiraz, made in regions across Australia, is the Southern Hemisphere's preeminent red sparkling wine. Typically, these wines burst with ripe red berry flavours and are slightly sweet.
Sekt
Sekt is a sparkling wine made in Germany from imported grapes (generally from Italy or France). Very little is exported. Germany is the biggest consumer of fizz in the world and much of this is Sekt! If you're interested in trying Sekt, it's worth looking for bottles labelled as Deutscher Sekt. In addition to being made sparkling in Germany, it must also only use grapes grown in Germany. The best are made from Riesling.
Méthode Cap Classique
Méthode Cap Classique is the name given to traditional method sparkling wines from South Africa. These wines are typically made from Chardonnay and Pinot Noir grapes.
Written by Christine Kamine Account Development Manager – Americas West​
---
Related content: