The popularity of sake is rising globally, with a growing number of Japanese restaurants and sake bars opening. However, building a career around the sake category is still a new challenge.
We interviewed several WSET Level 3 Award in Sake graduates to learn how they started their sake careers. In each post of this series, we are sharing some career tips from someone working in the sake industry. First up is Melissa Mills from Melbourne.
Interested in sake? Whether you're a complete beginner or a more advanced student, there's always more to learn. The best place to start is with our Level 1 Award in Sake.
Tell us a little about yourself and your career?
I studied to be a dentist at university. In my mid-twenties I got itchy feet, and it was time to leave New Zeeland and head off on my big OE (Overseas Experience), funded by working in hospitals in England. Post-graduate study opportunities led to my relocation to Melbourne, Australia and I've made this city my home for the past 30 years.
About 15 years ago my career pivoted from clinical practice into the management area and this shift meant I had more time to develop my love of travel. In 2008 I visited Japan for the first time and that started an addiction for all things Japanese. I went back to university fulltime to study the Japanese language and in 2016 I completed the WSET Level 3 Award in Sake after a friend recommended the course as the ultimate way to bring all my worlds together.  
Melissa Mills (right) with Richard Geoffroy of IWA Sake (left).
You were selected as the best sake student of the year after you passed for your WSET Level 3 Award in Sake. What is the best thing you took away from your experience of studying and what impact have your WSET qualifications had on your career?
I really enjoyed the WSET sake program because, for the geek in me, it had just the right amount of deep diving, balanced by loads of practical sake tasting. The course gave me a framework to hang all the little bits of sake knowledge I'd been accumulating for years, and it opened my eyes to the incredible diversity of sake.
Achieving the qualification was a signal that I was seriously "into" sake, and it really gave me license to keep exploring and learning all I could about sake culture. I had never seriously considered a full-time sake life until I was honoured to receive from WSET Global the opportunity to be an associate judge at the 2018 IWC Sake competition in Yamagata, Japan. Spending a week with so many of my sake heroes, sake industry opinion leaders, writers, educators, importers, sommeliers, and promoters from all over the world really cemented my feelings that there could be a niche for me talking about sake in Australia. In August 2018 I started Sake Connect, a boutique consulting agency, focused on providing fresh perspectives on the sake world and offering solutions to enhance sake understanding for businesses, individuals, and communities in Australia. In 2019 I was also really pleased to close the circle, gaining my educator qualifications to teach WSET sake courses at Melbourne Wine School.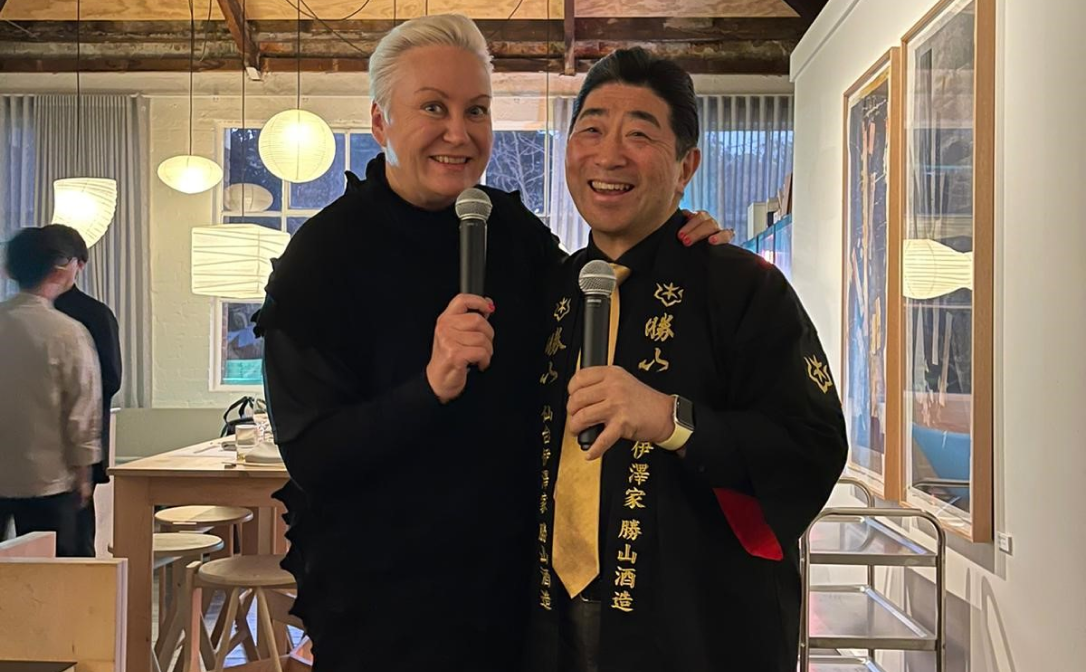 Melissa with Isawa Heizo, President of Katsuyama Supreme Sake, Ltd.
What is the sake scene like in Australia at the moment and what excites you?
In the Australian sake scene, it feels as if 2023 might be our watershed year. New sake brands are appearing in the market, many restaurants and bars are showcasing sake in their menus, and there's plenty of activity in social calendar events for festivals, tastings, and special sake-related dinners. The return of sake producers visiting Australia is a great sign, and it's really helping to increase the visibility of sake and increase brand awareness.
This year I've been excited to see the rise of the Sake Bar phenomenon in the food and beverage scene. These cool "sake only" venues are definitely gaining traction with exciting menus and a vibe that appeals to sake lovers and a younger generation of exploratory sake drinkers.
What do you enjoy most about your sake work?
Working as a sake consultant means that a lot of my day-to-day sake work goes on behind the scenes and I really enjoy the diversity and constant changes that can happen over the course of a day. Having meetings with new venues, planning events and new menus, researching, organising sake training, liaising with new venues and producers in Japan means there is never-ending sake stimulation. Nothing gives me greater joy than experiencing that buzz that happens when a new sake venue is full of people drinking sake and you see their eyes light up when a sake is poured into their glass. It's that moment, the sake conversion, that makes all the hard months of planning worthwhile. That's a major driver.
What are your top tips for anyone studying sake and want to develop their career in sake industry?
I would really encourage people who are studying sake to drink, eat, and read widely. It is a good idea to try and discover all the available sake resources that surround you. Take lots of photos of sake bottle labels and dishes that you've enjoyed with sake, and your learning will always be enhanced if you can write notes to file and recall later. Using a good translation app or software is vital for non-Japanese speakers.
When budget allows, plan a trip to Japan, visit a sake brewery, go to the JSS centre in Tokyo, do more sake educational courses and drink with the locals. The online world is full of amazing sake resources. Stack up on your sake library and read books that will help you explore the category such as "Exploring The World Of Japanese Craft Sake". Listen to the plethora of sake podcasts from around the world, join online zooms, and watch YouTube for brewery releases. Above all get to know and connect with other folk who share your love and obsession for sake, virtual or real; they are undoubtedly your sake friends of the future (and maybe your business partners or bosses).
 Want to know more about sake trends? Catch up on our recent webinar with Natsuki Kikuya, our product development manager for sake.