Esther Martin, a WSET Level 2 Award in Wines graduate, recently got the opportunity of a lifetime to spend some time working at a winery in Rioja. In this blog post, she tells us in her own words how the WSET courses changed her career plans, and how she is keeping busy at the winery.
Recently, I've been thinking about how the choices we make really steer the course we end up on. But sometimes it seems like your plans will never work out the way you want them to. Just when I thought I could do little or nothing to change my circumstances, everything in my life took a different direction.
Originally from Spain, London has been my physical home for almost two decades. Experiencing life's ups and downs, balancing parenthood with a career in journalism, 18 years went by. But when the global COVID-19 pandemic halted everyone in their tracks, it provided me the pause I needed for introspection.
Esther taking in the views at San Vicente de la Sonsierra, where the winery is based. (Photo credit: Ainhoa Mouriz)
How WSET changed my career path
Stop… breathe… take time to really think… is it here where I want to be? Is this how I want to continue living my life?
Fast forward 20 months, and I am here at Hacienda López de Haro Winery. I have been given and taken the opportunity to live and work in Rioja. So far, it has been a truly remarkable journey. It has deepened my appreciation of wine as it makes its journey from the vine to the glass; it is not an understatement to suggest it has reshaped the course of my life.
So after my initial existential musings, it was a conversation last Christmas with an old friend, a chef in Madrid, that sparked this change. He knows my passion for wine and suggested I explore this further through the WSET courses.
Could I really build a career around something I'm passionate about? I didn't give myself time to think, and in January 2023, I enrolled in the WSET Level 1 Award in Wines. There was no turning back. This course for me was an essential introduction to the world of wine. Each module was a revelation. Previously, I only knew a few names of the most famous grapes. But at the end of the course, I knew about the process of fermentation, main grape varieties, types, and styles of wine… and tasting started to make sense for once.
Onwards and upwards, the following month I was preparing for WSET Level 2 Award in Wines. I was on a voyage: the more I learned, the more my passion and understanding for wine grew. A month on from arriving at Hacienda López de Haro Winery, I now welcome winery visitors and realize how far I have come. Thanks to my WSET education, I'm not just witnessing the winemaking process - I'm part of it!
The WSET Level 2 Award in Wines is a beginner- to intermediate-level qualification exploring wines. It is suitable for industry professionals as well as wine enthusiasts. Find out more about this qualification today.
How I spend my days in Rioja
In this charming corner of the world, where rolling vineyards meet welcoming villages, I have found more than just a workplace; it's been a place of inspiration and transformation. Discussions about wine regions, vinification methods and styles are no longer a foreign language; instead, it's a new world that has opened up before me, and I'm eager to explore every corner.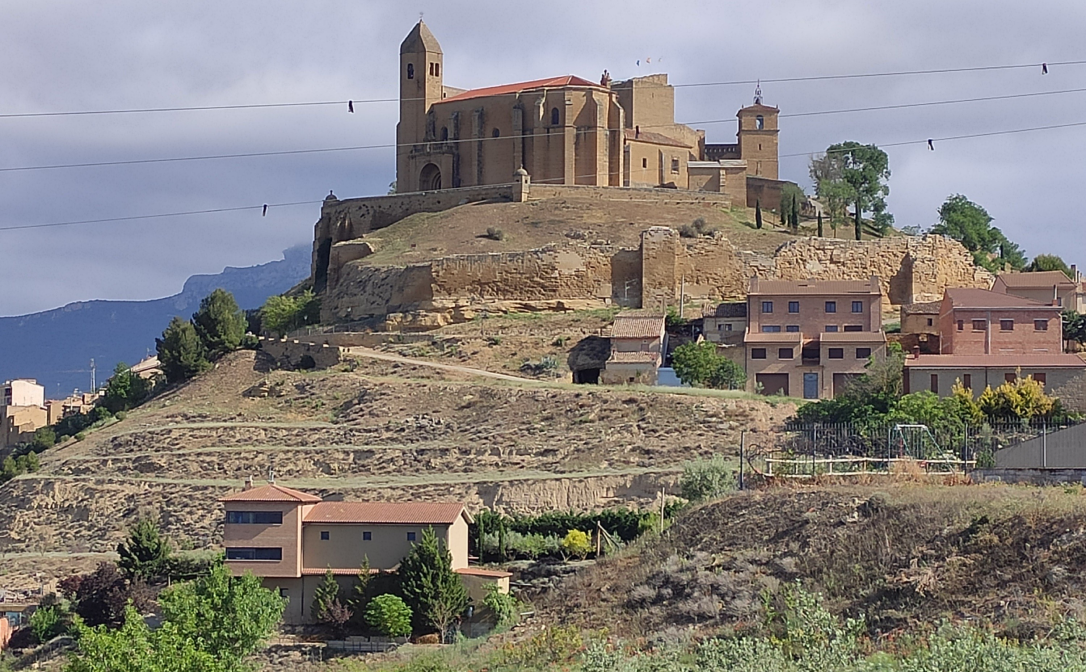 Beautiful scenery in the area surrounding the winery. (Photo credit: Ainhoa Mouriz)
In our winery, we love hosting visitors and giving them a taste of what makes our wines so special. Our tours are all about blending fun with knowledge. We start by chatting about how our local climate and geography work their magic on our vineyards and, of course, our wines. We make sure they get a little context and give them an express ride through winemaking's global history and then zoom in on the fascinating story of Rioja, Spain's renowned winemaking region.
After the classroom portion of the tour, it's time for action. We take everyone on a guided tour of our winery, and they get to sneak a sip of wine right from the stainless-steel tanks. Then we stroll through our awesome room packed with oak barrels, where we explain our traditional aging process and the new trends in Rioja. But the best part is yet to come! We wrap it all up at our wine bar, where we treat our guests to a tasting.
Each day brings its own unique charm, just as every group of visitors presents a distinct experience. Witnessing them depart with radiant smiles and carefully chosen bottles of wine is truly gratifying. Harvest kicked off recently, and every day is a very busy one right now. Tractors full of grapes come and go all day long, and our visitors enjoy the tasting of fresh juice and just-fermented wine. It's a real party. I am grateful to be able to say that I am meeting super interesting people and exploring new ideas, and potentially new projects might come in the near future. But for now, all I know is that I will find myself back in London pretty soon, and you know what's on my agenda? WSET Level 3.
Esther Martin is a Spanish journalist who lives in London. She grew up in the 1980s and 1990s in an area close to the Ribera del Duero D.O., Spain, with her parents, whose hobby it was to discover hidden and excellent restaurants during the weekends. Pairing food with wine has been in her DNA since then. Follow Esther on Instagram here.