How to assess the taste and quality of spirits.
Event details
Webinar
This one-hour webinar will look at three spirits from different categories in radically different styles and show how to taste them using the Systematic Approach to Tasting (SAT). Nick will show how the quality of different spirits can all be assessed using a simple set of criteria. This webinar is free to attend and aimed at those who've taken, or are currently undertaking, their Level 2 or Level 3 Awards in Spirits and explain what students need to do when it comes to quality assessment.
This event does not necessarily constitute official WSET course material and should not be used as such.
Speaker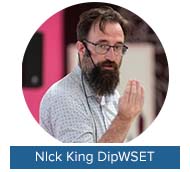 Nick King DipWSET, Head of Product Development - Spirits Qualifications, WSET
After University Nick worked in alcohol retail, for both independent chains and large supermarkets. This proved to be a problematic choice for a former rower with a back injury, and after one lift too many he decided it was time for a desk job working for WSET. During his time at WSET Nick has worked on all of WSET's qualifications but most recently his focus has been exclusively within spirits education. This work has seen the overhaul of the Level 1 and Level 2 Awards in Spirits, and the introduction of the Level 3 Award in Spirits launched in August 2019.