This 30 minute bitesize session covers the key facts you need to know about orange wine.
Event details
Webinar
The production of orange wine can be traced back 5,000 years, and it has recently made a comeback. The name can be misleading, the wine has nothing to do with oranges, but instead white grape varieties are left to ferment with their skins in contact with the juice, leading to an 'orange' appearance. Ahead of National Orange Wine Day on 6 October, Anjali will discuss the history of orange wine, how it is made, key flavour characteristics, and how to pair it with food.
The new series of free bitesize 30-minute webinars are open to anyone and are ideal for beginners looking to learn more about wine.
Speaker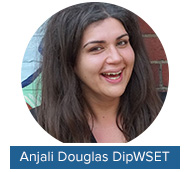 Anjali Douglas DipWSET, Tastings and Events Manager, WSET School London
Anjali worked in hospitality while studying her A-Levels, never intending to make a career out of it. She then worked in education for museums and galleries, producing events and festivals to attract diverse audiences. She caught the wine bug five years ago and returned to hospitality, starting her new career in a wine bar, before moving on to become responsible for training hospitality staff and sommeliers for a wine distributor. Now, she teaches Level 1 and 2 Awards in Wines at WSET School London. No matter what industry she is in, Anjali aims to open up conventionally elitist institutions, art forms, and beverages to more.
This event does not necessarily constitute official WSET course material and should not be used as such.