This 30 minute webinar will give you an introduction to Pisco.
Event details
Webinar
How much do you know about Pisco - a brandy made in Peru? Developed in the 16th Century, this pot-distilled brandy is made from highly aromatic grapes and many are unaged - making them markedly different from French brandies. In this session, we will cover everything from its historical origins and Denomination of Origin (DO) regions to the grapes that it is crafted from, their characteristics, classification, the process, how to imbibe it in cocktails or enjoy it neat. A fun, dynamic and enlightening session about the Spirit that is very quickly recovering its place at the best bars in the world.
The new series of short 30-minute webinars are ideal for spirits enthusiasts looking to learn more about spirits from around the world.
Speaker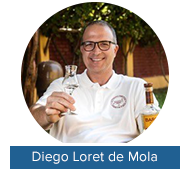 Diego Loret de Mola, Owner and Master Distiller, Bodega San Isidro - BarSol Pisco
Diego is the Master Distiller and Brand Champion of BarSol Pisco. A passionate qualified educator and the ultimate promoter of Peruvian Pisco in the world. Single-handedly he spearheaded the renaissance of the Pisco category in the US and the world since the early 2000's, through restless ambassador journeys that he has undertaken to educate the spirits trade at all the levels. Co-Founder of BarSol Pisco, he produces one of the finest Pisco brands available in the world. Selected as the #1 Best Selling & #1 Top Trending Pisco by Drinks International Magazine Annual Brand Report for the last 6 consecutive years (2017-2022), BarSol is the #1 Handcrafted Pisco exported from Peru, holding the largest distribution network worldwide. Certified by The Beverage Alcohol Resources (BAR), Diego is a huge supporter of the classic craft of the cocktail and fresh ingredient bars.
This event does not necessarily constitute official WSET course material and should not be used as such.