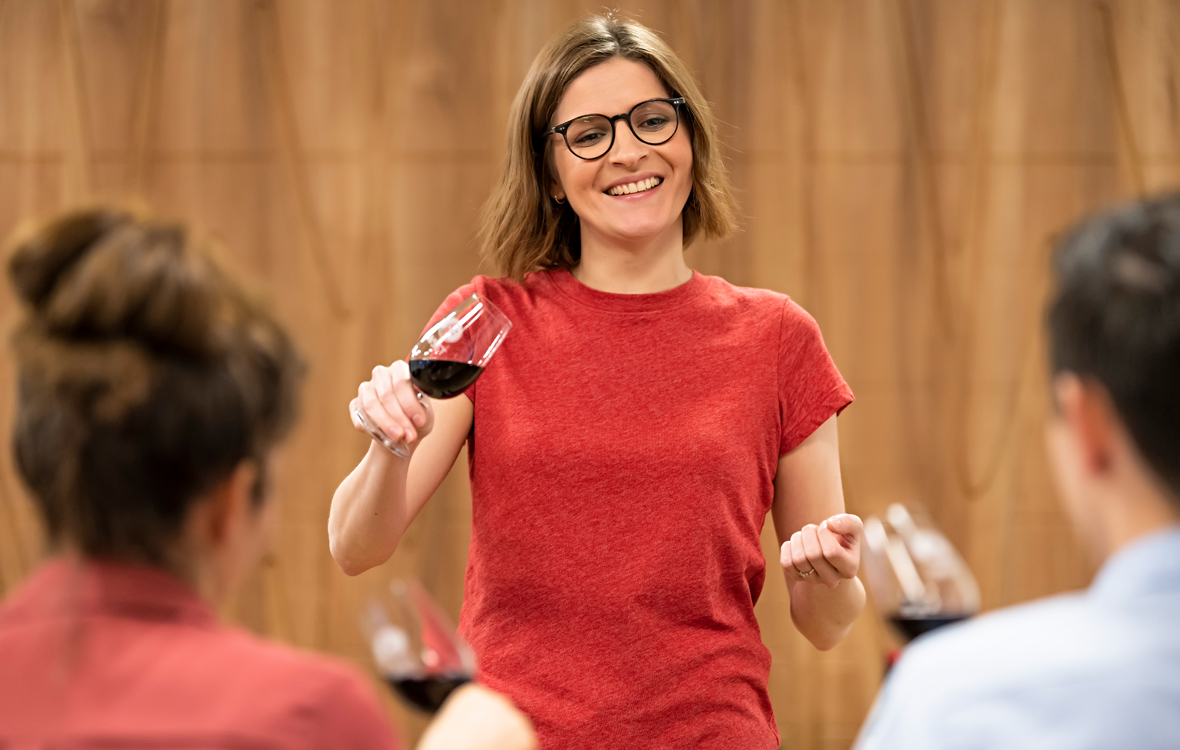 Lucy Stevenson DipWSET, Dip IDM
Wine Educator and WSET Regional Marketing Manager
Lucy teaches wine at WSET Levels 1-4, specialising in the fortified wines unit of the Diploma. She's a Certified Sherry Educator and is keen to convert every student into a sherry drinker!
She is also WSET's Regional Marketing Manager for the EMEA region, responsible for the promotion of WSET qualifications across Europe, the Middle East, Africa and India. She loves the blend of classroom and desk time that her job offers her, and feels very fortunate to be able to spend so much time with students, learning about their passions and goals. 
Specialisms: Fortified wines & Spain.
Get to know Lucy Stevenson DipWSET
1. How did you get into the wine industry?
Like many people, I got in through hospitality - a bar in my hometown in Yorkshire, followed by my student union pub. A manager pointed me towards WSET, which is when my interest in wine started to develop.
2. How did WSET prepare you for a career in the industry?
Studying for my first WSET qualification confirmed that I wanted a career in drinks. It was the most enjoyable educational experience I'd had and it offered a lifelong learning opportunity – I will never know all there is to know about wine! Having a WSET qualification on my CV when I started looking for work in the industry was really valuable – it showed that, though I didn't have much experience, I had a passion for the product.
3. What is your favourite wine and why?
I love variety so picking a single wine is hard, but my go-to answer is Palo Cortado sherry. In terms of complexity, flavour intensity and food friendliness, no other wine offers more per sip.
4. Why do you think it's important for people to learn more about wine?
It's all about confidence. There's a lot of nuance to the industry, so without a solid foundation of product knowledge it's easy to feel overwhelmed. A well-structured wine education is your shortcut to feeling assured and authoritative at work.
For enthusiasts, being able to decipher wine labels and describe what styles you like massively opens up the world of wine. It gives you the confidence to ask for something new in your local wine shop or order a lesser-known wine at a restaurant. It just makes things more interesting!
5. What do you enjoy most about teaching at WSET School London?
Teaching always gives me a lift, it's just really fun to taste great wines with passionate people.
Alongside teaching, I also work in marketing at WSET. Marketers these days rarely get a chance to spend much time with customers – most of what we know about you is based on surveys and analytics – so teaching regularly in the classroom is a real privilege. It allows me to better understand your motivations, your challenges, and your expectations of WSET.
6. What are your favourite topics to teach?
Spain is always really enjoyable to teach, especially at Diploma level. WSET School London has such a knockout selection of wines to taste and there's always a new innovation or trend to discuss.
7. Do you have any advice for people wishing to enter the drinks industry?
It's an industry like any other – 'Sommelier', 'Winemaker' and 'Wine Buyer' may be the first jobs you think of, but there are so many other roles available. The industry needs every skillset – HR professionals, lab technicians, accountants, copywriters, marketers, project managers, data analysts, operations professionals, IT specialists and much more. You don't have to completely change course to join the industry – start by looking for a job that reflects your skillset.
8. What are your top tip(s) for passing WSET exams?
For multiple choice exams, it's really about putting the hours in, whilst also allowing your brain time to rest so it can take in information. For Levels 3 and 4, remember that these qualifications are designed to develop skills that go beyond factual recall. The examiners need proof that you've achieved these skills, so make sure your answers clearly show your ability to draw links, compare, explain and analyse information.
9. In your opinion, what is the future of the wine industry?
People are less monogamous with their drinking habits than they once were – wine now competes daily against beer, cider, cocktails and the ever-expanding range of quality no/low beverages. We need to be approachable to new wine drinkers, and for me that will require greater diversity of representation amongst our decision makers and innovators.
Canned wines are exciting to me on many levels – the environmental benefits, the smaller volume and the visually appealing and easy-to-open packaging are all 'tick, tick, tick' in terms of what today's consumer demands, so I'm really looking forward to seeing how this format develops.
10. What is your dream job (drinks-related or not)?
I love working at the cross section between drinks, marketing and education. I'd love to help make drinks knowledge even more accessible for people around the world – developing something like a Duolingo for drinks would be cool!
11. What is your proudest achievement (drinks-related or not)?
A few years ago I was asked to write the latest version of the WSET Level 2 Award in Wines accompanying textbook, Looking Behind the Label, alongside the brilliant Karen Douglas DipWSET, WSET's Director of Global Education at the time. Knowing that this book is now studied by thousands of people every year who are just starting their wine journeys is very cool.
A taste of her teaching style
If you're passionate about travel, food, horticulture, science, or just love discovering something new every day, the drinks world offers you all of this and plenty more.