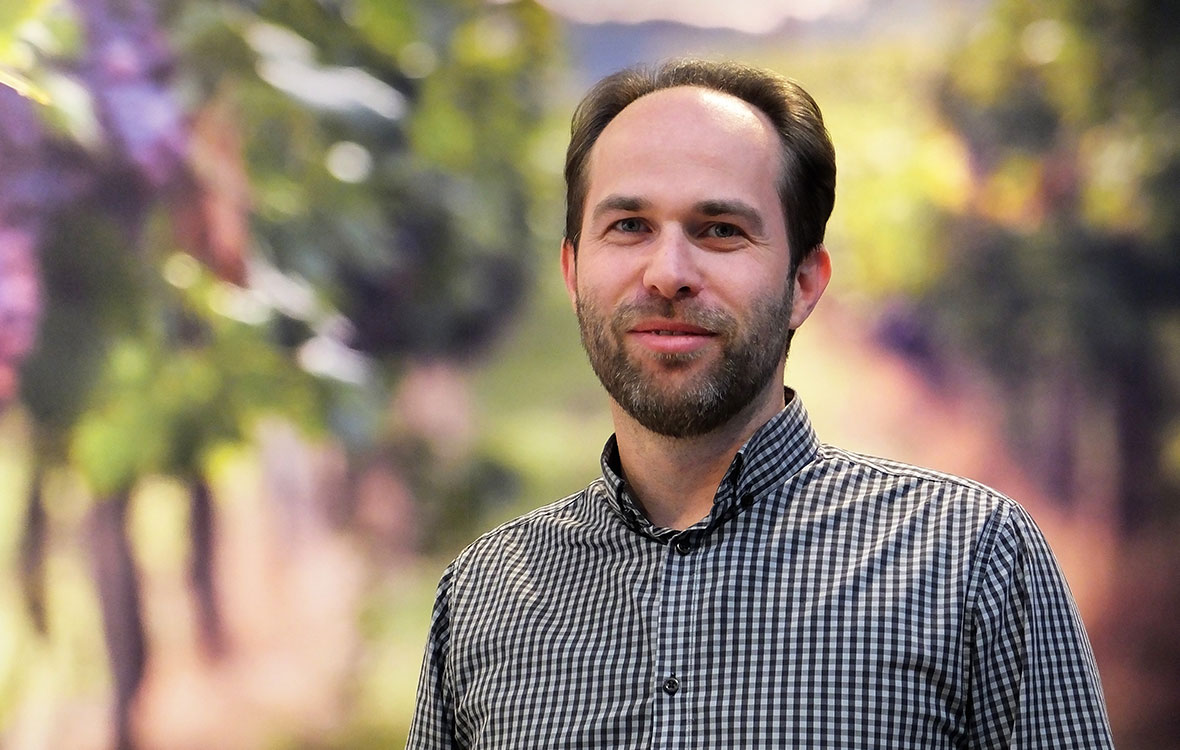 Russell Dent DipWSET
Diploma Course Director and Wine Educator
Russell co-ordinates all Level 4 Diploma courses run by WSET School London and is the go-to contact for anyone studying for this prestigious qualification. Russell teaches about wine at all WSET qualification levels. 
Specialisms: tasting technique, viticulture and vinification, Alsace, Bordeaux.
Get to know Russell Dent
1. How did you get into the wine industry?
I was working as a Research Technician for a university with short-term funding, but wanted a job that offered greater security. I loved food and wine, though didn't fancy the hours of working in a kitchen so picked wine retail instead!
2. How did WSET prepare you for a career in the wine industry?
WSET gave me the product knowledge required to advance in any area of the drinks industry. It also sparked an interest in communicating this understanding to others.
3. Do you have a favourite wine or grape variety?
Not especially. I think all wine lovers find themselves seeking out the unusual and esoteric wines of the world to satisfy their curiosity. However, I do encourage myself to seek out the classics too – they're classics for a reason.
4. Why do you think it's important for people to learn more about wine?
The drinks industry is an incredibly diverse and often confusing place for consumers. Any information that can help people make a better choice based on the style, geography or ethos of the producer is a good one.
5. What do you enjoy most about teaching at WSET School London?
Helping students complete qualifications not solely based on knowledge and comprehension. The tasting element associated with many of the qualifications can be more challenging than many students anticipate.
6. What are your favourite topics to teach?
The fundamentals of WSET's qualifications: tasting technique and production. It doesn't matter how many facts about regions and varieties you can remember if you can't explain how natural and human factors impact wine style, and how you can effectively communicate this in a tasting note.
7. Do you have any advice for people wishing to enter the drinks industry?
Although product knowledge is key in any industry, employers are looking for a desirable blend of skills. Try and work out which sector of the industry is of most interest to you (such as marketing, sales or production) and try to gain some experience in that area first.
8. What are your top tip(s) for passing WSET exams?
Make sure you read the question carefully and answer as set. The main reason why students underperform in examinations is not through lack of product knowledge. Many students have excellent product knowledge, but give irrelevant information and fail to answer the specific question.
9. In your opinion, what is the future of the wine industry?
Diversification of the industry. I think we'll see a greater range of categories that are not just limited to beers, wines and spirits in their traditional formats. The growing importance of smaller and independent producers reaching consumers through different channels will catalyse this diversification.
10. What is your dream job?
Restoration – something where I take my time bringing collectibles back to life… and enjoy a drink at the end of the day.
11. What is your proudest achievement?
My family – having someone with whom to share life's ups and downs and pass on my experiences.
An introduction to the Diploma
I believe a little knowledge and experimentation can help anyone discover new and exciting products.