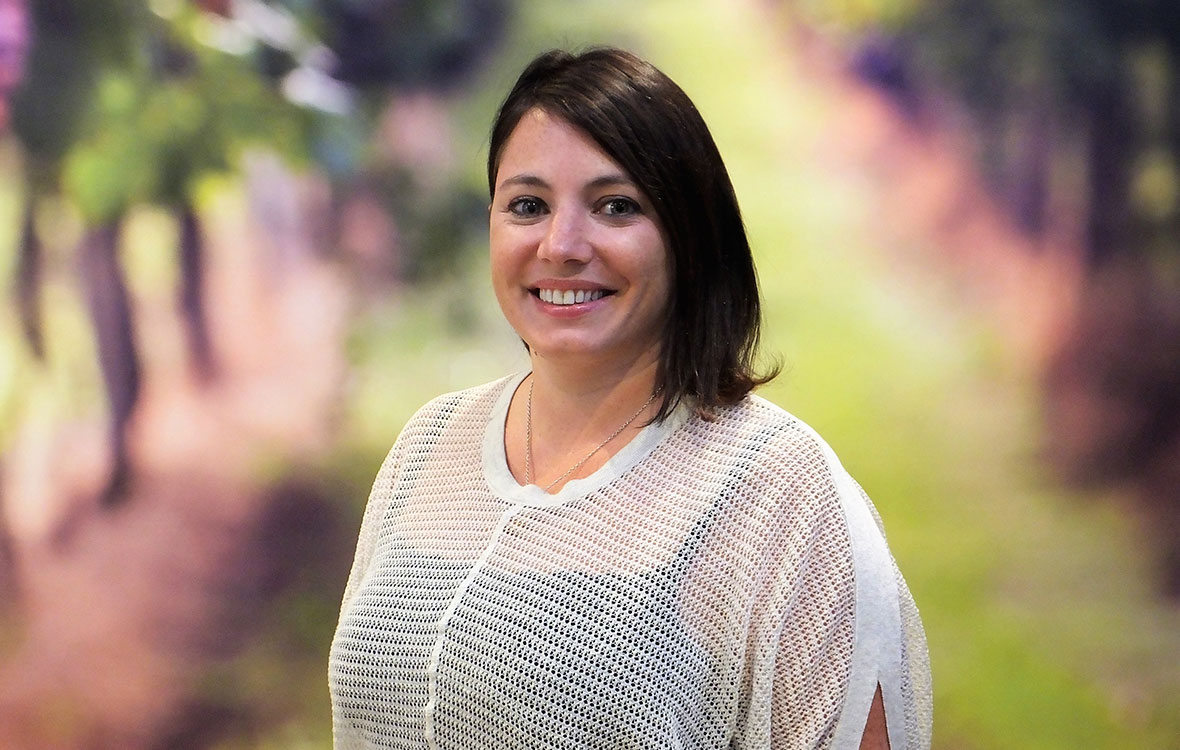 Lauren Denyer DipWSET
Diploma Events and Enrichment Manager and Wine Educator
Lauren teaches all levels of WSET wine qualifications and is the Course Coordinator for the Diploma. She has extensive teaching experience having worked as a head of faculty in a secondary school and as an education consultant before and during the completion of her WSET studies. Lauren completed the WSET Diploma in June 2017, is a Certified Sherry Educator and a Stage 2 Master of Wine student.
Specialisms: Sherry, Port, Champagne, Alsace, Languedoc-Roussillon, Northern Spain, Portugal.
Get to know Lauren Denyer DipWSET
1. How did you get into the wine industry?
I was a teacher before I entered the wine industry – Head of Department for special educational needs in a secondary school. As a hobby, I started doing some local food and wine events. I wanted to be more qualified to hold them and so I did the WSET courses. I got a scholarship for my WSET Level 3 Award in Wine results and so decided do the Diploma.
2. How did WSET prepare you for a career in the wine industry?
I got my job at WSET while studying the Diploma, so having the qualifications and a background in teaching made me a good fit for wine education. I am also now the Diploma Course Coordinator – without the WSET qualifications and the extensive knowledge I gained I wouldn't have this job.
3. Do you have a favourite wine or grape variety?
As my students know – I love Sherry and Champagne! I am also a sucker for a Burgundian Chardonnay and in colder weather I will drink all the red Bordeaux and Rioja! Though I am finding Garnacha/Grenache as a red wine particularly exciting right now…
4. Why do you think it's important for people to learn more about wine/spirits?
If you like wine and spirits then learning more about them really helps you to appreciate them more. I personally love understanding the geography behind it, and I plan a lot of my holidays around my favourite alcoholic drinks now! For example, I've travelled to Alsace and the Loire, and I'm going to Speyside in Scotland soon.
5. What do you enjoy most about teaching at WSET School London?
I love sharing my passion and seeing the passion in our students, getting their feedback on the wines we taste. I am always learning too – from both my colleagues and our students. At WSET School London, we teach winemakers and people from wine regions all over the world – and many students are already specialists in certain parts of the trade.
6. What are your favourite topics to teach
Sparkling and fortified wine, because the methods of production are fascinating. I love also to teach Spain and Portugal as it is great to see students' reactions to the diversity of wines that are produced there, including world-class fine wines.
7. Do you have any advice for people wishing to enter the drinks industry?
I would just say that it is a great industry if you love drinks, and I think where people have the passion they are usually successful. The WSET qualifications certainly help as they give a great wider understanding and are internationally recognised.
8. What are your top tip(s) for passing WSET exams?
First off, know the content. In the exams, make sure you read the questions properly. It's also worth watching webinars, listening to podcasts and reading articles around the subject to supplement your learning – though everything you need to know to pass the exams is in your textbook.
9. In your opinion, what is the future of the drinks industry?
Wine sales have increased recently, so it is certainly looking bright. Climate change will impact the grapes grown and styles of wines made and I think we can look forward to some exciting packaging offerings for wine, with cans and bag-in-box becoming more popular. They are better for the environment and the quality of these wines has much improved.
10. What is your dream job (drinks-related or not)?
I would like to sail around Spain, France, Italy and Croatia, visiting wineries and writing about the experience. But I need to get my day skipper qualification first!
11. What is your proudest achievement (drinks-related or not)?
Even though I am extremely proud of being on the Master of Wine programme, my proudest achievement was getting one of the best results in the country in the WSET Level 3 Award in Wines, and getting a scholarship. It was a two-week trip across the north of Spain with a Master of Wine, and one of the most rewarding journeys ever. I was actually on a train on my way to Jerez (for Diploma revision) when I found out I had won the scholarship. I celebrated with a mini bottle of Rioja from the train café! I'm also proud of half a marathon – I am not a natural born runner and that was very tough!
A taste of her teaching style
The world of wine is like the ultimate grown-up adventure park. It's a multi-sensory experience of flavour, tastes, science and stunning locations.