Celebrate World Chardonnay Day with Anjali Douglas DipWSET, who will guide you through eight prestigious and lesser-known examples of the grape.
Event details
Chardonnay is a grape that divides opinion: most of us identify as either a Chardonnay loyalist or a Chardonnay denier. Anjali Douglas DipWSET is firmly in the former tribe, and will be celebrating World Chardonnay Day at WSET School London with a flight of eight fantastic wines.
You'll get the chance to taste Chardonnay from an array of established and emerging regions, get tips on finding great value bottles, compare how this versatile variety is responsible for some of the finest and most exciting wines in the world, explore some practical food pairings. Come along to affirm your love for Chardonnay with fellow fans or challenge your preconceptions! Light snacks will be provided.
Example wines
Langham Blanc de Blancs, Dorset
Babylonstoren Sprankel, Franschhoek
Osmote Chardonnay Cayuga Lake, Finger Lakes
Du Grappin, Bagnum Blanc, Burgundy
Bourgogne Blanc, Domaine Jean Chartron, Burgundy
Von Winning Chardonnay, Pfalz
Vasse Felix Filius Chardonnay, Margaret River
Domaine Rolet Arbois Chardonnay, Jura
---
About the presenter, Anjali Douglas DipWSET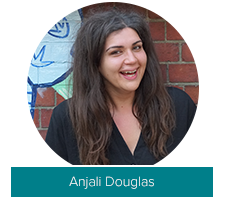 Anjali worked in hospitality while studying her A-Levels, never intending to make a career out of it. She then started working in education for museums and galleries, producing events and festivals to attract diverse audiences. She caught the wine bug five years ago and returned to hospitality, starting her new career in a wine bar, before moving on to become responsible for training hospitality staff and sommeliers for a wine distributor. Now, she teaches Levels 1-2 at WSET School London. No matter what industry she is in, Anjali's aim is to open up conventionally elitist institutions, art forms, and beverages, to more. Read our interview with Anjali.
---
Let us know if you're attending:
@WSET_school_london #WSETschool
---
Booking terms and conditions
Payment in full must be made at the time of booking and places are not confirmed until payment has been received. Unfortunately we cannot take provisional bookings.
Cancellations and transfers
Cancellations and transfers can be made up to two weeks before the event
Cancellations within 10 working days are non-refundable and cannot be transferred to another event
If you need to change a name on the booking, please give us as much notice as possible
WSET School London reserves the right to cancel an event. If necessary, a full refund or transfer will be offered.
Please note: The wine list and speaker/s may be subject to change
---
Tasting level
Intermediate: An in-depth exploration of a particular topic. Some prior knowledge is beneficial – such as a WSET Level 2 qualification – but these sessions will be enjoyable and educational for anyone with an interest in the subject.