A look at the regions in Australia where Shiraz thrives, with Emma Symington MW.
Event details
Free wine webinar
Shiraz is Australia's calling card – planted in 60 of its 65 regions and accounting for almost 25% of total production, it is one of Australia's most established and best-loved grapes. It is also one of the oldest varieties in Australia, first planted in the country in the early 1800s, and remains home to the oldest producing Shiraz vines in the world (planted in 1843 in the Barossa Valley). While this iconic Australian stalwart is one of the country's biggest exports and an international success, there is no one style of Shiraz. In fact, styles are continually evolving and diversifying through changes in viticulture, winemaking, and a focus on regional expression.
Join Emma Symington MW as she leads you through some of Australia's key Shiraz regions, from the traditional to the new wave, discussing their individual climates and topographies, as well as the differing styles of Shiraz they make.
---
About Emma Symington MW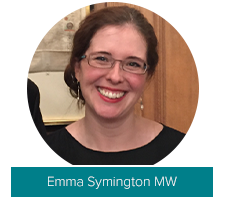 Emma has worked in the wine trade for the past 15 years in a variety of roles, including buying and selling wine, and even working a vintage in New Zealand. She is now Education Development Manager for Wine Australia's EMEA region, based in their London office, where she organises and hosts a series of tastings, seminars and masterclasses to help increase enthusiasm in and knowledge of Australia's wines and wine regions.
After winning the Vintners' Cup and Vintners' Scholarship for the top WSET Level 4 Award in Wines Diploma graduates in 2011, Emma embarked on the Master of Wine course, becoming an MW in 2015. A WSET-certified educator, Emma judges at several international wine competitions and also writes for the Wine Monkeys blog, for which she won the Emerging Wine Writer category in the 2014 Louis Roederer Awards.
---
Although this is not a tasting session, please do feel free to join with a glass of wine of your choice! Let us know what you're tasting on Instagram by tagging @WSET_school_london and #WSETSchool.
If you enjoy the webinar, we would love to welcome you onto one of our WSET wine courses, all of which can be studied online from your home.
Catch up on Emma's recent webinar about Australian Riesling.