Join Emma Symington MW in this webinar looking at the regions, characteristics and varied styles of Australian Chardonnay.
Event details
From the first varietally labelled wines in 1972 to the big, buttery wines of the 1990s, to today's regionally distinct, refined styles, Australian Chardonnay has come a long way in a short space of time. Today it is the most planted white variety in Australia, grown in 59 of Australia's 65 wine regions. Join Emma Symington MW as she leads you through Australia's key Chardonnay regions, discussing their regional characteristics, similarities and differences and explaining why today is such an exciting time for the variety.
---
About the speaker, Emma Symington MW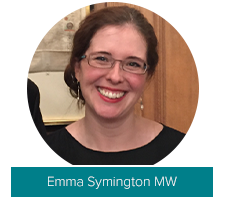 Emma has worked in the wine trade for the past 15 years in a variety of roles, including buying and selling wine, and even working a vintage in New Zealand. She is now Education Development Manager for Wine Australia's EMEA region, based in their London office, where she organises and hosts a series of tastings, seminars and masterclasses to help increase enthusiasm in and knowledge of Australia's wines and wine regions.
After winning the Vintners' Cup and Vintners' Scholarship for the top WSET Level 4 Award in Wines Diploma graduates in 2011, Emma embarked on the Master of Wine course, becoming an MW in 2015. A WSET-certified educator, Emma judges at several international wine competitions and also writes for the Wine Monkeys blog, for which she won the Emerging Wine Writer category in the 2014 Louis Roederer Awards.
---
Although this is not a tasting session, please do feel free to join with a glass of wine of your choice! Let us know what you're tasting on Instagram by tagging @WSET_school_london and #WSETSchool.
If you enjoy the webinar, we would love to welcome you onto one of our WSET wine courses.
---
Tasting level
Intermediate: An in-depth exploration of a particular topic. Some prior knowledge is beneficial – such as a WSET Level 2 qualification – but these sessions will be enjoyable and educational for anyone with an interest in the subject.
---
Watch previous webinars with Emma Symington MW