Join us for a delicious "cheese and wine 101" masterclass on Instagram Live!
Event details
Cheese writer Patrick McGuigan and wine educator Anjali Douglas DipWSET are hosting a curd and grape taste-along on Friday 7 October at 8pm UK time, in celebration of the #bigcheeseweekender. Patrick and Anjali will be discussing what makes a great cheese and wine match, then pairing three wines and three cheeses.
The cheese
Montgomery's Cheddar
Baron Bigod Brie
Stilton
The wine
Shaw + Smith M3 Chardonnay, Adelaide Hills
Wharie Orange Bacchus
H&H 15 YO Sercial Madeira
If you'd like to taste along with our experts but can't find these specific wines, don't worry! Just look for an oaked Chardonnay, orange wine and Tawny port.
Make sure you're following @wset_school_london on Instagram to get a notification when the session begins.
We can't wait to see you there!
---
About Anjali Douglas DipWSET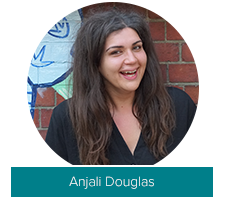 Anjali worked in hospitality while studying her A-Levels, never intending to make a career out of it. She then started working in education for museums and galleries, producing events and festivals to attract diverse audiences. She caught the wine bug five years ago and returned to hospitality, starting her new career in a wine bar, before moving on to become responsible for training hospitality staff and sommeliers for a wine distributor. Now, she teaches Levels 1-2 at WSET School London. No matter what industry she is in, Anjali's aim is to open up conventionally elitist institutions, art forms, and beverages, to more. Read our Q&A with Anjali.
About Patrick McGuigan
Patrick is a Brighton-based freelance food journalist and cheese writer, who contributes regularly to titles including The Telegraph, The Financial Times, Harrods Magazine and Restaurant, among many others.
As one of the country's leading cheese writers and communicators, Patrick has interviewed many of the world's best cheesemakers, affineurs and mongers, writing extensively on the subject for the Telegraph, among others, and appearing on BBC Radio 4's The Food Programme.
He hosts regular talks and tastings for the public, trade and press, and is a senior judge at the World Cheese Awards and the Cheesemonger of the Year award. He also runs training courses at the School of Fine Food and has studied cheese at the School of Artisan Food, the Cheese Guild and the Academy of Cheese.
---