Chart the rise of some of the world's most famous wine regions and discover the unexpected origins of Champagne, Sherry and Chardonnay while sipping wine fit for royalty.
Event details
From Burgundy to Bordeaux, the world's most famous wine regions were forged in the fire and fury of Europe's middle ages. Discover how wine survived centuries of war, famine, and disease and emerged more popular than ever.
Uncover the answers to questions like "what does a monastery near Carcassone and Sir Christopher Merret have to do with the invention of Champagne?" and "why do the Dutch love Bordeaux so much?" as you experience wine from a entirely new perspective.
Over the course of the evening, you'll enjoy a selection of wine curated to reflect the best of the best that Medieval and Renaissance world had to offer including classic regions and some unexpected surprises.
---
Example wine list
Domaine J Laurens - Limoux Methode Ancestrale
Kloster Eberback - "Crescentia" Steinberger Riesling Spatlese 
Hospices de Beaujeu - Bourgogne Gamay 
Chateau Le Puy - "Rose Marie" 
Hacienda La Parrilla - El Pinto 
Fernando Moura - Vinho Verde 
Henriques & Henriques - Sercial Madeira 10YO
Digby - Brut Reserve 2013
---
Other sessions in this series
Purchase a series ticket and save £20!
---
About the presenter, Sam Povey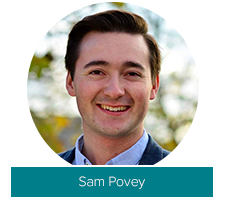 Sam Povey is a wine educator from Aberdeen, Scotland. He first discovered his interest in wine at university and pursued it by travelling to Georgia and his local wine shop. Before joining the industry, he was an economics tutor but fell into wine when he took a job behind the bar at an urban winery. He then moved into wine and food retail in north London: managing wine lists, hosting tastings and training staff. Today, he teaches the WSET Levels 1-2 Awards in Wines and hosts events at WSET School London. Read our Q&A with Sam.
---
Booking terms and conditions
Payment in full must be made at the time of booking and places are not confirmed until payment has been received. Unfortunately we cannot take provisional bookings.
Cancellations and transfers
Cancellations and transfers can be made up to two weeks before the event.
Cancellations within 10 working days are non-refundable and cannot be transferred to another event.
If you need to change a name on the booking, please give us as much notice as possible.
WSET School London reserves the right to cancel an event. If necessary, a full refund or transfer will be offered.
Please note: The sample list and speaker/s may be subject to change.
---
Tasting level
Beginner: No prior knowledge required, only enthusiasm! Perfect if you want to try something new, brush up on the basics, or taste some delicious drinks.