Join Christine Marsiglio MW to explore eight wines that show the depth, breadth and quality of wine in Chile.
Event details
Chile's history of winemaking dates back to the 1550s and some of the oldest vines in the world remain in Chile today.
With a firm place on the global stage for well-made, affordable, fruity wines and a number of premium "icon" wines to its name, Christine will explore these styles as well as wines from some more experimental producers in lesser-known regions.
Cheese and charcuterie included!
---
Example wine list
Santa Cruz de Coya Pais, Roberto Henriquez
Rogue Vine Grand Itata Tinto
Maturana Wines, Naranjo Torontel, MOVI
Garage Wine Co. Carignan, VIGNO
Undurraga TH Alto Maipo Cabernet Sauvignon
Santa Rita, Floresta Carmenere, 2017
Tabali Talinay, Sauvignon Blanc, 2021
Errazuriz 'Las Pizarras' Chardonnay 2018
---
About the presenter, Christine Marsiglio MW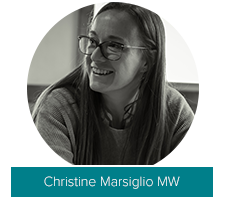 Christine is the Director of Education and Resident Master of Wine at Wine Folly. She teaches the WSET Level 4 Diploma in Wines at WSET School London in her spare time.
Originally from Canada, her background is in oenology and viticulture. She holds an MSc in oenology and viticulture from École Supérieure d'Agriculture d'Angers, France and a BSc in chemistry and biology from the University of Alberta in Canada.
Before joining Wine Folly, Christine was a programme manager and educator at WSET School London. Previously she worked as Tastings Executive at the world famous Decanter magazine where she ran panel tastings and helped organise the Decanter World Wine Awards.
She became a Master of Wine in August 2019 after completing a research paper on the sensory effects of different lactic acid bacteria on wine. At the MW Awards ceremony in November 2019, Christine won both the Madame Bollinger Medal for her "Outstanding tasting abilities" and the Taransaud Tonnellerie Award for her "excellent knowledge in the production and handling of wine paper." Read our Q&A with Christine.
---
Booking terms and conditions
Payment in full must be made at the time of booking and places are not confirmed until payment has been received. Unfortunately we cannot take provisional bookings.
Cancellations and transfers
Cancellations and transfers can be made up to two weeks before the event.
Cancellations within 10 working days are non-refundable and cannot be transferred to another event.
If you need to change a name on the booking, please give us as much notice as possible.
WSET School London reserves the right to cancel an event. If necessary, a full refund or transfer will be offered.
Please note: The sample list and speaker/s may be subject to change.
---
Tasting level
Masterclass: Our most advanced sessions, suitable for those who have a WSET Level 3 qualification or equivalent knowledge. Gain expert knowledge and insights from a specialist speaker.