Julia Lambeth DipWSET hosts the next tasting in this new series in which our educators showcase a flight of wines that they think you should know about.
Event details
Our new "What to drink" series gives WSET School London's expert educators the opportunity to go off the beaten track and present a flight of wines covering everything and anything – from their favourite bottles and wines they've recently discovered, to dinner party fail-safes, supermarket hacks, or simply wines they wish more of us knew about.
For the second session, Julia Lambeth DipWSET will present a fascinating and delicious flight which she believes offers great value for money, and she'll share some top tips along the way. Come along to discover your new favourite wine, try something different, and discuss the wonderful hidden corners of the wine world.
Sample list
Kanpai Session Sake
Ferdinand Mayr Exklusiv Grüner Veltliner
Begude Limoux Chardonnay
Biodiverso Petit Manseng
Nivola Lambrusco
Triangle Wines 'Sanha' Baga
Distant Noise Cabernet Sauvignon
Crossover Blendery Damascene
(The majority of samples in our "What to drink" series will be wine, but our educators might show a sample or two from another category that they also think you should know about!)
---
About the presenter, Julia Lambeth DipWSET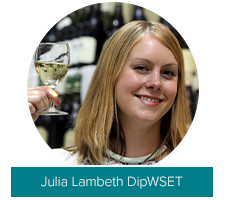 Julia started out in the wine trade as a novice, working at Majestic Wine for a number of years as a retail manager. After completing the WSET Level 4 Diploma in Wines and winning the Codorníu Scholarship prize, she started a wine tasting company running WSET courses alongside a variety of other wine, beer, spirit and sake events. Julia joined WSET School London's teaching faculty in September 2019, where she teaches wine and is the Course Manager for Levels 1-3.
---
Booking terms and conditions
Payment in full must be made at the time of booking and places are not confirmed until payment has been received. Unfortunately we cannot take provisional bookings.
Cancellations and transfers
Cancellations and transfers can be made up to two weeks before the event
Cancellations within 10 working days are non-refundable and cannot be transferred to another event
If you need to change a name on the booking, please give us as much notice as possible
WSET School London reserves the right to cancel an event. If necessary, a full refund or transfer will be offered.
Please note: The wine list and speaker/s may be subject to change
---
Tasting level
Intermediate: Some prior knowledge is beneficial – such as a WSET Level 2 qualification – but these sessions will be enjoyable and educational for anyone with an interest in the subject.