The consortia of Alto Adige DOC wines and Etna DOC wines have joined forces to host this free masterclass with Master of Wine Nancy Gilchrist.
Event details
Alto Adige is the Italy's northernmost winegrowing region and over 800 miles away, Etna is one of Italy's most southerly. Despite this geographical difference, the two regions have some similarities: a long history of top quality production and unique growing conditions. Alto Adige DOC wines are influenced by the varied altitude levels in sub-Alpine valleys, whilst down in Sicily the island's Mediterranean warmth is tempered by the cooling effect of altitude on Mount Etna and the varied volcanic soils which make these wines unique.
Join Nancy Gilchrist MW for this masterclass where you will have the opportunity to explore a range of both Alto Adige DOC wines and wines from Etna DOC.
Please note this event has been organised by Sopexa on behalf of Alto Adige DOC and Etna DOC. This event is taking place at WSET School London but is not being run by us.
---
Example wine list
Nals Margreid Alto Adige DOC Pinot Bianco Sirmian 2021
Manni Nössing Alto Adige Valle Isarco DOC Kerner 2022
Castelfelder Alto Adige DOC Chardonnay Riserva Burgum Novum 2019
Josef Weger Alto Adige DOC Vernatsch Kol 2022
Cellar Muri-Gries Alto Adige DOC Lagrei Riserva Abtei Muri 2020
Azienda Agricola Raiti Emanuela Etna DOC Bianco Quantico 2018
Fischetti Enta DOC Bianco Muscamento 2022
Donnafugata Etna DOC Bianco Sul Vulcano 2021
Raciti Etna DOC Rosso Rupestre 2020
Zumbo Etna DOC Rosso Sannedda Contrada Santo Spirito 2019
---
About the presenter, Nancy Gilchrist MW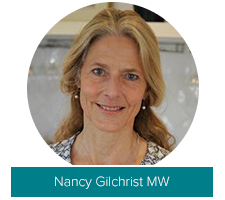 Nancy became an MW in 1995. She is an independent wine educator; erstwhile consultant to The Oxford Wine Company, The Wine Scholar Guild and director of Christie's Wine Education. She is the current UK Ambassador to Consorzio Vini Alto Adige and longtime lecturer at Leith's School of Food & Wine, guest lecturer for international corporate events, experienced speaker on South African wine and specialist champagne houses, and acknowledged reference on the interaction of food and wine.
---
Tasting level
Masterclass: Our most advanced sessions, suitable for those who have a WSET Level 3 qualification or equivalent knowledge. Gain expert knowledge and insights from a specialist speaker.