Is Prosecco the only wine that springs to mind when you think of Italian fizz? Join us to taste eight superb sparkling wines from across Italy and discover something new.
Event details
Join Elena Barattini DipWSET on an Italian wine adventure, tasting a range of lesser-known sparkling wines crafted in different corners of the country.
You'll explore eight unique styles produced using a variety of techniques and distinctive grape varieties, and learn that there is more to Italian sparkling wine than just the ever-popular Prosecco.
Samples will include delicious traditional method sparkling wines, a 'Col Fondo' Prosecco that has been aged on its lees, and a sparkling red Lambrusco. Come and discover your new favourite fizz!
Guests will also get a selection of Italian cheese and charcuterie from Borough Market to enjoy with their bubbles.
---
Example wine list
Contratto Alta Langa Blanc de Blancs Pas Dosè 2018
Oltrepò Pavese Metodo Classico Brut Rosé Cruasé DOCG Oltrenero
Etna Nerello Mascalese Brut DOC "Sosta Tre Santi" 2019 - Nicosia
Vernaccia di Serrapetrona Spumante DOCG "Vernaccianera" - Terre di Serrapetrona, Tenuta Stefano Graidi
Fongaro Lessini Durello Brut 2015
Adami Valdobbiadene Prosecco Superiore DOCG Col Fondo 2020
Vecchia Modena Lambrusco Sorbara 2022
Brachetto d'Acqui Braida 2022
---
Tasting level
Intermediate: An in-depth exploration of a particular topic. Some prior knowledge is beneficial – such as a WSET Level 2 qualification – but these sessions will be enjoyable and educational for anyone with an interest in the subject.
---
About the presenter, Elena Barattini DipWSET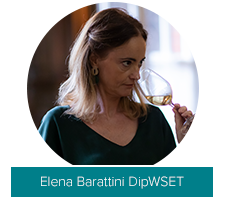 In search of a life-change experience, Elena moved to London from Italy in 2011 and, driven by an immense passion for wine, she built a fulfilling career in wine from the ground up. Along her journey from retail to hospitality, while studying for her WSET Diploma, she found her true calling in wine education.
Today Elena is a wine consultant and educator and teaches WSET courses at every level, both face-to-face and online. As an Italian Wine Ambassador and Langhe Ambassador, Elena loves to inspire others with her passion for wine, with a particular focus on the rich array of Italian specialties.
---
Booking terms and conditions
Payment in full must be made at the time of booking and places are not confirmed until payment has been received. Unfortunately we cannot take provisional bookings.
Cancellations and transfers
Cancellations and transfers can be made up to two weeks before the event.
Cancellations within 10 working days are non-refundable and cannot be transferred to another event.
If you need to change a name on the booking, please give us as much notice as possible.
WSET School London reserves the right to cancel an event. If necessary, a full refund or transfer will be offered.
Please note: The sample list and speaker/s may be subject to change.
---