Celebrate Valentine's Day with some expertly selected wine and cheese pairings in collaboration with the Academy of Cheese. (We promise it won't be too cheesy!)
Event details
Intermediate wine tasting
We're kicking off our first food pairing event of 2022 at WSET School London with some help from Academy of Cheese's Patrick McGuigan, our own Anjali Douglas, and St Valentine...
We will be tasting six wine and cheese pairings, all selected with romance in mind. You'll learn how to taste cheese using the Academy of Cheese approach to tasting, plus receive some top wine pairing tips. Whether you come with a date, friend, family member or on your own, you'll be sure to fall in love with some wine and cheese pairings at this event.
Example cheeses
Rosary Goats
Neufchâtel
Quesos y Besos
Sparkenhoe Red Leicester
Gorgonzola
Burwash Rose
Example wines
Avallen Calvados, tonic and green apple
Ambriel Rosé Sparkling, 2015
Chêne Bleu Aliot, 2015
Chateau du Moulin-a-Vent, Moulin-a-Vent, 2018
Two Hands "Sexy Beast" Cabernet Sauvignon, McLaren Vale, 2019
PALEOKERISIO, Ioannina 2019
Elysium Black Muscat, 2017
---
About Anjali Douglas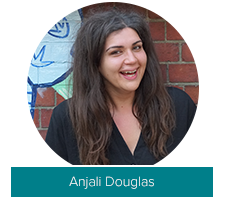 Anjali worked in hospitality while studying her A-Levels, never intending to make a career out of it. She then started working in education for museums and galleries, producing events and festivals to attract diverse audiences. She caught the wine bug five years ago and returned to hospitality, starting her new career in a wine bar, before moving on to become responsible for training hospitality staff and sommeliers for a wine distributor. Now, she teaches Levels 1-2 at WSET School London. No matter what industry she is in, Anjali's aim is to open up conventionally elitist institutions, art forms, and beverages, to more. Read our interview with Anjali.
About Patrick McGuigan
Patrick is a Brighton-based freelance food journalist and cheese writer, who contributes regularly to titles including The Telegraph, The Financial Times, Harrods Magazine and Restaurant, among many others.
As one of the country's leading cheese writers and communicators, Patrick has interviewed many of the world's best cheesemakers, affineurs and mongers, writing extensively on the subject for the Telegraph, among others, and appearing on BBC Radio 4's The Food Programme.
He hosts regular talks and tastings for the public, trade and press, and is a senior judge at the World Cheese Awards and the Cheesemonger of the Year award. He also runs training courses at the School of Fine Food and has studied cheese at the School of Artisan Food, the Cheese Guild and the Academy of Cheese.
Let us know if you're attending:
@WSET_school_london #WSETSchool
@cheese_academy @patrickmcguigan1
---
Booking terms and conditions
Payment in full must be made at the time of booking and places are not confirmed until payment has been received. Unfortunately we cannot take provisional bookings.
Cancellations and transfers
Cancellations and transfers can be made up to two weeks before the event
Cancellations within 10 working days are non-refundable and cannot be transferred to another event
If you need to change a name on the booking, please give us as much notice as possible
WSET School London reserves the right to cancel an event. If necessary, a full refund or transfer will be offered.
Please note: The wine list and speaker/s may be subject to change
---
Tasting level
Intermediate: An in-depth exploration of a particular topic. Some prior knowledge is beneficial – such as a WSET Level 2 qualification – but these sessions will be enjoyable and educational for anyone with an interest in the subject.