Celebrate English Wine Week with Anjali Douglas DipWSET and Patrick McGuigan from the Academy of Cheese, with a cheese and wine pairing.
Event details
Explore the idea of "terroir" in wine and cheese as Anjali and Patrick guide you through six English wine and cheese pairings. You'll taste the complexity that can be achieved in English sub-regions that boast outstanding reputations for their wines and cheeses.
Learn how to try cheese using the Academy of Cheese approach to tasting, why England is so well-placed to make fantastic wine, as well as some top wine and cheese pairing tips.
Example wines
Smith + Evans Trilogy One
Stanlake Park Brut Rosé
Nutborne Sussex Reserve
Blackbook Painter of Light Chardonnay
Ancre Hill Clockwork Orange
Gusborne Pinot Noir
Example cheeses
Dorstone goat's cheese (Herefordshire)
Gorwydd Caerphilly (Somerset)
Flower Marie soft sheep's milk (Sussex)
Berkswell (Warwickshire)
Pitchfork cheddar (Somerset)
Baronet baby squidgy washed rind (Wilts)
---
About Anjali Douglas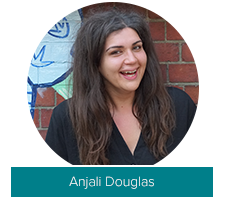 Anjali worked in hospitality while studying her A-Levels, never intending to make a career out of it. She then started working in education for museums and galleries, producing events and festivals to attract diverse audiences. She caught the wine bug five years ago and returned to hospitality, starting her new career in a wine bar, before moving on to become responsible for training hospitality staff and sommeliers for a wine distributor. Now, she teaches Levels 1-2 at WSET School London. No matter what industry she is in, Anjali's aim is to open up conventionally elitist institutions, art forms, and beverages, to more. Read our interview with Anjali.
About Patrick McGuigan
Patrick is a Brighton-based freelance food journalist and cheese writer, who contributes regularly to titles including The Telegraph, The Financial Times, Harrods Magazine and Restaurant, among many others.
As one of the country's leading cheese writers and communicators, Patrick has interviewed many of the world's best cheesemakers, affineurs and mongers, writing extensively on the subject for the Telegraph, among others, and appearing on BBC Radio 4's The Food Programme.
He hosts regular talks and tastings for the public, trade and press, and is a senior judge at the World Cheese Awards and the Cheesemonger of the Year award. He also runs training courses at the School of Fine Food and has studied cheese at the School of Artisan Food, the Cheese Guild and the Academy of Cheese.
Let us know if you're attending:
@WSET_school_london #WSETSchool
@cheese_academy @patrickmcguigan1
---
Booking terms and conditions
Payment in full must be made at the time of booking and places are not confirmed until payment has been received. Unfortunately we cannot take provisional bookings.
Cancellations and transfers
Cancellations and transfers can be made up to two weeks before the event
Cancellations within 10 working days are non-refundable and cannot be transferred to another event
If you need to change a name on the booking, please give us as much notice as possible
WSET School London reserves the right to cancel an event. If necessary, a full refund or transfer will be offered.
Please note: The wine list and speaker/s may be subject to change
---
Tasting level
Intermediate: An in-depth exploration of a particular topic. Some prior knowledge is beneficial – such as a WSET Level 2 qualification – but these sessions will be enjoyable and educational for anyone with an interest in the subject.