Come island hopping from Santorini to Samos to Zante, as we explore Greece's enchanting island vineyards.
Event details
Join us for an evening of sun, sea and Savatiano for a tasting for Greece's island vineyard grape varieties. Maria Moutsou, a Greek wine expert and founder of importer Southern Wine Roads, will guide you through the windswept vineyards of the Ionian and Aegean and the wines that they produce.
During the evening, you will taste nine wines, each made from a different indigenous Greek grape variety. Along the way you'll learn about ancient local traditions, the latest generations of innovative winemakers, and maybe even a thing or two about the future of Greek wine.
Greek cheeses, olive and other snacks included!
---
Example wine list
Dourakis - Lichnos 2021 - Crete

Gavalas - Katsano 2020 - Santorini

Vriniotis - Assyrtiko sur Lies 2019 - Evia

Moraitico Island's - Rose 2021 - Paros

Methymnaeos - Red 2021 - Lesvos

Afianes - Icarus Red 2016 - Ikaria

Melissinos - Mavro 2016 - Kefalonia

Vakakis Epogdoon Barrel 2017 - Samos

Grampsas Sunlight 2014 - Zante
---
About the presenter, Maria Moutsou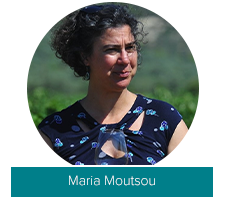 Maria became familiar with wine at an early age, coming from a family of "domestic winemakers" who produced wine to share amongst friends. Witnessing the attention paid to vine cultivation and winemaking, as well as the pride taken during the wine's consumption, Maria formed a strong relationship with the land and its product.
She has been researching the Greek vineyard since 2012, with the conviction that the Greek terroir is unique. Feeling a great sense of connection with the people tending the vineyards, and having a vision to produce beautiful yet different wines with a narrative, she established an import company in 2014, Southern Wine Roads, and brought a number of quality producers to the UK market.
She has organised numerous tastings on Greek wine in the UK for wine societies, customers and private groups. She attended the WSET program and obtained the WSET Level 3 Award in Wines qualification in 2015. Maria views wine as part of a healthy and balanced diet, to be consumed always with measure and the necessary care, which remarkably enhances its enjoyment.
She is also a medical professional and a member of the Higher Education Academy.
---
Booking terms and conditions
Payment in full must be made at the time of booking and places are not confirmed until payment has been received. Unfortunately we cannot take provisional bookings.
Cancellations and transfers
Cancellations and transfers can be made up to two weeks before the event.
Cancellations within 10 working days are non-refundable and cannot be transferred to another event.
If you need to change a name on the booking, please give us as much notice as possible.
WSET School London reserves the right to cancel an event. If necessary, a full refund or transfer will be offered.
Please note: The sample list and speaker/s may be subject to change.
---
Tasting level
Intermediate: An in-depth exploration of a particular topic. Some prior knowledge is beneficial – such as a WSET Level 2 qualification – but these sessions will be enjoyable and educational for anyone with an interest in the subject.