Join us at WSET School London to celebrate the end of our International Women's Day Wikipedia edit-a-thon and to join in with a final push to raise awareness of women at the top of their game in the drinks industry.
Event details
Wikipedia is one of the most visited websites, yet less than 20% of the biographies in English are of women. The drinks industry is no exception.
Over the month of March, we're collaborating with the WSET Global team to host a Wikipedia edit-a-thon, inviting people all over the globe to create pages on Wikipedia for those who identify as women in the world of wine, spirits, sake and beer. By the end of March, we hope to have created Wikipedia pages for over a hundred women in the industry.
If you're based in London, join us at WSET School London for a final push on Saturday 1 April to create more pages, network, and toast International Women's Day.
All you need to bring is a laptop/tablet – we'll provide the snacks and some delicious women-made drinks (see list below).
Don't worry if you've never edited or created a page on Wikipedia before, we will have two sessions at 12:30pm and 3:00pm to take you through the steps. You can also sign up to receive a step-by-step guide.
This is a fantastic opportunity to raise awareness of the women leaders across the trade, and perhaps learn something new. We hope to see some of you there!
Don't think you can make it to London? That's okay, you can also take part in your own time. Register your interest here and we'll send you a how-to guide to creating Wikipedia pages, as well as a list of brilliant women across the drinks trade that do not currently have a Wikipedia presence. 
Use the hashtag #IWDWSET to share your progress on social media and make sure the pages you create are counted in our round-up at the end!
---
Drinks list
Wines from Wynn's (made by Sue Hodder and Sarah Pidgeon)
Wines from Le Soula (made by Wendy Wilson)
Beers from Wildcard Brewery (brewed by Jaega Wise)
Sparkling mixers by Sekforde (owned by Talula White)
Champagne Boizel (owned by Evelyn Boizel)
---
About the host, Anjali Douglas DipWSET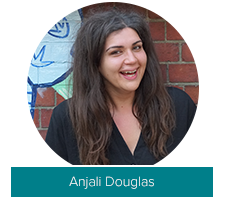 Anjali worked in hospitality while studying her A-Levels, never intending to make a career out of it. She then started working in education for museums and galleries, producing events and festivals to attract diverse audiences. She caught the wine bug five years ago and returned to hospitality, starting her new career in a wine bar, before moving on to become responsible for training hospitality staff and sommeliers for a wine distributor. Now, she teaches Levels 1-2 at WSET School London. No matter what industry she is in, Anjali's aim is to open up conventionally elitist institutions, art forms, and beverages, to more. Read our Q&A with Anjali.
---
Booking terms and conditions
Payment in full must be made at the time of booking and places are not confirmed until payment has been received. Unfortunately we cannot take provisional bookings.
Cancellations and transfers
Cancellations and transfers can be made up to two weeks before the event
Cancellations within 10 working days are non-refundable and cannot be transferred to another event
If you need to change a name on the booking, please give us as much notice as possible
WSET School London reserves the right to cancel an event. If necessary, a full refund or transfer will be offered.
Please note: The wine list and speaker/s may be subject to change
---