Explore the history of amphora, the original winemaking vessel, with Victoria Daskal DipWSET.
Event details
Evenings
Clay pots date back to the Neolithic period and were used by nearly all ancient civilisations. Used for fermentation, storage and transport, clay vessels have travelled the wine world for thousands of years and continue to influence production today.
While oak, concrete, and stainless steel have gained favour in modern winemaking, the use of amphora of all shapes and sizes is growing, particularly by artisanal and minimal intervention wine producers.
Join Victoria Daskal DipWSET for an exploration of wines from around the world that have been produced in clay vessels. Chart the progression of clay vessels from Georgian Qvevri, to Amphora in Italy, Talha in Portugal, Tinaja in Spain and interpretations around the world.
---
Example wine list
Orgo Saperavi 2021
COS, Pithos Rosso 2020
Iago, Chinuri 2021
Casa Balaguer, El Rosado de Padilla 2021
Pyramid 'Orange' 2020
AMPHORA WHITE, HERDADE DO ROCIM 2019
Josko Gravner Ribolla Gialla 2014
Voskevaz Karasi Collection Areni Noir Vieille Vignes 2015
---
About the presenter, Victoria Daskal DipWSET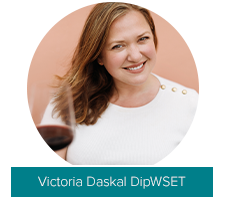 Victoria Daskal DipWSET is a wine writer, educator, business owner and consultant with over 15 years of experience in the wine industry. She is the founder of Mummy Wine Club, an award-winning wine subscription club and wine events company based in London. She specialises in presenting wines from all over the world through her curated selections and educational wine events.
Born in Moldova, Victoria grew up in Boston, MA and studied Economics and Psychology at McGill University in Montreal. In 2008 she completed the OIV MSc in International Wine Management – a whirlwind program that took her around 45 wine regions and 23 countries–after which she came to London to work for Jancis Robinson MW.
She has since worked in sales, events, and marketing while also completing the WSET Level 4 Diploma in Wines with Merit and was most recently the Managing Editor of The World of Fine Wine magazine for six years. She continues to write freelance (WFW, Falstaff, Elite Traveller), judge, and consult.
She teaches the Levels 1-3 Awards in Wines at WSET School London.
---
Booking terms and conditions
Payment in full must be made at the time of booking and places are not confirmed until payment has been received. Unfortunately we cannot take provisional bookings.
Cancellations and transfers
Cancellations and transfers can be made up to two weeks before the event.
Cancellations within 10 working days are non-refundable and cannot be transferred to another event.
If you need to change a name on the booking, please give us as much notice as possible.
WSET School London reserves the right to cancel an event. If necessary, a full refund or transfer will be offered.
Please note: The sample list and speaker/s may be subject to change.
---
Tasting level
Intermediate: An in-depth exploration of a particular topic. Some prior knowledge is beneficial – such as a WSET Level 2 qualification – but these sessions will be enjoyable and educational for anyone with an interest in the subject.