Join us at Imbibe Live 2022 for a WSET Tasting Room takeover. We'll be collaborating with industry friends to bring you five unique tastings covering port, agave spirits, peated whisky, baijiu and tasting technique.
Event details
Drinks trade show
Imbibe Live is the place to be for anyone who sources, buys or serves drinks and is seeking to grow their business and delight their customers. Whether you're interested in wines, spirits, beers, ciders, soft drinks or the full spectrum of drinks, Imbibe Live brings the entire drinks community together every year to take part in invaluable networking opportunities, including an award-winning content programme curated by leading industry figures. The 2022 event is returning to the Grand Hall at Olympia London, 4-5 July.
Click here to register for the event.
---
WSET's Tasting Room takeover
WSET will be hosting a Tasting Room takeover on Tuesday 5 July at Imbibe Live 2022, and it's fair to say we're going BIG on flavour this year. We'll be joined industry experts to explore lesser-known styles of port wine, to probe into the concept of terroir in agave-based spirits, to examine the use of peat in whisky, to offer you the chance to discover the fascinating Baijiu category, and to get technical about tasting spirits.
Join in on one of these sessions to enjoy some fantastic samples and get a taster of what you could learn through WSET's globally-recognised qualifications.
---
Port that's not red! The growing trend for white and rosé ports
Tuesday 5 July: 10.45-11.30am

There's an old adage that port wine has two duties: the first is to be red, the second is to be drunk.  
In this session, WSET Certified Educators Sara Matos and Lucy Stevenson will contest the first part of this claim! They'll take you through a selection of fantastic white and rosé ports, showing that there is a lot more to the Douro's famous fortified wines than tawny and ruby. They'll be covering:  

The grape varieties used in white and rosé ports

How production techniques differ from tawny and ruby ports

A look at youthful vs aged examples

A chance to taste an iconic '

Moscatel

do Douro'

Serving suggestions, including the rise of the port tonic



You'll have the chance taste through a range of contrasting styles using WSET's Systematic Approach to Tasting Wines, and explore some of the different ways these exceptional fortified wines can be served and enjoyed all year round.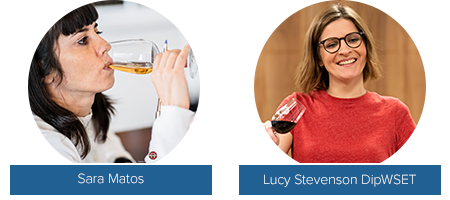 ---
Exploring terroir in agave spirits
Tuesday 5 July: 12.00-12.45pm
What does the word terroir mean in the world of spirits? In this session we will be exploring the concept through the lens of four distinctive agave spirits, each one crafted to celebrate and highlight the impact of the place where the agave is grown and where the spirit is produced. 

WSET's Charlie McCarthy will be joined by Gaby Moncada, Agave Spirits Specialist at Speciality Brands, to guide you through a tasting of premium agave spirits, looking closely at: 

The biology of the agave plant

The importance of growing conditions, climate, altitude, local microbiome and other natural factors on

flavour

The impact of human influences including farming, processing, fermentation, distillation and ageing decisions
Does terroir exist in spirits? Join us for this unique tasting, and make up your own mind.
---
Discover Baijiu
Tuesday 5 July: 1.15–2.00pm
Baijiu is the biggest global spirit category in the world by volume, but still somewhat unknown in the west. In this session, Marie Cheong-Thong joins WSET's Nick King to introduce you to this fascinating and varied category. Come along for the chance to:
Discover the unique and mind-bending Asian traditions of spirits production
Explore solid-state fermentation and distillation
Taste through a range of different styles, using WSET's Level 3 Systematic Approach to Tasting Spirits
An unmissable opportunity for innovative drinks professionals to sample some rare and exciting bottles, and to get a taster of the advanced-level spirits knowledge gained through the WSET Level 3 Award in Spirits.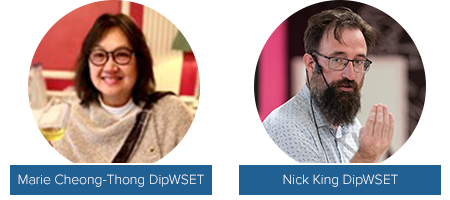 ---
Examining peat and its use in whisky 
Tuesday 5 July: 2.30-3.15pm
Any whisky lover will be familiar with some of the heady aromas associated with 'peated whiskies'. But how much do we really know about peat, and is describing a whisky as simply 'peated' or 'unpeated' enough? 
In this session, WSET Spirits Educators Hannah Lanfear and David Miles will join forces to examine the use of peat in whisky through a comparative tasting of four single malt scotch whiskies, made using peat from different sources. They'll be discussing: 

What is peat made from?

Where does is come from?

How can it be used in whisky production?

How do these variables affect style and

flavour

?



Join Hannah and David to get a little geeky in terms of peat composition, kilning, phenol levels and more!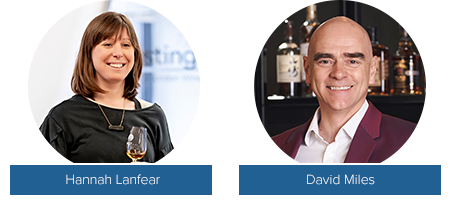 ---
Getting technical about tasting


Tuesday 5 July: 3.45-4.30pm

Proper tasting technique is something which is too infrequently taught to cocktail and spirits industry professionals. However it's a skill which should be prioritised, practiced and honed, as it's required in a number industry roles. Join Hannah Lanfear and Nick King, two of the UK's top WSET Spirits Educators, as they:
Explore the science behind taste and flavour
Taste three different styles of spirit using the WSET Systematic Approach to Tasting
Discuss how to effectively assess quality, using a simple set of criteria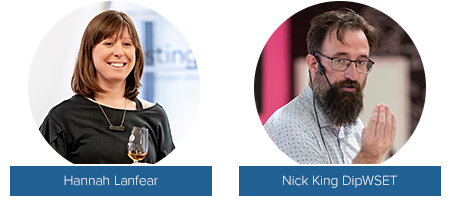 ---
Click here to register for the event.