The wine and spirit industry is dynamic, diverse and offers many opportunities to build an exciting and rewarding career.
This page aims to provide an introduction to some of the key positions available in the industry, including a brief summary of what can be expected from the role. Descriptions are intended as a guide only. Every role and company is unique and may have different requirements.
We will be adding to this page over time. If you're looking for a job don't forget to check out our jobs board.
Roles have been organised into three key areas:
Commercial
Service
Production
Commercial roles
These roles relate to the sourcing, buying, selling and marketing of wines and spirits.
Buyer
The main responsibilities of a buyer are to source drinks from different locations, to negotiate prices and to set retail prices, while considering the trends and demands of the market in which they work. This job suits someone with excellent product knowledge and tasting skills, combined with a good eye for detail, as buyers are responsible for keeping track of stock levels, importation, warehousing and quality control. In smaller firms, buyers tend to undertake a greater variety of tasks with less support, perhaps having sole responsibility for imported products. In larger firms there may be a team of buyers, each with their own area of expertise. Many businesses will recruit junior buyers with a view towards training them.
Sales – Retail
Sometimes known as merchant this position is principally responsible for running and maintaining premises from which to sell alcoholic drinks. Their duties include taking orders in-store, by email, online and via telephone, organising deliveries to customers, sourcing and sampling new wines, hosting events, and merchandising shop space. This role requires excellent product knowledge and good tasting skills. The wine merchant will spend a lot of time on their feet on the shop floor – there can also be a lot of heavy lifting and long hours, so they need to be physically fit. This job would suit someone with a good instinct for sales, good customer service and interpersonal skills.
Sales – Wholesale
On the wholesale side, sales personnel fall into two groups. Telesales is office based and involves speaking to regular customers to take their orders. Field sales involves visiting customers; retail shops, pubs, restaurants, hotels and wine bars. Getting to know the customer and understanding their market is vital as are sound commercial skills. A wholesaler's portfolio can contain a range of wines and spirits, from inexpensive offerings for discount retailers, to the finest of products sold through exclusive stores and hotels. Sales staff need strong product knowledge and to be able to communicate with a whole range of different buyers in order to succeed.
Brand Manager (Marketing)
Brand managers are responsible for creating a lasting impression among consumers and improving product sales and market share, which is crucial to the success of any wine or spirit product. This job will suit someone who has good analytical and communication skills. You will be responsible for preparing and executing marketing plans and campaigns across relevant channels -strong presentation skills and networking abilities are needed. Companies may prefer candidates that have a bachelor's degree in marketing or similar. Experience in the drinks industry or in FMCG is highly regarded.
Events Manager
Another important position on the marketing side of the wine and spirit business is the events manager. This position is responsible for organising events to help market the brands in the company's portfolio. These may include tastings, trade and consumer exhibitions and shows. The events manager must work closely with the marketing department to identify the best events to participate in to market the wine or spirit brand, such as regional or national trade events. This role is often highly sociable and may be physically demanding and require travel or out-of-hours work.
Consultant
Consultancy can take many forms, advising on everything from production to service. Depending on their area of expertise, consultants can help to plan or improve marketing and sales strategies, position and manage brands, or even develop new and existing products or venues. Consultants should be effective communicators in order to build and maintain their connection to the industry, and once established must keep abreast of developments in the trade remain relevant and keep growing. Formal certifications and qualifications can help you stand out, and often provide validation crucial to gaining your clients' trust.
Brand Ambassador
Brand ambassadors are responsible for the promotion of a product or brand. They contribute to brand success by forging meaningful industry relationships, then supporting existing and securing new clients. As the expert face of the brand, a brand ambassador is responsible for advocacy and education; delivering masterclasses and presentations and organising events, as well as trips for preferred influencers, in order to increase brand awareness and visibility. By monitoring and analysing the market, they report on sales and marketing activities to help shape plans for the future.
Service roles
These roles relate to the selling and serving of wines and spirits in a hospitality environment.
Bartender
Bartenders serve drinks and snacks in bars, clubs, hotels, and other licensed premises. With the increase in consumer sophistication, there is more demand for bartenders who are skilled in the art of mixing drinks, sometimes known as mixologists. Strong product and service knowledge is required to effectively prepare cocktails and advise customers on drink selections. The main responsibilities of the bartender include serving drinks and snacks, collecting payments from customers, restocking the bar, and washing and drying glasses. Shifts tend to be long and often include evenings and weekends. Bartenders therefore need to be flexible with their working hours. Ideally, the bartender will have strong communication skills, numeracy and physical stamina, as well as the ability to work well within a team and calmness under pressure. Many employers will  look for applicants with previous experience of bar work, however, training for bar work is often done on the job. Some bars and pubs, especially those that form part of a large chain, may arrange for staff to work towards relevant qualifications.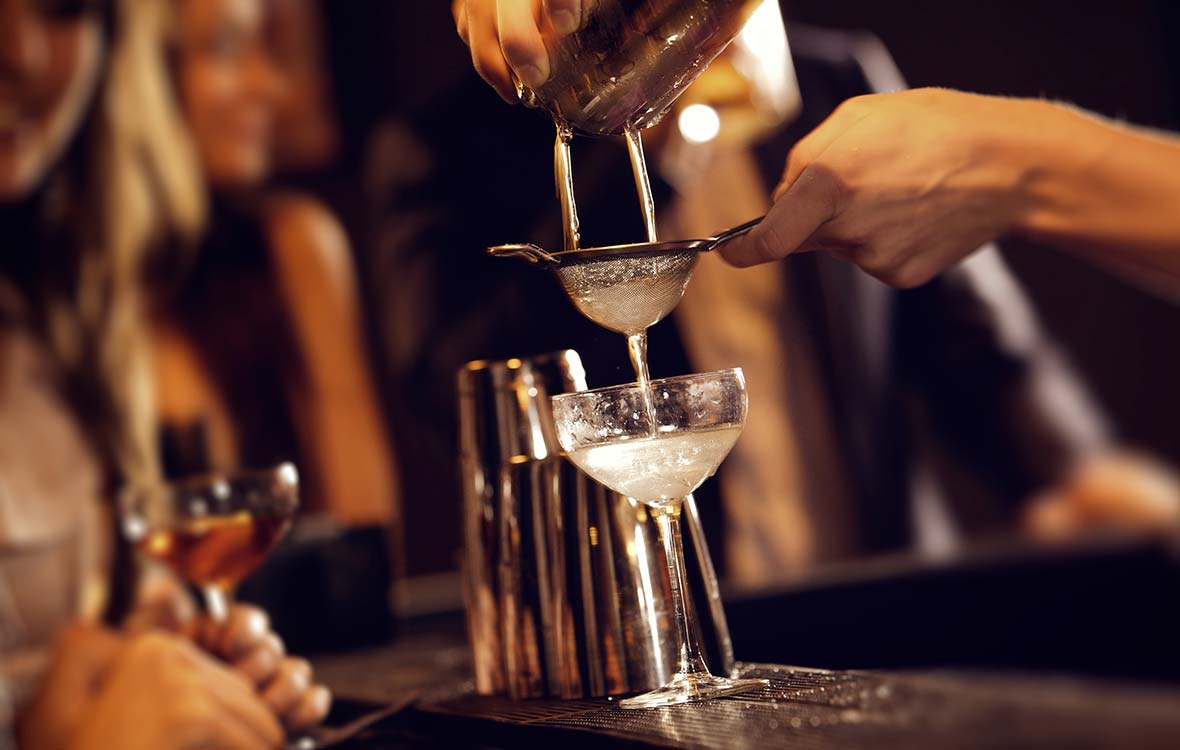 Sommelier
Sommeliers are highly knowledgeable wine professionals, commonly working in fine restaurants, who specialise in all aspects of wine and spirits service as well as food and wine matching. They help customers with their wine selection and may also buy wines and curate the wine list for the establishment in which they work. Sommeliers often work unsociable hours and spend a lot of time on the restaurant floor, so should enjoy being active. This is a great job for someone who is personable as you will meet new people every day and may also train other staff in your business. Qualifications in sommellerie and relevant experience will help you get an advertised job  - many recruiters will seek candidates who have experience, but others may want junior sommeliers who can be trained on the job.
Find out how to become a sommelier here
Waiter
Waiters serve food and drinks to guests in hotels, restaurants, clubs and similar establishments. Duties and responsibilities include taking restaurant reservations, setting and turning down tables and advising guests about their food and drinks choices. In establishments where there is not a dedicated sommelier or drinks service team, waiters may be expected to advise guests on their wine/spirit selections and serve these selections efficiently to guests. This may include appropriate glass selection, bottle opening and pouring. Waiters need to have a neat personal appearance while serving, which can be physically demanding. Good communication skills are essential and you should enjoy working as part of a team. There is no required training or experience to become a waiter, and many employers will want to train you according to their house style. Fine dining restaurants are likely to look for a candidate with previous experience.
Publican/Licensee 
Publicans are managers, tenants or owners of public houses (pubs). Their main responsibilities include account management, negotiating with suppliers, making sure the bar area is stocked and well maintained, making sure customers are served quickly, and training and supervising bar staff and kitchen staff. To be successful in this role, you would need to be good with numbers for handling cash and bookkeeping. You would also need to be prepared to work long hours. You can get into this job by working your way up from being a bar person, or by joining a management training scheme run by one of the larger pub chains. It will help if you have some experience of customer service and bar work.
Wine and spirits production roles
Viticulturist
Viticulturists are responsible for the health of the grapevine. Duties include monitoring and controlling pests and diseases, deciding when to harvest and pruning during the winter months. Viticulturists tend to work closely with winemakers and may also liaise with grape buyers. They naturally spend a lot of time outdoors, therefore this role would suit someone who enjoys being active. Due to the level of expertise required for the job, a viticulturist will usually have a degree in viticulture or similar subject, or relevant experience.
Vineyard Manager
Vineyard managers generally take charge of the entire grape growing process and manage all vineyard work on a day-to-day basis. They will liaise with the viticulturist and supervise employees as well as carrying out viticultural duties themselves, such as maintaining records for vine performance. This job will suit you if you enjoy working with others and if you enjoy being active outdoors as many duties take place in the vineyard itself. Part of your job may include producing reports  throughout the year, so you should have a good eye for detail. Vineyard managers usually have a relevant degree, such as in agriculture, or they will have relevant experience.
Grape Picker
Grape picking tends to involve picking grapes and loading grape containers during the harvest period. Grape pickers may also be asked to sort grapes at the sorting table and help clean equipment used at the winery. Grape picking is a very active job and will suit someone with a good level of physical fitness. You may work all day, or just a few hours in the morning or at night, so flexibility in your work schedule is required. Grape pickers don't need to have any particular educational background or training, though some wineries will prefer experienced pickers.
Winemaker
After harvest, the winemaker will monitor every winemaking process, such as the crushing and pressing of grapes, and fermentation. They will make decisions that affect the character of the wine, especially regarding blending and ageing. Winemakers work with viticulturists and vineyard managers before harvest time, and lab technicians during the winemaking process, so this role requires someone who has good interpersonal and communication skills. Winemakers are usually expected to have a strong background in wine through experience or a university degree. They need excellent understanding of chemistry, as well as a strong sense of smell and taste.
Cellar Technician
Cellar technicians install and maintain the equipment that is used to create wine and spirits. On-trade establishments also require specialist equipment, so cellar technicians may work full-time in large-scale production centres, such as a distillery, or at places such as pubs and bars on a more ad hoc basis. Cellar technicians need to be physically fit and alert to health, safety and hygiene issues. The job usually includes planning and carrying out installations, maintenance, fault-finding and repair work, so a lot of time is spent being active. A lot of the required training takes place on the job, but ideally you will already be comfortable handling power tools.
Winery Worker
This position focuses on the technical and scientific part of winemaking. Some of the responsibilities include racking, clarifying and blending of the wine, keeping inventory of the cellar supplies, and maintaining the sanitation of the wine storage tanks. The job requires good interpersonal and communication skills, especially during the harvest which is the busiest time of the year.  You should be able to do manual work and the ability to work quickly and reliably is a plus. This job does not have any formal prerequisites and is generally viewed as an excellent place to start if you want to get into the wine trade.
Lab Technician
Laboratory technicians carry out routine laboratory tests and perform a variety of technical support functions to help the winemakers. Day-to-day tasks include running wine samples through the lab, testing and adding ingredients, and working on the wine press. The job role requires that you be flexible with your working hours as shifts can sometimes be irregular, particularly during the harvest period. The job is also physically demanding and requires continual concentration.  Lab technicians need a degree in applied science, such as wine science, due to the high level of scientific understanding required.
Distiller
The distiller's main priority is to create a spirit, such as gin or whisky, in a desired style and of a particular quality. In many cases, they will oversee the production of the spirit from start to finish, and so will liaise with many different people throughout the process, ranging from the people who farm and deliver the base product to lab technicians. Ideally a distiller will have a science-based qualification, as the job requires an in-depth understanding of chemistry. However, many larger employers will encourage their employees to learn as they go, so long as they show skills required for other aspects of the job.