In its most glamorous form, the profession of wine buyer appears to be an enviable one: travel to exotic foreign climes, copious amounts of 'research' involving fine wine and food, and the power to decide what wines should be offered to an unsuspecting population.
The reality is somewhat more prosaic – and, invariably, it's challenging work. For instance, Mike Roberts, sommelier manager for Co-op Wines Spirits Beer in Alberta, Canada (part of Calgary Co-op with 24 liquor stores), has a lengthy list of responsibilities that extends well beyond sourcing, pricing and tracking wine purchases; he also plans, coordinates and communicates wine promotions, handles in-house wine education (including WSET programmes), and cultivates relationships with suppliers and industry partners.
Personal attributes of wine buyer
As the breadth of those responsibilities suggests, being a wine buyer demands a range of skills, from the ability to negotiate to a sound technical knowledge of wine. Roberts mentions a 'strong and deep' understanding of market drivers, trends and influences, as well as excellent organisational skills, leadership qualities, confidence and having an engaging and persuasive personality.
'An unending passion for all things wine' is also key, says Sonal Holland MW, wine director at India-based ITC Hotels, a luxury hotel chain with nearly 100 locations, along with an 'impeccable reputation' and the utmost integrity.
'Be honest,' advises a wine buyer for a leading UK retail chain. 'There is no way you can know everything about wine, so don't pretend you do. The great thing about the wine category is that every day is a school day.'
Qualifications and experience you need to become a wine buyer
A range of different professional qualifications can prove useful when pursuing a career as a wine buyer. Those directly related to wine are valued both for their knowledge base and for the professional connections that they often bring with them, with the WSET programmes the most recognised in the wine trade. The WSET Diploma includes units dedicated to the global business of alcoholic beverages.
However, qualifications related to marketing and communications are also often invaluable. Peter Nixon, member of the Wine Panel at large Australian retailer Dan Murphy's (more than 200 stores), completed an associate diploma in wine marketing, but would now recommend completing a pure marketing and communications degree.
He also attributes his career advancement to 'a mix of ability and luck', from a start with Oddbins in the UK during the late 1980s, through studying wine marketing at Adelaide University and experience in wine buying for an independent retailer, then a hotel and restaurant group, then an airline.
Nixon says: 'I am passionate about wine, but my strength lies in my business and marketing acumen, which appreciates that wine is also about branding, image and promotion. Whilst I do not have a WSET qualification, if I were starting my career over, I would certainly put this high up on the list of must-haves.'
'There is no way you can know everything about wine, so don't pretend you do. The great thing about the wine category is that every day is a school day.'
Professional development as a wine buyer
Two words: tasting and travel. 'Industry and trade tasting events are great opportunities for sourcing product and connecting with industry partners and creating relationships,' says Roberts, who also recommends visiting wine regions around the world to become familiar with operations, products, opportunities and market trends; and staying in touch through newsletters such as WSET Global Newsletter, wine industry blogs and websites.
Holland too recommends attending major trade fairs such as Vinexpo, ProWein and the London Wine Fair both to taste and to keep abreast of industry developments. 'And, in order to pass the Master of Wine theory exam, I have to read an immense number of books,' she says. 'All this, I believe, has helped me become a better wine professional.'
'Practice makes perfect: taste, taste, taste,' says the wine buyer for a leading UK retail chain. 'Trade fairs are great for this. Likewise, make the most of visiting vineyards and regions – actually being there makes everything (culture, terroir, food matching, climate etc) all click into place that much more easily.'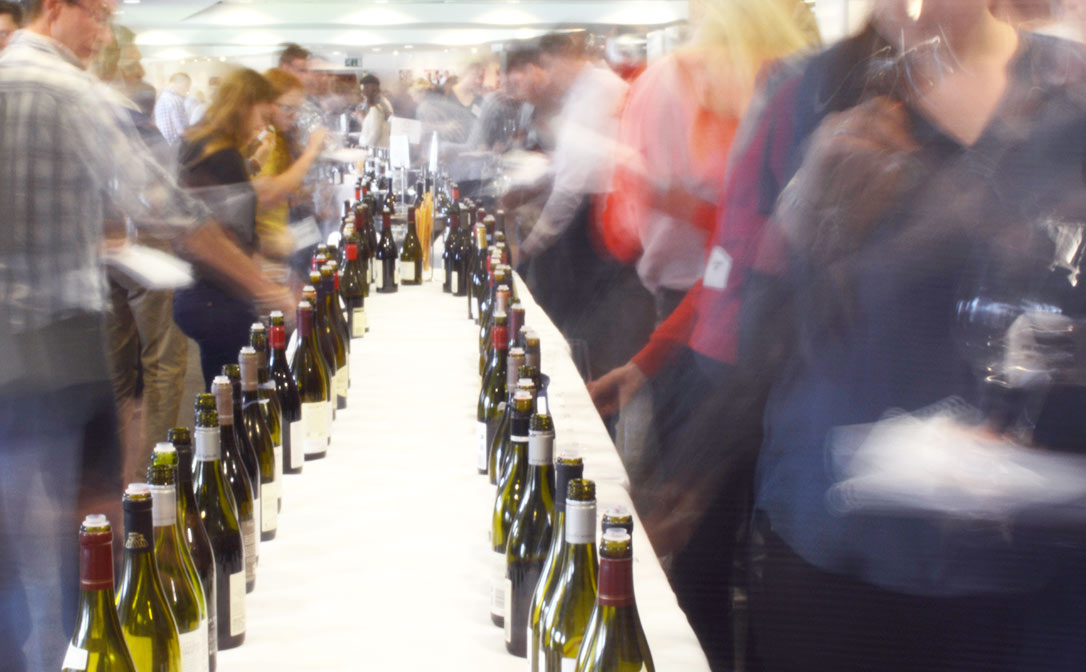 A trade tasting in action. Image courtesy of Liberty Wines. 
Wine buyer job opportunities and breaking through
These will vary hugely from place to place, from employment in-store to graduate opportunities, for instance working in an administrative role supporting the buying team in head office, which can be a useful route into a junior buying role.
For Roberts in Canada, building a career as a wine buyer takes time. 'You must climb the ladder,' he says. 'Grass roots knowledge of the business and its customers is crucial.
'To become a wine buyer you need to start at store level and work your way up. Get to know the business by being on the store floor, interacting with customers, employees and industry partners.'
In Canada, that means starting as a sales associate or store supervisor – maybe management if you have the requisite experience – and being patient. 'Buyer positions are not easy to come by and are a highly competitive position,' says Roberts.
Holland echoes this, pointing out that, as a nascent wine-drinking nation, India offers few wine buying jobs at present. However, as the market expands, this is likely to change.
A growing number of distributors and retailers are now multinational, multi-operational organisations, encompassing all aspects of the drinks trade. Where so many facets of the trade are gathered under one organisational umbrella, opportunities exist in a multiplicity of roles and disciplines – all of which require wine buyers with different skills and credentials.
For instance, Dan Murphy's is part of the Woolworths-owned Endeavour Drinks division, encompassing retail stores, online operations, direct-to-consumer, a wine club and a fine wine auction and brokerage business. This broad structure, says Nixon, offers opportunities for work experience or internships, as well as salaried positions. Buying teams at Dan Murphy's are made up of a category assistant, promotions manager, assistant business manager and business manager.
Regional variations
While the fundamentals of wine buying are broadly similar from country to country, the local market conditions can be hugely different. Competition among the major retailers in the UK, for instance, is cut-throat, but the selection of wines on offer is highly cosmopolitan compared to, say, France – or Australia.
'The Australian wine market, like most significant size wine-producing countries, is strongly supportive and engaged in local wines,' says Nixon. 'So a good knowledge of Australian and New Zealand wine is beneficial.'
Canada's wine market, meanwhile, is dominated by the monopoly system operated by provincial boards, but Alberta – where Roberts operates – has a fully privatised sector and a three-tier distribution/retail system.
'We have access to the largest selection of wine SKUs likely on the continent,' he says. 'Opportunities to buy are constant. A solid connection to the market and understanding of store, business and market needs is paramount, with so many opportunities seeming to be attractive. Within our business, each location and segment of the market has different needs which need to be understood.'
But, while knowledge and experience of local conditions are invaluable, a wider appreciation of the wine world is also vital, says Nixon. 'To be a great wine merchant requires not only to be a capable wine taster, but also to possess a knowledge of the classic wine regions and wine styles of the world, as well as emerging wine trends, coupled with a genuine desire to meet the needs of your customer – whether they be a neophyte or an expert.'
Article prepared for WSET by Richard Woodard, wine and spirits writer and editor. Richard holds the WSET Level 3 Award in Wines and Spirits.
Interested in pursuing career in wine and spirits? Check our career paths page to discover more options.