Wine and spirits professionals and enthusiasts can now study for the coveted Wine & Spirit Education Trust (WSET) Level 4 Diploma in Wines and Spirits through The International Wine Education Centre (IWEC), Cape Town, as the first time the course has been offered through a local Approved Programme Provider (APP) on the African continent.
WSET is the largest global provider of wines and spirits qualifications, recognised industry-wide across the world. Demand for wine and spirit education is rising, with WSET global candidate numbers up 18% in the 2015/16 academic year and South Africa in particular showing strong growth of 80%.
IWEC was the first APP in South Africa and has been offering WSET courses since 2012, with qualifications starting from the beginner Level 1 Awards in Wine and Spirits. To meet the desire for greater knowledge across the continent, IWEC has become the first ever local WSET APP to offer the WSET Diploma, the highest WSET qualification, in Africa. IWEC is now one of 30 WSET APPs in 18 countries worldwide to offer the Diploma.
The Diploma is WSET's flagship qualification, held by just over 9000 people worldwide. The course provides expert level knowledge and understanding of wines and spirits, from wine and spirit production and wine regions and styles, to the global trade in wines and spirits. The programme requires 600 study hours typically taken over two years and successful candidates receive a WSET certificate and lapel pin and are able to use the post-nominal DipWSET. They will also be invited to attend the annual Awards and Graduation ceremony in January at London's Guildhall along with other successful students from around the world. The Diploma is also universally viewed as the stepping stone to the Master of Wine qualification.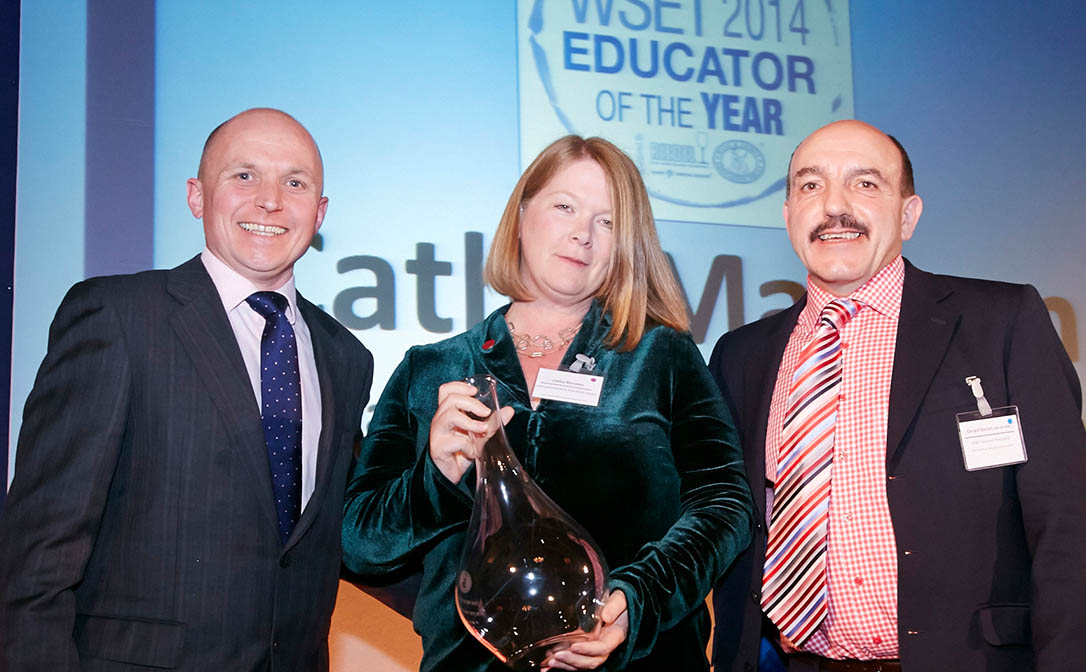 Cathy Marston DipWSET receives the Educator of the Year Award 2014, presented by Matt Knight, Riedel UK and WSET Honorary President Gerard Basset OBE, MS, MW DipWSET.
IWEC will conduct the course through a Distance Learning programme facilitated by WSET School London with exams held in the Western Cape, and will be supporting students with a series of guided tastings over the length of the course as well as encouragement to set up study groups and tasting circles. The first course will begin on 1 April 2017. Candidates should hold the WSET Level 3 Award in Wines and Spirits or equivalent to enrol.
Ian Harris, WSET Chief Executive, says, "The launch of the WSET Diploma through IWEC provides a gateway for the African wine and spirits community to reach the deeper knowledge for which they have demonstrated a demand. As a key wine producing region, South Africa attracts some of the finest talent in the industry and working with IWEC will allow us to offer our highest level of education to this market to nurture its future."
Cathy Marston DipWSET, Founder of IWEC and WSET Educator of the Year 2014 comments, "As awareness of and interest in their wine grows internationally, South Africans are feeling the need for wine knowledge which helps them forge relationships with international markets and puts their wines in context with the rest of the world. WSET qualifications have undoubtedly proved their worth here over the past few years and the launch of the very highest qualification, the WSET Level 4 Diploma, will ensure that South African wine industry personnel have access to the tools they need to continue this success."