Over 500 of the most influential wine and spirits professionals in the world gathered tonight at the historic Guildhall, City of London, to celebrate the annual Wine & Spirit Education Trust (WSET) Awards and Graduation.
Hosted by WSET Honorary President, Gérard Basset and WSET Chief Executive, Ian Harris, the leading global provider of wines and spirits qualifications presented 49 awards in recognition of the outstanding achievements of the candidates for the past academic year 2015/16. The occasion attracted attendance from industry leaders and long-standing WSET supporters including Jancis Robinson, Laura Jewell and Joe Fattorini.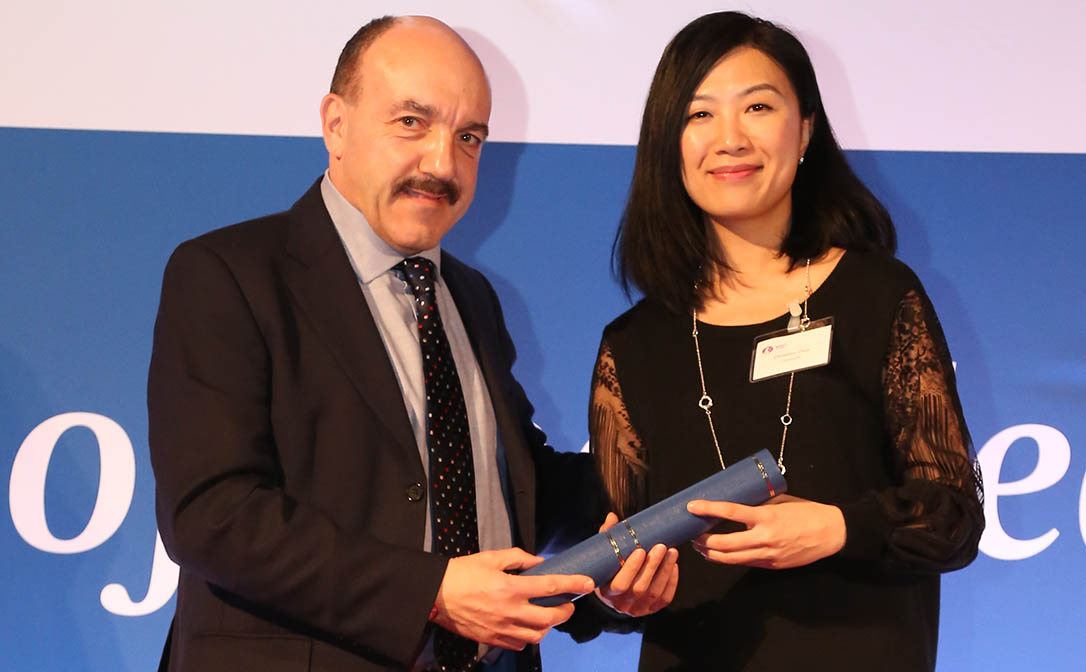 Gerard Basset OBE MW DipWSET, presenting awards at the Awards & Graduation Ceremony 2017
Hailing from the UK and USA to China and Japan, 191 of the year's 460 WSET Diploma graduates assembled for the annual graduate procession, marking their achievement as one of only just over 9,000 people in the world to have ever held the globally recognised accolade.
The event also gave a stage to announce the appointment of WSET's new Honorary President, Steven Spurrier, who will take over from Gérard Basset after three years in the role following the close of the ceremony.
Ian Harris, WSET Chief Executive, said, "The academic year 2015/16 was WSET's most successful to date, with a record 72,171 exams taken globally, an increase of 17% on the previous year, marking 14 consecutive years of growth. In the dynamic and ever changing world of wine and spirits, education is proving increasingly important, and through our qualifications and scholarships we are committed to nurturing talent to promote the future of the industry. We are so proud of all our graduates and scholarship winners and together hope to continue to inspire others towards deeper knowledge and achievement."
Award highlights:
Vintners' Cup and Scholarship Winner:
Jason Millar, Retail Director, Theatre of Wine, UK
Awarded to the student who achieved the highest aggregate mark across all units of the WSET Level 4 Diploma in Wines and Spirits
I'm delighted to be awarded the Vintner's Cup for 2016. The Diploma has been a great experience that has helped me gain a deeper understanding of wine and spirits, and expand my knowledge of the industry.
Jason Millar, Vintners Cup Winner
The Riedel Trophy for the WSET Educator of the Year:
3 winners:
Dragon Phoenix, China
Hakkasan Group, UK, USA, Middle East
Napa Wine Academy, USA
Awarded to the individual or company that has made a significant contribution to WSET courses and qualifications
Fongyee Walker DipWSET, co-founder of Dragon Phoenix, says, "We at Dragon Phoenix are delighted and honoured to have received such a prestigious award. With such a range of impressive nominees from around the world, this award inspires us to continue to develop our WSET teaching and the furthering of wine education throughout mainland China. We would like to thank the judging panel and also our students whose hard work and dedication motivates us daily."
Christine Parkinson DipWSET, Group Head of Wine, Hakkasan Group, says, "Being nominated came as a real surprise: at Hakkasan Group we only train our own staff, and had not expected any recognition for this. The nomination for Educator of the Year was really exciting for us. To win is amazing! For us, WSET courses are an excellent way to inspire our staff and maintain our standards around the world. We have a great team of Educators in our restaurants, and this is a lovely reward for their commitment and effort."
Christian Oggenfuss DipWSET, Executive Director, Napa Valley Wine Academy, says, "We are truly humbled and honored to receive this prestigious award from the WSET and Riedel. We are extremely grateful to our wonderful community of top instructors, passionate students, and WSET all of whom are instrumental in driving our commitment to provide the very best in education at all levels. We have always held that excellence in education is the cornerstone to a higher level of hospitality, sales, and service, elevating standards throughout the wine industry and we look forward to sharing this award with our students, instructors, and the global wine community."
See the full list of graduates and award winners in our 2017 Yearbook on the dedicated microsite here.