On Tuesday, May 2, leading wine and spirits professionals gathered at the WSET Alumni Event in New York, part of the first WSET Week USA, to discuss the hot topic of the power of scores for wine and spirit brands.
Led by WSET's International Development Manager, David Wrigley DipWSET MW, the panel discussion featured Lisa Perrotti-Brown DipWSET MW, Editor-in-Chief of Wine Advocate, Allen Katz, Director of Spirits Education and Mixology for Southern-Glazers Wine & Spirits and head distiller/co-founder of New York Distilling Company, and Maggie Campbell DipWSET, a member of WSET's Alumni Advisory Board and head distiller at Privateer Rum.
More than 50 wine and spirit industry professionals, all WSET Diploma graduates or students, joined the conversation to assess the value that the scoring system brings to the wine and spirits selection process. 
In Perrotti-Brown's overview of the scoring system, which began long before Robert Parker developed the 100-point system employed by Wine Advocate, she assessed the reason for the development of a scoring system, which has taken the form of stars and points dating back to the 1980s when Michael Broadbent introduced the star system in his book, The Great Vintage Wine Book. Despite Wine Advocate's formidable role in the scoring ecosystem, Perrotti-Brown conceded: "Scores aren't everything. They only tell you where a wine sits qualitatively amongst a group of its peers, but they tell you nothing about the style of the wine." For that, she emphasized the importance of reliable and rigorous tasting notes and reviews and valued tools such as WSET's Systematic Approach to Tasting.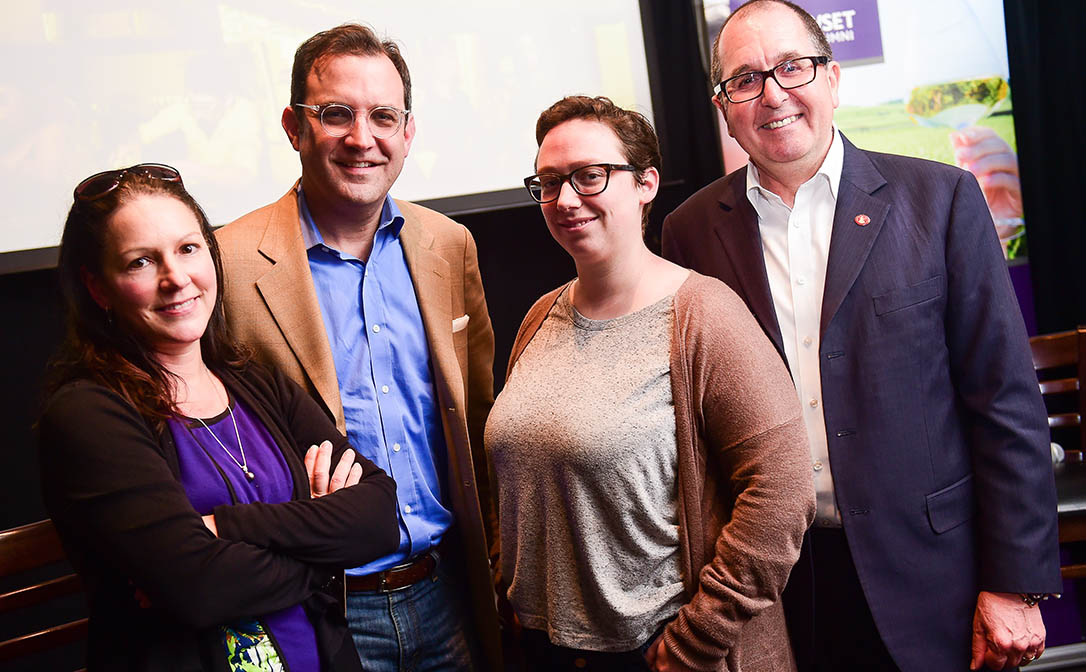 Lisa Perrotti-Brown DipWSET MW, Allen Katz, Maggie Campbell DipWSET and David Wrigley DipWSET MW
Nevertheless, according to Perrotti-Brown, the creation of the 100-point system has kick-started "a whole new way of viewing wine as a commodity – as something you can purchase and make money from," which has in turn had a substantial influence on consumer buying decisions.
On the spirits front, the rating system is younger in its development, according to Katz, who stated that spirits evaluation is a problem. "In many ways, I look up to the wine and beer industry because the evaluation process is wholly honest. While spirits evaluators have the skill set, these qualified experts are, by and large, also paid consultants, many for brands." In Katz's opinion the spirits evaluation bodies need some transparency and disclosure, but he feels this will only happen if the industry itself demands it.
In the panel discussion, Perrotti-Brown responded to questions about the rise of crowd-sourced rating entities such as Cellar Tracker and Wine Searcher, and apps like Vivino. "The challenge is that you don't know who is doing the rating, what qualifications they have or what their agenda might be." Perrotti-Brown also flagged a concern about score overkill, which might dilute the value of scoring, and score inflation, which risks their reputation and damages consumer trust.
Ultimately, the WSET panelists all agreed that critics should have non-branded accreditation to ensure trustworthy evaluations. "It's an immense challenge to avoid brand influence," said Katz regarding spirits criticism.
WSET prides itself on brand-neutral education in wine, spirits and sake to ensure no conflicts of interest and to guarantee a full breadth of education. Follow this link to find out more about our qualifications