Nine past and present county cricketers have developed a nose for wine on courses organised by the Professional Cricketers' Association.
The PCA teamed up with the Wine & Spirit Education Trust and Accolade Wines to run the courses at the Kia Oval and Edgbaston which, if they pass successfully, will lead to the players gaining the WSET Level 1 Award in Wines.
The award is a beginner level introduction to wine and is suitable for those interested in starting a career in or pursuing an interest in wine with courses being run by WSET certified educators from Approved Programme Providers WSET School London and Birmingham Wine School.
"When the PCA offered me the chance to go on a wine tasting course, I thought it sounded like a good idea. Generally I'm not fussy about what I drink but thought maybe as I like wine, why not find out why and what to look for in the future," said Middlesex off-spinner Ollie Rayner, who was one of the players who completed the WSET course at the Kia Oval.
"Before the course my taste in wines was quite affordable, now, not so much. It was a great day and well put together.
"I would highly recommend it to anyone who is thinking of taking part in the future. You might even get a WSET qualification at the end of it."
Lynsey Williams, one of the PCA's six-strong team of Personal Development and Welfare Managers, helped to organise the courses and appreciated the support of WSET and Accolade Wines.
"It is always exciting to be able to offer new courses and qualifications to our members. The WSET Level 1 Award really appealed to them due to its practical nature and the fact that they were able to put their new knowledge and skills to immediate use," Williams said.
WSET has been wonderful in tailoring the courses to meet our needs and the timing of the course helped us to attract a mixture of current and former players. Accolade Wines generously supplied the wines, including the Hardy's brand, for the courses and we are very grateful for their support of this initiative.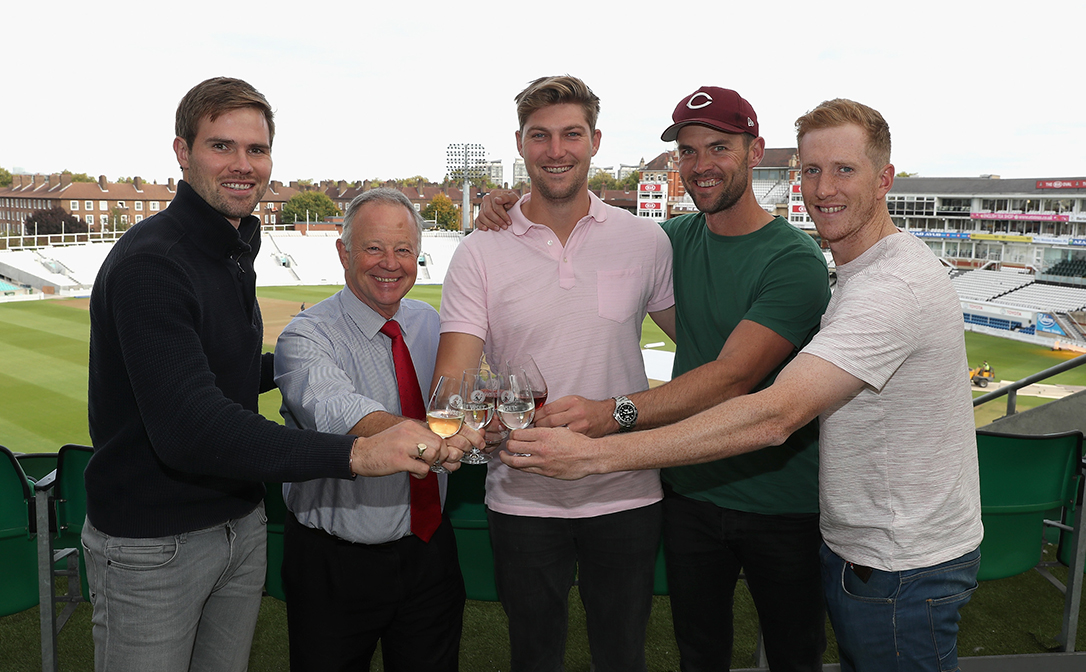 Mat Pillans, Ian Harris (WSET Chief Executive), Ollie Rayner, James Franklin and Luke Wells. Photo from PCA
The course syllabus included the main types and styles of wines, common grape varieties and their characteristics, how to store and serve wine, the principles of food and wine pairing and how to describe wine using the trademark WSET Systematic Approach to Tasting Wine.
The assessment criteria also included an understanding of the issues relating to the safe consumption of wine across legal, social, health and safety standpoints.
At the end of the course, all the players took a 30 question multiple choice exam and will receive a certificate and lapel pin if they pass successfully.
The players were also given advice on how to further develop their knowledge and experience and about the range of careers in the wine and spirits industry.
Ian Harris, WSET Chief Executive said, "The beauty of WSET courses is that they give hands-on wine and spirits education to anyone of any level, almost anywhere. The Level 1 Award in Wines is the perfect introduction to build on an existing interest in wine, or spark a new one, with practical information delivered to a professional standard that lays the foundation for future tasting and learning.
"We're delighted to have been able to offer this opportunity to PCA members and it was exciting to see such an impressive line-up of players looking to expand their wine knowledge with an internationally recognised qualification."
L-R Ollie Rayner, Luke Wells, Mat Pillans. Photo from PCA 
The players attending the WSET courses were:
James Franklin (Middlesex), Ollie Rayner (Middlesex), Mat Pillans (Surrey), Luke Wells, Laurie Evans (Sussex), Jack Shantry, George Rhodes (Worcestershire), Chris Wright (Warwickshire), Nick Denning (ex-Essex).
Further information about the PCA Personal Development and Welfare Programme can be viewed here.