The Wine & Spirit Education Trust (WSET) has named Ana Borges, Fabio Lobosco and Jose Pinheiro, as the first graduates to successfully complete an online WSET Diploma course in Brazil.
Demand for wine and spirits education in Brazil is rising, with the last academic year showing an +18% increase in the number of candidates undertaking a WSET qualification.
WSET qualifications up to the Level 3 Award in Wines are available in Brazil to professionals and enthusiasts through WSET Approved Programme Providers Enocultura and The Wine School Brasil. Following significant interest from successful Level 3 students to progress their knowledge, WSET launched an online programme in 2015 to enable a group of students to undertake the Level 4 Diploma in Wines and Spirits. Managed by International Development Manager Rachel Brown DipWSET and WSET Online Education Programme Manager Janette Devlin, students were supported through a two year online course, finishing with exams in Sao Paulo.
Rachel Brown comments, "During our visits to Expovinis we spoke to many enthusiastic WSET Level 3 students who were keen to take their knowledge to the next level. WSET launched the online Diploma programme in Brazil to offer the opportunity to these aspiring experts. We are thrilled with the success of the students so far and look forward to congratulating more graduates as they achieve this esteemed qualification."
About the Graduates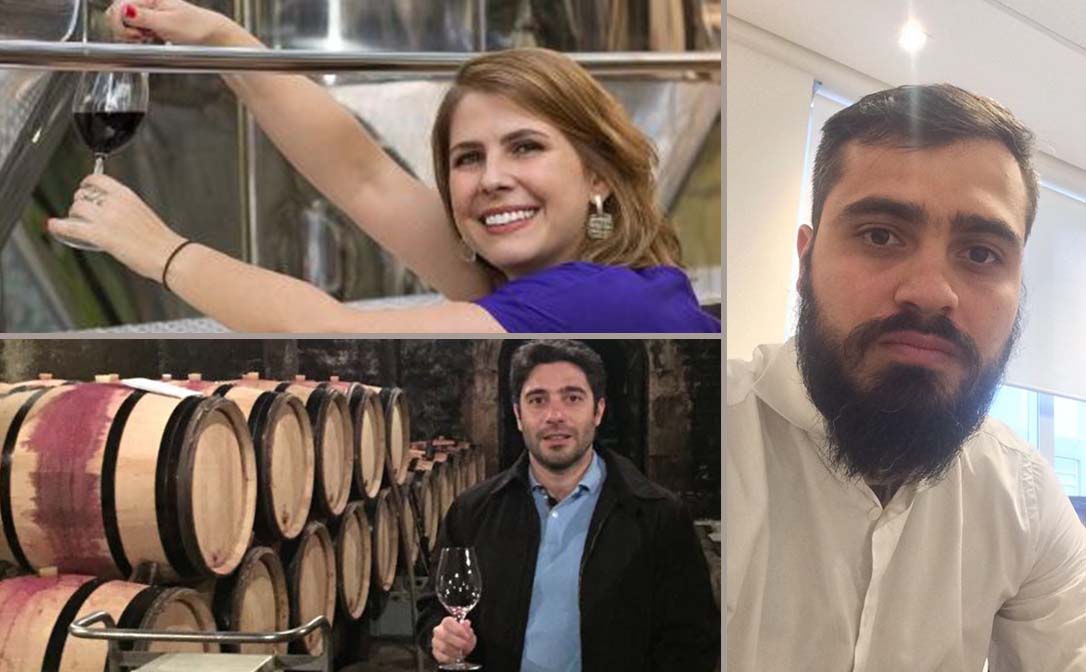 Clockwise from top: Ana Borges, Fabio Lobosco, Jose Pinheiro
Ana Borges is a Brazilian wine consultant and educator, working with the on-trade market and promoting Brazilian wineries. Originally working in restaurants, both kitchen and service, as she became more involved with wine she decided to redirect her career. After getting her Master's Degree in Oenology she undertook WSET qualifications to get more in depth information on wine.
She says, "After Level 3 Award in Wines, I was just craving more knowledge, so the Diploma was the natural path. People around me said I was crazy, that it was too hard, but here I am! I think the business side of the Diploma is unique, as you don't get to see this side of the market in other courses. The array of wines tasted is amazing, and being able to understand what makes each one unique is the best part! I got rid of a lot of the prejudice and preconceptions I had before, such as not liking specific regions or grapes, especially Argentinian Malbec."
Fabio Lobosco was a lawyer in 2013 who had just achieved a master's degree in Political and Economic Law whilst also finishing his first sommelier course and completing WSET Level 3 Award in Wine. In 2014 he was teaching at the Law College and running his own law firm, when he decided to start a PhD in Politic and Economy Law, and one year later, the WSET Diploma.
He says, "Wine was always a hobby to relax, but I also loved to study it deeper. Everybody talked about the Diploma so I felt challenged to face it. I learnt a lot of information about viticulture and vinification, different wines of unusual countries, like China, Mexico etc. Studying for both courses while running my classes and firm was kind of insane, but in the end I achieved success in both, and also completed WSET Level 1 Award in Spirits."
After 12 years working in multinational companies in the Financial Market, Jose Pinheiro decided to open a restaurant in 2008, Hakone Japanese n'Fusion, and started studying wine. Always looking for courses to develop his knowledge, in 2013 he discovered WSET. He has completed Level 2 Award in Spirits, Level 3 Award in Sake and worked his way up from Level 1 Award in Wines before completing his Diploma.
He says, "I decided to study for the WSET Diploma because it is the most acknowledged wine certification in the world. The highlights of the program for me were the knowledge I've acquired as well as broadening my wine and beverages network and, in my case, having to restart studying English was also a plus. It's been a great journey in the wine and beverage world."
When asked what advice they would give to anyone embarking on the WSET Diploma the graduates said:
"Enjoy yourself! The Diploma is quite difficult, and you can get carried away with the obligations and forget that you are studying one of the most passionate subjects out there!" – Ana Borges
"Manage your time, don´t listen to other students complaining about the difficulty, keep calm and before going deeper and deeper in the themes, learn the basics really well." – Fabio Lobosco
WSET will be continuing to support students of the programme through their final exams over the next year, whilst strengthening its engagement with the Brazilian wine and spirits scene through attendance at Expovinis for the sixth year running.