I never wanted to be a sommelier.
It was never one of the jobs that got suggested when we had to think about careers at secondary school in 1995. And it wasn't mentioned at university recruitment fairs in 2002.
In fact it was an informal chat, over a cup of tea at Jamie Oliver's restaurant, Fifteen, back in 2005 that unexpectedly turned into a job opportunity to be a sommelier. I loved wine, and had just passed the WSET Level 3 Award in Wines and Spirits, but had no restaurant experience and no idea even as to what a sommelier was, or was meant to do?!
Author Emily O'Hare DipWSET at the River Café
What is a sommelier?
According to one definition, a sommelier is: 'A waiter in a restaurant in charge of serving wine.'
Hmmm, a wine waiter. I am happy to be aligned with the wait staff; sommeliers have a lot to learn from waiters, and we are all in it together waiting tables, getting food and wine (amongst other beverages­) from the kitchen and cellar to the guest. But it does seem to oversimplify what I have found to be rather diverse, challenging work.
I asked sommelier and 2010 ASI Best Sommelier in the World winner Gerard Basset MS MW to define the role:
'The role of the Sommelier encompasses so many aspects. They must be hospitable - welcoming, warm, a good listener. They must understand restaurant service and have good technical skills. They must be business-minded when buying and cellaring wine. They must be a great salesperson to understand what the customer needs and sell it to them. They must also be a wine ambassador and represent well all the wineries on the list. They need to be a leader, to train and motivate staff. And, above all, must never take themselves too seriously.'
What does it take to make it as a sommelier?
A love of food
A common link between sommeliers is an enthusiasm and interest in food. We spend a lot of time thinking about food, what to eat, how to cook it, where to go to eat, and then equally, even more excitingly, what to drink with it. We enthuse about every detail in a restaurant from the quality of the butter to the lighting in the dining room. For us a meal is never just a meal it is an occasion, a journey, a joy.
A love of wine
To be a sommelier requires a lot of learning: from viticulture and viniculture, to geography, geology, history, and science. And once you've learned it, years have passed and the whole wine world has changed! Vineyard areas have expanded; there are new regions, rediscovered varieties and new varieties all needing to be re-learned.
But such learning is a pleasure and can be undertaken continually. Your research may be in a library one minute, a vineyard the next and a wine bar later that evening. I will never forget a morning's tasting practice at the WSET School London whilst studying for my Diploma, where we had to taste four wines blind and then place them into their correct 'cru' - was it Premier? Was it Grand? It didn't feel like work. It never has.
A love of people
If you love food and wine, but don't enjoy looking after people then somm'ing is not the career for you.
Often the ability to taste can seem the most important skill for a somm, and while it is 'important to have a disciplined tasting methodology' according to James Tidwell MS, Beverage Manager and Sommelier at The Four Seasons Resort in Irving, Texas, 'service skills and gracious hospitality are the ways to share the love of wine.'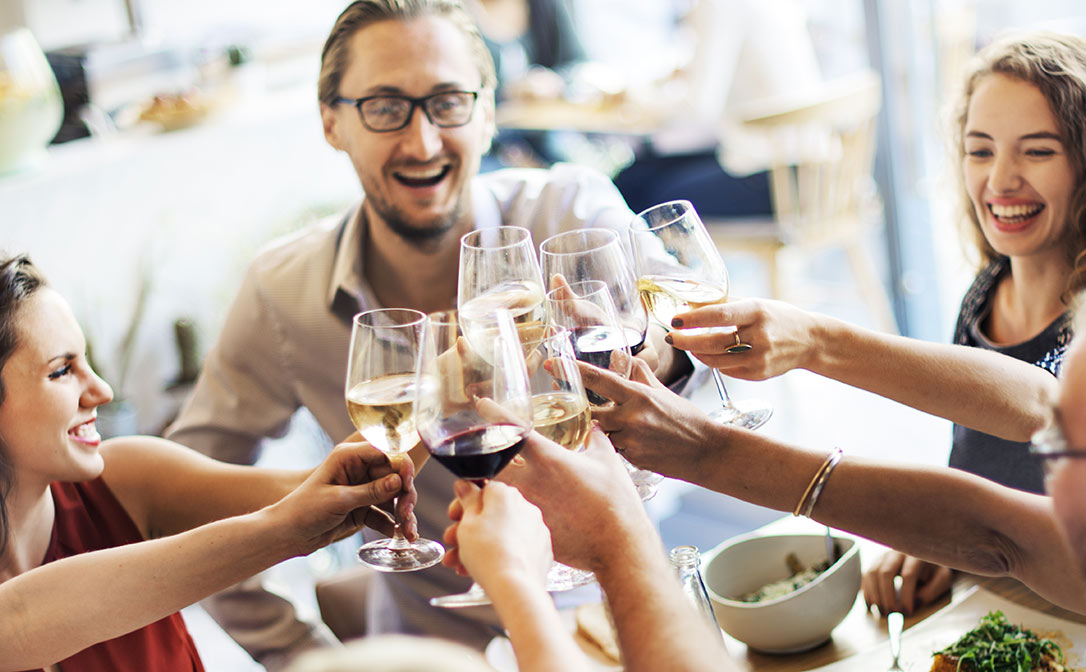 A love of people and gracious hospitality are the ways to share a love of wine
Jeff Kellogg, Wine Director at Maialino in the Gramercy Park Hotel NYC, agrees 'Guests don't care how much you know until they know how much you care.'
Wine Director for Shangri La Wine Hotels and Resorts, Lu Yang, adds that 'knowing and understanding the local culture and market, is a very important part of being a modern sommelier.'
When I began working at the Michelin-starred River Café in London, owner Ruth told me that I must treat the customer as if they were a guest in my own home. Putting customers at ease is essential in order to understand what the right wine might be for their meal. While quality of food and wine is paramount for a restaurant, it is the quality of the service, the welcome and attention customers receive that ensures their return.
It is possible to be called a sommelier without any formal qualification. Learning on the job is common and many people progress from being a waiter or barman to a sommelier.
Qualifications such as those offered by The Court of Master Sommeliers (CMS) and the Wine & Spirit Education Trust (WSET) are extremely well respected on a CV, and can propel you even more quickly into a sommelier role, sometimes without ever having worked in a restaurant.
WSET qualifications provide more focus on product knowledge and tasting skills, while the CMS programmes build on these elements with additional focus on service technique including glassware selection and pouring.
The programmes can complement each other and the CMS recommend completing up to WSET Level 3 to candidates ultimately wishing to reach Master Sommelier level.
For Tidwell, WSET helped him to establish a base of knowledge and a method of thinking about and evaluating wine that 'has been integral in my career. The breadth of the subject matter has made me a more well-rounded sommelier.'
For Emily Harman, Founder of Wine Consultancy, Vinalupa, the contacts she made through her studies with WSET have proven invaluable , 'I met people working for different business models so it meant I could learn more about the industry I work in and also learn more about others experience of it too.'
However when it comes to skills and qualifications, Gerard Basset MS MW believes attitude is everything, the rest can be taught.
Isa Bal MS, Head Sommelier at The Fat Duck agrees: 'Experience is important but being a calm, collected person with a thirst for knowledge is enough for an aspiring Sommelier to get a job with me'
Laura Rhys MS, UK Sommelier of the Year 2009, adds 'I think we'd all agree that you can teach someone to taste well. I don't think it needs to be a natural ability'. When looking for new talent, Rhys seeks 'speed with grace, attention to detail'.
"Guests don't care how much you know until they know how much you care."
Jeff Kellogg, Wine Director at Maialino
Getting started and building experience
Get started – find work in a restaurant.
Even if it is not in a wine position, find a job with a restaurant (preferably one that has a commitment to wine as part of their business) and start working hard.
Demonstrating your desire is more important to employers like Jeff Kellog 'When a somm position opens up I would rather promote someone who has shown a love of hospitality and has attended my tasting groups and classes than a qualified, but arrogant, Sommelier…The reality is, even at a busy restaurant like ours, where we are opening hundreds of bottles a night, I still clear more plates than I serve bottles of wine. If you don't have that humility you won't work out'. 
Get traveling
Time your travel with national wine fairs such as Vinitaly in Verona, or VinExpo in Bordeaux. They are brilliant opportunities to taste and learn. Then, afterwards, go and visit local vineyards and wineries. This is the most enjoyable and easiest way to learn about a wine and a region.
Get harvesting
Try and do a harvest, or part of it. It is amazing fun picking and pressing, but incredibly hard work. It is important to understand how much effort goes into harvest and the many stages in the winemaker's year. Experiencing this will not only help you better understand viniculture and viticulture; you'll also develop an even greater appreciation for the wine you drink and serve.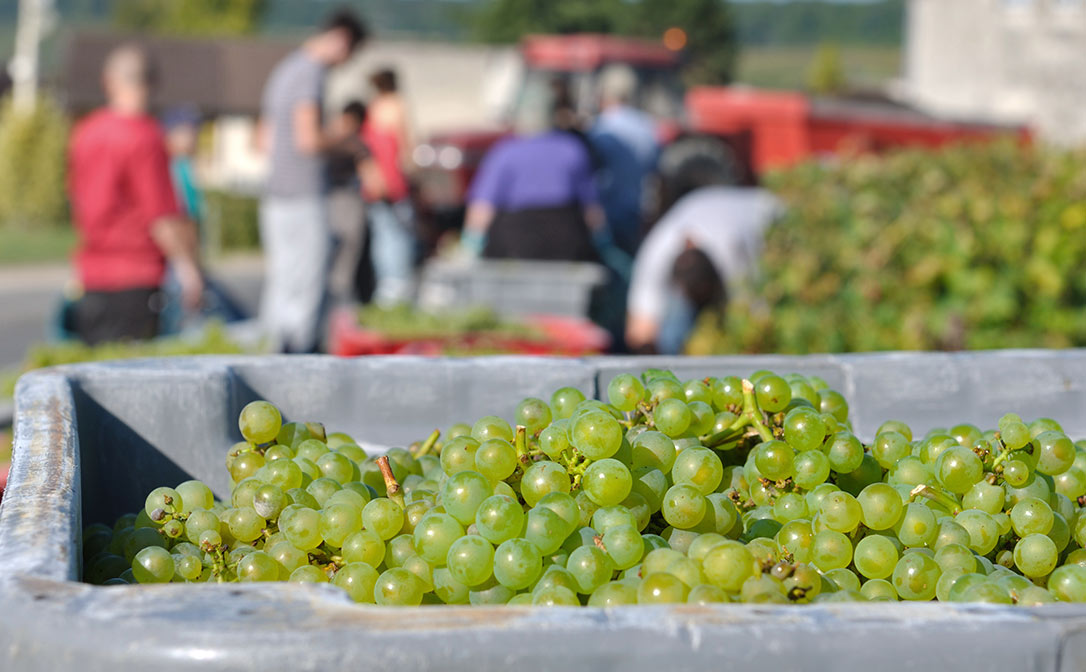 Experiencing harvest is a great way for somms to understand what goes into the bottle
Get reading and competing
When you're not tasting it's time to get reading. The World of Fine Wine, Imbibe and Noble Rot, and online work of Vinous and Punch are the reading resources recommended by James Tidwell. Julie Dupouy, who represented the Irish Guild of Sommeliers at this year's ASI Best Sommelier in the World Competition recommends GuildSomm.com 'it's one of the best websites for sommeliers to read in my opinion'. She also recommends entering competitions as a worthwhile exercise for learning about the art of Somm'ing.
Get tasting
In most cities there will be free wine tastings occurring during the week organised by suppliers and promotional bodies promoting their wines. Go to as many as you can. Indulge your curiosity and love of wine. Get out and meet suppliers, producers, other sommeliers, wine writers and wine buyers. The more friends you have in the wine trade the more invites and opportunities you will get to DRINK WINE!
Article prepared for WSET by Emily O'Hare DipWSET, sommelier and wine educator.