Lendl Mijnhijmer DipWSET, WSET Level 4 Diploma graduate and winner of the WSET McNie Tasting Trophy 2015, talks to WSET about being a sommelier and studying wine.
You're Head Sommelier at Waterproef Restaurant in the Netherlands. Can you tell us a bit about what your job involves?
I've worked at Restaurant Waterproef for about 7 years now. I started working there on a part-time basis when I was studying at the Hotelschool in The Hague. Now I'm Head Sommelier, responsible for an award-winning wine list with about 800 wines.
As Head Sommelier I buy all the wines through multiple importers, auctions and private cellars. Most days start early so I can taste a range of wines that importers have sent to the restaurant. I always taste them blind to be as objective as possible.
Another part of my job, maybe the most enjoyable, is to create food and wine pairings with our Head Chef. Together we taste all his new creations and sometimes adjust them to suit a certain wine or select a particular wine to complement his dish. In my opinion it is really important to taste everything together.
Why did you want to do the WSET Level 4 Diploma in Wines and Spirits?
WSET Diploma attracted me because of the academic focus of the study. Not only learning by heart but also being able to apply in-depth knowledge.
I read about the curriculum of the Diploma and spoke with people I knew and I decided this was something I really wanted to do.
How did you manage studying at the same time as working as Head Sommelier?
I think being a Head Sommelier was one of the key reasons I got high marks in the Diploma exams. The amount of wine that is available for tasting each day is truly amazing. I have a lot of appointments with suppliers to taste new wines for both the pairing menu as well as for our wine list. I always use those tasting sessions to extend my own knowledge and reference points. I see it as a suitcase that is getting fuller and fuller during a city shopping trip.
Of course many people in the hospitality industry work unsociable hours but I'm lucky to work for an employer who gives me a lot of flexibility.
In addition, I've had the time to do work related events such as study trips, winery visits or to attend masterclasses.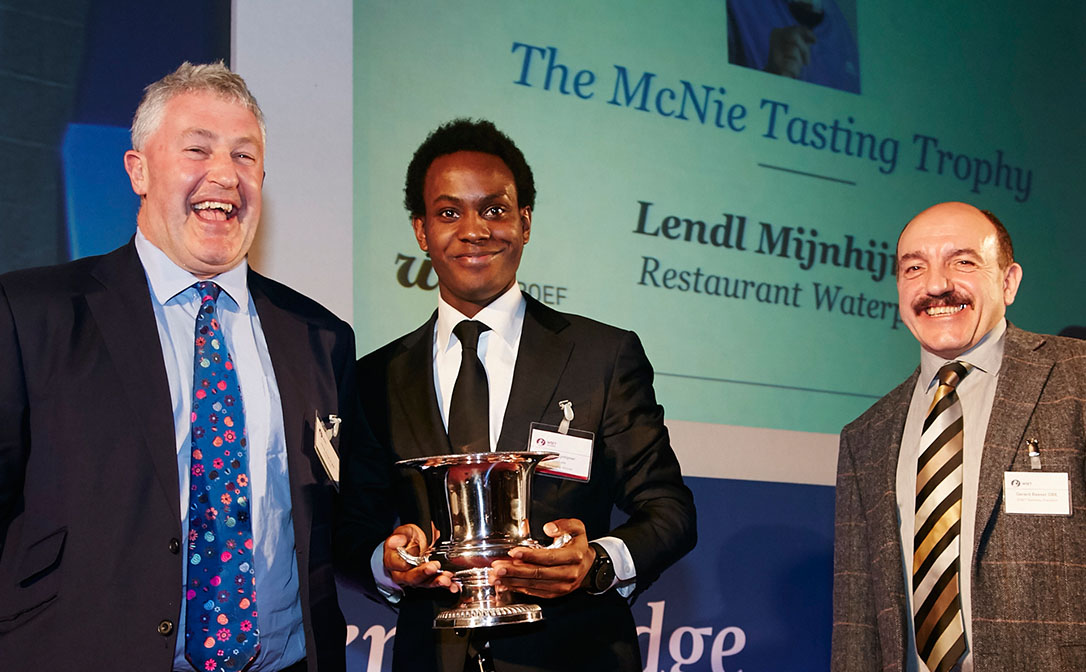 Lendl receives the McNie Tasting Trophy, presented by James Simpson MW and Gerard Basset OBE MS MW
You won the 2015 McNie Tasting Trophy for the most successful blind tasting of 12 wines in the Unit 3 exams. How did you do it? Do you have any advice for students who need to work at their tasting skills?
To be very honest, I think it was my best day tasting ever! To me, a successful blind tasting is based on a combination of factors. Good rest and no stress will be the main factors for being ultra-focused. It's all about tasting, memorizing, repeating, and being able to have a huge reference of wines which are able to be used during the exam. It's important to know all the structures and flavour profiles of different grapes varieties and their regional variations.
In preparation for the exam, I took part in a huge number of tasting sessions, both alone and in a team. I think tasting with others will give you great insights which you can't get on your own. Other people can guide you in a specific direction that was totally a grey spot for you.
What advice would you give someone who is thinking about taking the Level 4 Diploma?
Be dedicated. The Diploma gave me a lot of in-depth knowledge. Unfortunately you do not get this knowledge for free. Being dedicated and learning according to a structured framework is my advice. Make your own plan and stick to it - structure and consistency really helped me pass the exams.
You can find out more about being a sommelier on our careers page. Read about the Level 4 Diploma here.
Lendl graduated in 2015. He studied for the Diploma with WineWise in Belgium.