WSET catches up with Julie Dupouy DipWSET, WSET Level 4 Diploma graduate and ASI World Sommelier Competition 2016 bronze medalist.
You've just returned from Argentina where you came third in the ASI World Sommelier Competition. Tell us a bit about the competition. 
The competition takes place every 3 years, and this year 61 candidates representing 58 countries, competed against each other over a 3-day period.
The competition consisted of both theory and practical exams, including questionnaires on subjects ranging from oenology to customer psychology; blind tastings of wines, spirits, beer and sake; and sommellerie challenges such as serving champagne.
I think that the competition helps improve the standards of sommellerie. All associations involved hold a national competition for their members before selecting a representative to compete internationally.
What was the toughest challenge of the event?
The final was by far the longest and toughest part of the competition. The different tasks were really demanding in terms of concentration and speed. The most difficult part of the final was correcting an erroneous wine list. I knew many of the answers but I really started to suffer with mental fatigue by then. To lose points on things I knew was tough.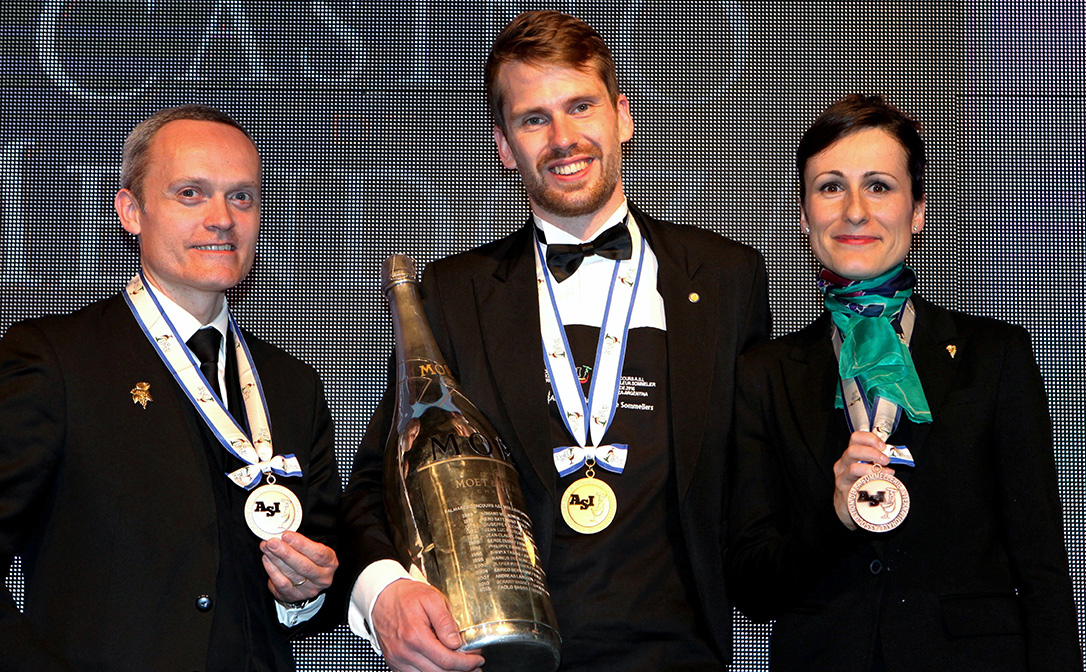 ASI competition winners David Biraud, Jon Arvid Rosengren and Julie Dupouy DipWSET. Photo © Jean Bernard
You completed the WSET Level 4 Diploma in 2015. How did having this qualification help you at the competition?
Studying for the diploma really helped me understand the global wine market. It also taught me a lot about viticulture, oenology and spirits. In a way I feel that when you study for sommelier competitions, you tend to focus on just the fine details and sometimes forget about the "bigger picture". To gain the Diploma, I had to gain a much broader knowledge, which also helped me link all the small details I had learned previously.
The wonderful thing about the world of wine is that it is an endless topic and you never reach a point in your life where you feel you know everything!
You've been working as a sommelier in Ireland since 2004. What changes have you seen in that time?
I've found that people are more and more enthusiastic about trying new styles of wine. I work part-time in the Greenhouse Restaurant in Dublin, Ireland and we have the option of a "Discovery Wine Pairing" which many people order. I always serve wines from less well-known regions such as Greece, Lebanon, or India, and also promote fortified wines such as Madeira or Marsala. I love watching people's reactions when they try good examples of these wines.
More restaurants are putting a bigger emphasis on wine service – for example, I've noticed the proliferation of better glassware; however, there is still some work to be done especially with service temperature as most white wines are served too cold and red wines too warm. Champagne is too often served in flutes, even vintage and prestige cuvees… but I am confident things are changing for the better!
As the third best sommelier in the world, what's next?
I am still enjoying running my consultancy company called down2wine and working at Greenhouse Restaurant, which just won a Michelin star in September, so I have no immediate plans to do something else just yet. The main plan is to keep on learning and improving. I am planning a few trips to London to attend some wine tastings, and I am hoping to visit more vineyards soon. The wonderful thing about the world of wine is that it is an endless topic and you never reach a point in your life where you feel you know everything! I live my life with the motto "Taste, Discover and Share".
And finally, will you be returning to compete at the 16th ASI World Competition in 2019?
I really don't know about this as many things can happen in three years. I believe the competition will take place in Bordeaux, which is very near my hometown, Agen, so maybe it would be good place to become the first Best Female Sommelier in the World!
Julie studied with WSET School London and graduated in 2015. You can find out more about being a sommelier on our careers page, or read about the Level 4 Diploma here.
Photos © Jean Bernard