The World of Fine Wine (WFW) is an award-winning quarterly magazine, website and app for an international audience of discerning individuals with a passion for wine. We asked editor Neil Beckett about his career, the definition of fine wine and the changing media landscape.


Wine journalism can be a hard field to break into, how did your career begin and what advice would you offer to aspiring wine writers?
I was amazingly lucky. I taught history at university for a few years, but was already passionate about wine and gradually wanted to spend more time down in the cellar than up in the ivory tower. An Edinburgh wine merchant I'd bought from – Zubair Mohamed at Raeburn Fine Wines – kindly gave me some writing work, as did Roy Richards of Richards Walford. I then spent a year at Lay & Wheeler, who put me through the WSET Diploma. On the basis of the results, I was brazen enough to answer an ad in Harpers, which was looking for an "experienced" senior feature writer. I didn't have any experience, but the editor, Tim Atkin MW, was brave or foolhardy enough to take me on.
As for aspiring wine writers: it's a difficult way to keep body and soul together, so be very sure you want to do it. Acquire all the experience you can, read and study, keep the passion strong by tasting and traveling. And work on your writing: there are many more people who know about wine than who write about it well, and increasingly it's the sheer quality of your writing that will count. Whenever Hugh Johnson is asked how to become a great wine writer, his answer is always the same: become a great writer.
How has the definition of what constitutes 'fine wine' evolved during your 13 year stewardship of WFW?
A big and fascinating question, how to define fine wine! But for us the definition hasn't changed at all. I've been lucky enough to work with Hugh Johnson and Andrew Jefford from the beginning, and before we published our first issue we realized that when we had those two words in the title, we should say what we meant by them.
Hugh grasped the nettle in our first issue, arriving at a definition that was deceptively simple: "a wine worth talking about." I've always been happy with that, because it has nothing to do with historic reputation or price. It has served us well, allowing us to cover a far broader range of wines than people might suppose on the basis of the title alone.


I was brazen enough to answer an ad in Harpers... I didn't have any experience, but the editor was brave or foolhardy enough to take me on.
Do you think there has been a change in attitude among your readership regarding investment in and the enjoyment of wine?
I imagine that most of our readers would agree that wine is for drinking; some may occasionally sell wine, for all kinds of reasons, but few will have bought it with that intention. Following the dramatic rise in the price of some wines, more of our readers may have mixed feelings about drinking wine with a price of hundreds or thousands of pounds a bottle.
Some may prefer to sell the wine, even if only to buy wine they could drink without any such qualms. Others may feel that if they paid far less for it, then even if they couldn't or wouldn't buy it at current prices, they can drink it with a clear conscience – they may even feel slightly smug about it! It's clearly a very personal decision.
Established in 2004, WFW has come of age during a key time in the evolution of digital media platforms. With so many blogs and online publications now offering free information, how do you ensure the value of paid content is retained?
It's at once very easy and very difficult: we need to offer content that people can't get free and think is worth paying for. That may be because it's authoritative information (though we've always wanted to be about far more than notes or scores). But more often, I hope, it's because the content is distinctive in a worthwhile way, due to the range of the subject matter (everything from Bacchus in Caravaggio, to the role of saliva in tasting) or the depth of the treatment (some articles are 10,000 words long).
As much as anything, it needs to be entertaining and persuasive and of high literary merit. While the content is clearly more important, the presentation matters, too: the magazine needs to be attractive to hold, to look at, and to read, well-designed and well-produced, so it doesn't fall to bits. Our subscribers accept there's a cost to that. Even for digital, there's a growing recognition that if you want consistently high-quality content, you may need to pay for it.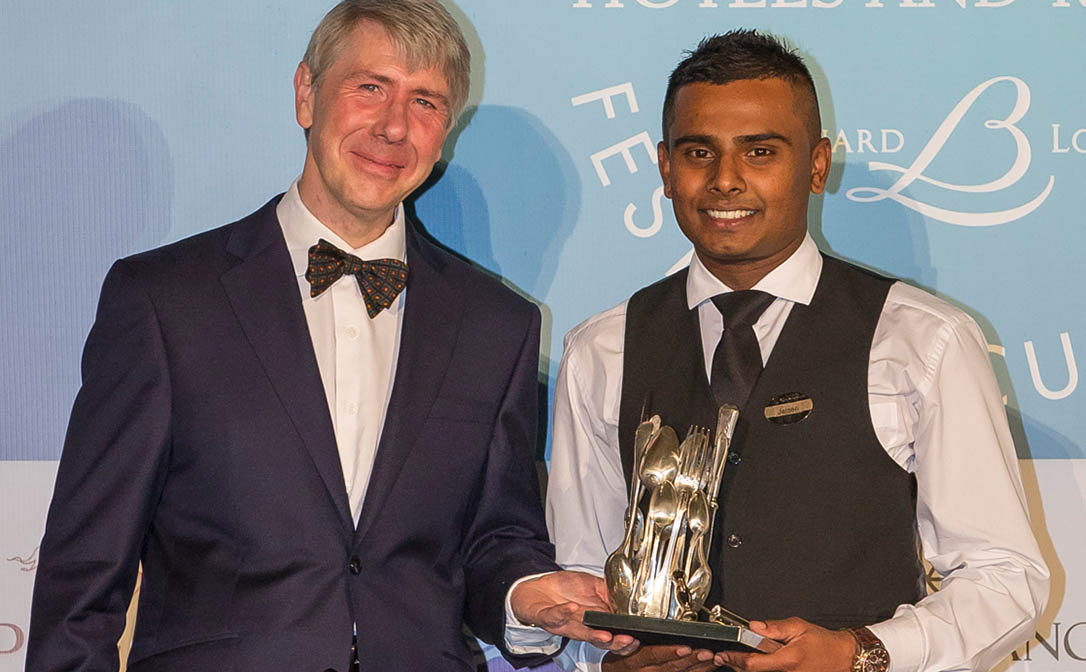 Neil Beckett presenting an award at the Festival Culinaire Bernard Loiseau
In 2000 you were awarded the Vintners' Cup, for achieving the highest aggregate mark across all units of the WSET Level 4 Diploma. What role have WSET qualifications played in your professional development?
They were crucial. As I mentioned, they gave me the confidence to apply for a job I might have thought beyond me otherwise, and helped persuade the publisher who gave me my first writing role that I might be worth the risk.
The Diploma began to fill in the many gaps in my knowledge, while making me aware that wine was a subject to which I could devote a lifetime without ever learning anywhere  near everything.
And finally, what would you say is the best part of your job?
Working with many of the world's greatest wine writers who produce content that's a joy to read and of lasting value but might not be published otherwise. 
And being able to visit producers and taste wines that remind me, if ever I were in danger of forgetting (at the desk in the middle of the night or in the run-up to press deadline), why I do what I do.
The World of Fine Wine is a Bronze Corporate Patron of WSET