Wine industry jargon can be hard to interpret, inspiring wine lovers like Drew Lambert to tell it like it is. We find out how education opened the door for a 20 year old buying the cheapest wine in Tesco to meet idols such as Jancis Robinson along the way to becoming one of the leading - and most relatable - online communicators in the industry.


How did you decide upon the name 'Wine Wankers'?
It's ironic, as we are the complete opposite to what some people might refer to as a 'wine wanker'. We don't waffle on with long winded reviews and you'll never see us scoring a wine out of 100.
The essence of our writing style is to have a lot of fun talking about wine; we don't take ourselves seriously at all. The vast majority of wine drinkers, simply want to know, "is the wine nice and will I have fun drinking it?". Our Twitter tagline "Proudly the pop music of wine" says it all! 
You grew up in the Australian coastal town of Woy Woy, in a teetotaller household.  You are now one of wine's leading influencers, living in Sweden. How did you get from one to the other?!
This crazy career started with me being a glass collector in a Sydney nightclub, giving me a taste for alcohol, late nights, and customer service. From there I ventured into restaurants and on to being a sommelier. At the age of 25 I decided I couldn't be a waiter for the rest of my life – not because there's anything wrong with the profession, I just hate standing up for eight hours straight!
I went to a careers guidance counsellor who found me a great course to study, which combined my love of wine with my passion for selling; Wine Marketing at Adelaide. I studied remotely for four years while working full time in Sydney's top restaurants. I barely slept during this period of my life, and have been working 365 days a year since.
Neither were wine experts, they were just everyday guys who loved wine and wanted to take people on their journey
Halfway through my course, a friend inspired me to start a wine column. Lo and behold, two weeks later I was writing for a street press newspaper and being invited to sit at the same table as Australia's most respected wine journalists. I had to pinch myself because I absolutely idolised these guys.
Being such a fish out of water surrounded by such luminaries of the wine industry helped me position myself as the no-nonsense wine writer. I could never imagine competing with the knowledge these guys had so then and there I chose to write for the people who would never usually read a wine column; lots of education, lots of humor. Hell, I even got to swear!
Back in those days it was so difficult to become a wine writer, whereas these days, it seems anyone can if they've got a social media account – and if you ask me, that's a good thing. Now there is a wine writer that suits everyone's taste.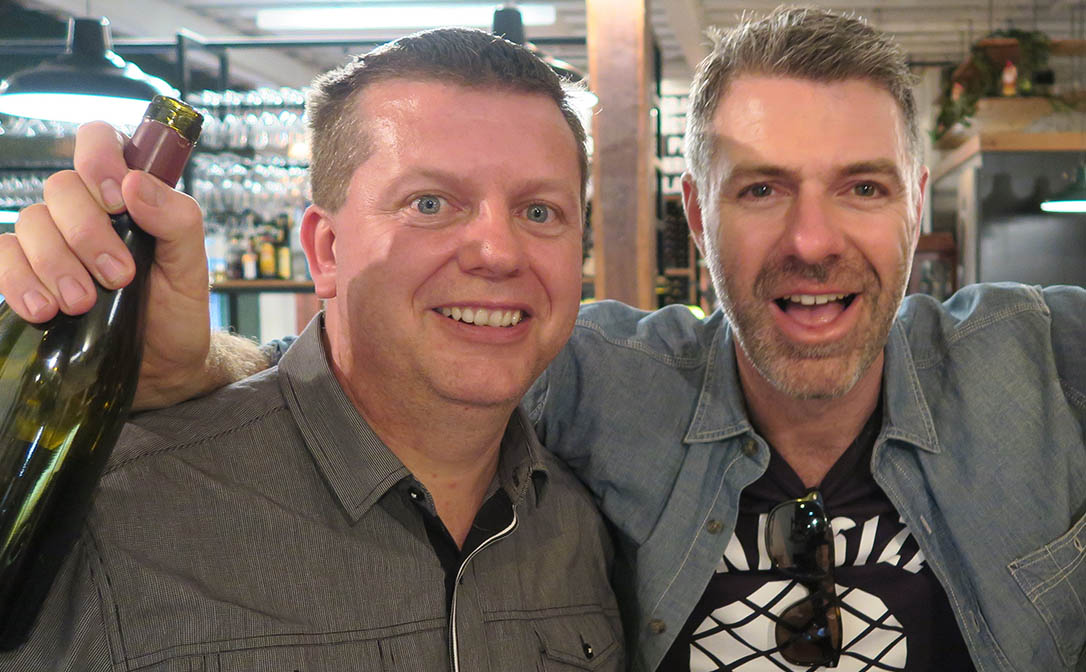 Drew (right) enjoying a bottle of wine with fellow Wine Wanker Conrad (left)
Since launching The Wine Wankers in 2013, you and co-writer Conrad have been named as some of the most influential wine communicators – particularly on social media – over the last few years. Why do you think you've been so successful?
I think it comes down to the fact we were one of the first wine social media channels to reject the pretentiousness of the wine industry. Conrad and ex Wine Wanker Neal started the blog, and I joined them 12 months later. Neither were wine experts, they were just everyday guys who loved wine and wanted to take people on their journey; it's wine, without the grandiosity. That really resonated with drinkers right around the world.
It also helps that our name is mildly (or should I say, wildly) offensive. To this day we still receive emails checking that we know what it means…! 
Wine's a very social industry, and The Wine Wankers reflect what people working in the industry are really like, and what people at home are really like. Perhaps this is the reason we've become popular?
As well as writing for The Wine Wankers, you also have your own PR company. How do you have time to ensure you stay engaged with your huge following?
I'm currently averaging about four hours sleep a day - that's how i do it! I live in Sweden for 9 months of the year and my PR company is based in Australia, which means I work very late nights, sometimes starting at 10pm and working through till 7am. After four hours sleep, I'll wake up, go to a wine tasting and then schedule some posts for the upcoming week.
My PR company works with clients in disruptive technology, so there's no crossover with wine or food, which helps me stay fresh (and unbiased!) for The Wine Wankers
I'm quite lucky in that both my business interests allow me to be a true digital nomad. With my laptop, I can work from any wine region in the world and not miss a beat. I heart Skype and $5 a day global roaming!