Founded in 2011, the Napa Valley Wine Academy was named one of three WSET Educators of the Year 2016.
We spoke to founder and Chief Educational Officer Christian Oggenfuss DipWSET to find out about his journey from a family grocery store business in Switzerland to discovering his passion for teaching, and establishing one of America's leading wine schools in one of the world's favourite wine regions.


Can you tell us how your wine journey began?
My wine journey began with my family business in Switzerland in the mid '90s when I was charged with the wine buying responsibility for our wine shop and grocery store. At that time, I educated myself with wine travel, tasting events, and by reading any wine book I could get my hands on.
When I moved to Napa Valley in 2005 to take the General Manager position at a winery, I decided to pursue the WSET path of study and completed my Diploma in 2010.
Was there a particular moment when you realised you wanted to share your passion for wine and become a wine educator?
I realised way back when I started my career in wine in Switzerland that one of my favourite things about the wine business was not only learning about wine but also sharing that knowledge and passion with others. This love of teaching about wine was further fuelled by the WSET courses I was taking. 
This passion for teaching and the need for more quality instruction in the San Francisco bay area ultimately led my business partner, Catherine Bugue, and I to launch Napa Valley Wine Academy in 2012.
Our success comes down to one of our core values: we believe in the dreams of our students and employees

The Napa Valley Wine Academy has just been named a WSET Educator of the Year, 2016. What would you say has been the secret of your success?
Hard work and an incredible team of instructors and support staff. We also put our students at the core of everything we do, which has led us to invest heavily in our educational programs. 
We employ the best and most qualified instructors including five Masters of Wine, a Master Sommelier, and a long list of WSET Diploma graduates. We put all our instructors through a rigorous training program to teach them best practices in instructional pedagogy to ensure that our students get the highest level of education possible.
We have invested in state-of-the-art interactive learning technology such as interactive whiteboards and projectors that allow students to use their laptops or tablets and interact with the material being taught in class.
We also offer opportunities for students to learn hands-on with us here in Napa – our WSET Boot Camp course has students helping make wine, pick grapes, build barrels, and take part in wine blending. We strive to bring wine education to life.
Basically our success comes down to one of our core values: we believe in the dreams of our students and employees.
How important is certification and formalised learning in the USA's wine and spirits industry?
It is of ever increasing importance. The US wine market continues to mature and grow and as it does the need for well qualified and certified wine professionals becomes increasingly important as it will be these individuals who will help to drive future growth and innovation in the sector.
Furthermore, as the wine distribution companies in the US continue their drive for consolidation and market share their focus has also shifted to wanting to hire the best talent or train their existing staff in order to increase productivity, sales, and retention. We see this trend continuing to grow as the consumer continues to trade up.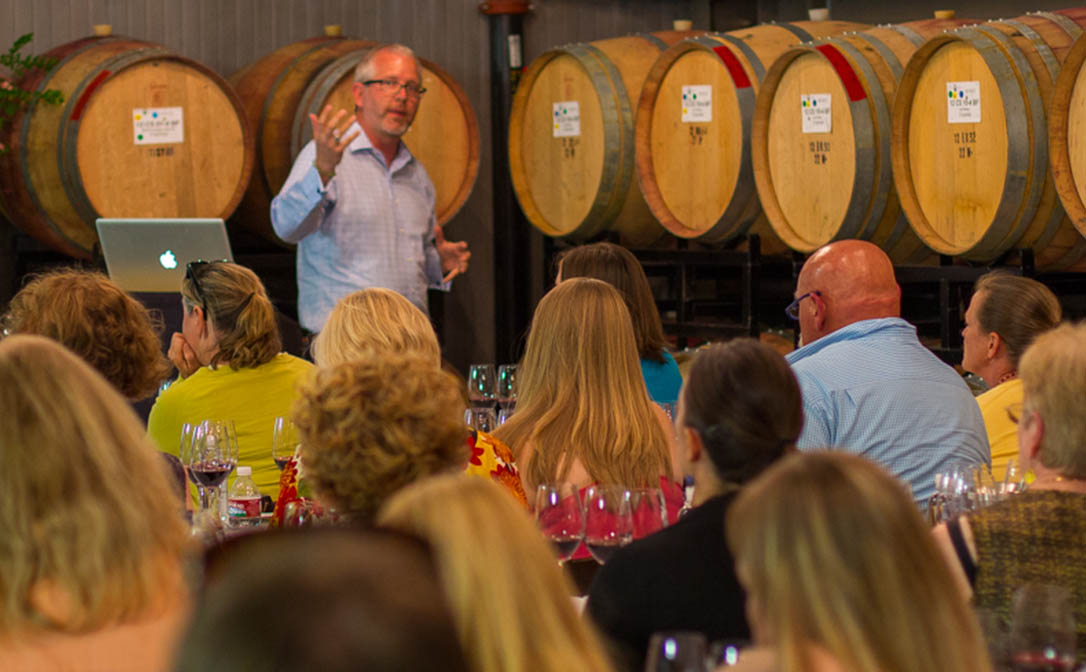 Christian Oggenfuss teaching a class
The USA is home to some of the world's leading industry competitions – do you think they complement or compete with certification bodies in the eyes of professionals looking to get ahead in the trade?
I think that the industry competitions that exist complement the education offered by global certification bodies, as they are a great platform for students or industry professionals to showcase their expertise. More often than not this expertise was gained by completing a globally recognised certification.
In regards to their respective importance on a CV I would have to say that the certification holds greater weight because it shows a serious commitment to honing one's skill and knowledge, whereas a competition is more of an opportunity to gain peer recognition of their knowledge. Having been a hiring manager for many years I always placed a certain amount of importance on an applicant's commitment to continued growth and educating themselves. 
What do you think is driving the growing interest wine education within the USA's consumer market?
As consumers in the US become more savvy and wine becomes an ever increasing part of the culinary culture of the average consumer, it is natural that there is an increased desire to better understand the beverage.
I think the wine consumer is naturally curious and sees wine as a beverage that holds not only much history but also a level of mystery. It is this allure and the desire to unravel the perceived complexities of wine that is driving many consumers to embark on an educational exploration of wine.
Finally, what words of wisdom would you offer aspiring wine educators?
Follow your passion!
The world needs more talented educators that not only bring different perspectives to wine education but bring the material to life. Rather than becoming a generalist 'wine expert', find an area that you are most passionate about and become an expert in that area. Never let anyone ever discourage you from reaching your dreams and goals. We have several instructors on staff that once wondered "what will I do with all of this knowledge" and now they are helping to educate the future wine industry leaders of tomorrow.


For more information about the WSET Educator of the Year 2016, follow this link to visit our Awards and Graduation site