Jason Millar DipWSET, retail director at Theatre of Wine, was awarded The Vintners' Scholarship and Cup at WSET's Awards and Graduation ceremony 2017.
Sponsored by The Worshipful Company of Vintners, the trophy is awarded to the graduate who achieved the highest aggregate mark across all six units of the WSET Diploma in Wines and Spirits.
To mark his achievement, Jason, who completed his WSET Diploma at WSET School London, received a travel grant of £3000 to study a wine and/or spirit producing region and was presented with a silver trophy and engraved decanter by Robert Rolls, Master Vintner.
Jason spoke to Off Licence News about his love of wine, his WSET successes and his advice to other Diploma students.
Jason Millar is the proud new holder of the Vintners Cup after posting the best score on the WSET Level 4 diploma course in 2016.
Millar, retail director at London independent wine merchant Theatre of Wine, earned himself a very handsome decanter and £3,000 to go towards wine trips on the back of his outstanding performance.
He has come a long way since sitting in Greenwich Park in late 2010, aged 26, bored of his job in academic publishing and seeking a more meaningful career, when he started rifling through a directory of London wine merchants and calling each of them to see if he could get a job. "Most wanted a WSET qualification so I started doing the Level 2 while working in publishing," he says.
Millar grew up in Northern Ireland but moved to England to read English Literature at Oxford University, and upon graduating fell into publishing. "I was thinking of a change, because it wasn't really the career for me," he says. He loved gin as a student and bought a book, How to Drink by Victoria Moore, on the strength of the "how to make a gin and tonic" section. Reading it gave him the impetus to work in the drinks trade. "I thought, this woman is as interested in drinks as I am, I should work in the drinks trade too," he says. Theatre of Wine gave Millar his big chance – but it came at a price. In publishing he had a comfortable salary and was about to get a promotion, but had to take a 50% pay cut, start from the very bottom and embrace shared living, working weekends and a poor social life. But Millar loved it.
"The great thing about working in a small independent is that you have a huge amount of exposure to all sorts of different parts of the business," he says. "My skills in proofreading, marketing and building mailing lists were helpful as I could do that at Theatre of Wine. I was and am still really passionate about wine. I wanted to taste everything. I would wake up in the morning and think about wine. It was really total exposure."
Millar started in the retailer's Greenwich store in February 2011 as a "general dogsbody" and impressed the owners so much that within six months he was moved to the new Tuffnell Park store to help set it up. Six months later he was managing the store, hosting tastings, building links with local businesses. While working there he completed the WSET Level 3 Award in Wines and Spirits as it felt like a natural progression. A broad education is vital to Millar due to the nature of Theatre of Wine's offering. "A lot of the wines at Theatre of Wine aren't classic names. They are unusual. There are a lot from Greece, Portugal, Croatia. They require more passion. We do work with classic French regions, we ship from the Rhone, but there is also an excitement working with different grape varieties. I remember doing a Croatian wine tasting and thinking these flavours were all new to me and challenging, different and original."
On winning, he says: "It was a complete surprise. I was absolutely proud. I am really delighted and thrilled, there is no question about it... A lot of effort went in.
For the past year he has been the retail director, focusing is on the retail stores, in Greenwich, Tufnell Park and Leytonstone, and on buying and adding new wines to the range, and staff training and marketing.
It is difficult to juggle all that with studying for a diploma – and trying to have a social life – but Millar succeeded in his studies with flying colours.
"The diploma consumed a lot of time," he says. The WSET recommends 600 hours of study for the diploma, but Millar put in a lot more than that. "I don't think it's easy with wine to make it a 9-5 job and log all the hours you put into studying," he says. "I did a lot more than 600, especially if you add on the thinking, tasting and reflection on wine." Not that tasting wine all the time is necessarily a bad thing. As Millar acknowledges, it sounds a lot more fun than studying for an accountancy qualification, and you can even justify ordering a fine, rare Crozes Hermitage while out in a restaurant because you simply have to try it.
Millar attributes his success in winning the Vintners Cup to the tasting group his class set up to compare notes. "The class I was in was a really good group. As a class we all taste rather well. We exchanged a lot of knowledge. We had a tasting group to discuss what we had been tasting. That was a big advantage. To anyone currently doing the diploma or thinking about it I would encourage them to find a group or start a group."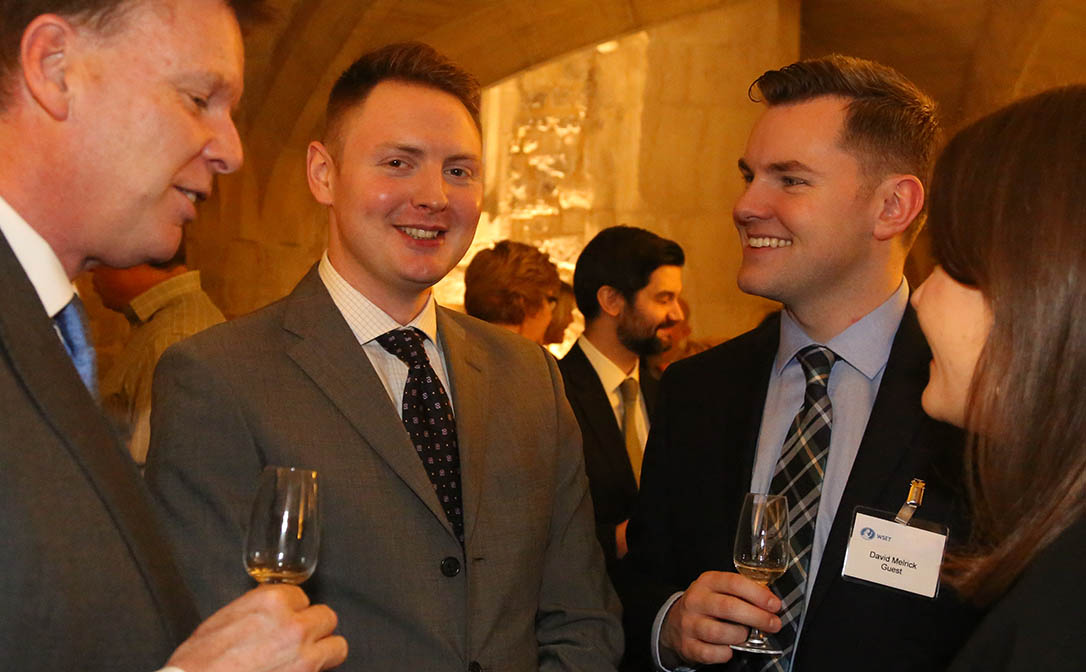 Jason celebrates at the WSET Awards and Graduation Ceremony 2017
He comes across as a modest man, but when pushed for his thoughts on winning, he says: "It was a complete surprise. I was absolutely proud. I am really delighted and thrilled, there is no question about it. There was a lot of hard work that went into it, a lot of tasting notes and a lot of reading outside the syllabus. A lot of effort went in.
"It's a very well-taught and comprehensive qualification. It takes up a lot of time, a lot more than the advanced certificate. As long as you are cognisant of the fact that a lot of time has to go into it then it's a very positive thing to do. In terms of its main objective of covering the main wine regions and their styles it's a great qualification.
"The immediate benefit is that I can work closely with staff and train them, as that understanding of wine is essential to the business. It also helps with buying wine, and it's an incentive to keep going."
Millar says he has not yet decided whether to study for the fabled MW yet. "That's a decision for another time. My focus is to develop my skills as a buyer and get more involved in wine and in wine writing."
He also has to see more of the wine world, and the £3,000 prize will help. "There are lots of regions I would like to visit. I haven't been to certain parts of Croatia, northern Greece, I think these are really interesting wine regions. I would like to spend more time in Germany. I am a huge fan of German Riesling, like a lot of people in the wine trade. I have really enjoyed Portugal and South Africa, both countries making really interesting wines that are very well priced and great quality."