Since completing the WSET Diploma in 2010 Cathrine Todd has enjoyed overarching success as founder of acclaimed blog Dame Wine, a member of the Circle of Wine Writers and the wine columnist for La Voce di New York. She has been a finalist for multiple wine blog awards, shortlisted for Roederer Emerging Wine Writer of the Year and named a top wine influencer on Social Media. Here she reveals the inspiration for her career shift, the importance of education and what wine consumers want.


Having enjoyed wide recognition for your writing, you are undeniably an industry tastemaker. To what would you attribute your success?
I always want to deliver something of value to the reader. And so, no matter what I'm writing, I make sure that there is enough thought, research and a distinctive personal voice to take someone on a journey.
I love hearing from people who read my writing and felt that it lifted their spirits or made them think about wine on a deeper level, and I try to reply to everyone who asks me questions or who messages me with a different perspective on the subject. I learn from my readers.
Wine writing can be a hard field to break into; what is the biggest challenge you've had to overcome along the way and what advice would you offer those wanting to follow in your footsteps?
A great practice is to just write something everyday and have someone you trust read your writing to give you feedback. I did that for many years before I even attempted to make my writing public. Then, once you feel ready, start putting it out there on the internet.
Personally, in today's age, I think it is essential for any wine writer to start with a blog. It becomes a portfolio of sorts. Actually, I first received many of my professional writing gigs through the success of my blog.
Over time, a blog will also help you to realize what kind of writer you are. Then, once you know the type of writing that suits your style, you can focus on magazines and journals that fit your voice. It is a waste of time to 'pitch' an article to a magazine when you don't understand their distinctive voice and their readership.
A strong following on social media along with a solid blog audience will also get a lot of editors' attention because you will bring readership. It takes a lot of time and patience to build social media accounts the right way, but it will pay off because those people truly feel connected with you. There is no trick or gimmick, you have to put in the time - invest in the relationships with your followers.
Wine consumers want to empower themselves with wine knowledge and believe in their own sense of taste.
You are a contributing writer at both Vivino and Snooth – how do you think new digital platforms like these are disrupting the behaviour of the 'wine consumer' in the USA?
I think wine consumers want to empower themselves with wine knowledge and believe in their own sense of taste.
People are much more wine savvy nowadays. Consumers don't want experts to just talk at them, they want to be part of the conversation – they want to challenge you and have you hear their voice as well. 
Today, wine consumers in the USA don't just want to buy wines that experts tell them to buy. They want to learn more themselves and form their own opinions. I think this is a great step forward as a wine consuming country.
What inspired you to pursue formal certifications in wine, and how have they helped develop your career?
I'm the kind of person who likes being a student, so it was natural for me to start taking classes. I really became hooked in 2007 when I took WSET's Level 2 Award in Wines and Spirits in New York City - I then immediately took Level 3 and Level 4, graduating from the Diploma in 2010. Taking these courses, and certainly the Diploma, helped me form a great foundation in terms of my knowledge of wine regions, categories within the wine industry and understanding the multitude of terms in each sector, especially knowing which tasting terms are globally accepted and which are more local to the USA.
During that time I was working in wholesale wine and spirit sales, so I was able to have deeper conversations with producers as well as being able to have the ability to work with a large portfolio, selling to a range of customers with varying needs.
As well as providing the opportunity for obtaining a vast amount of knowledge, the Diploma also improves analytic and communication skills with the essays that are required in the exams– I have no doubt that the Diploma made me a better writer, a better communicator. I received extremely helpful feedback on my papers saying that although I needed to "clean up" my writing, it was interesting and thought provoking and that I should pursue it. And so, through time, I realized that I had a talent – a raw talent that needed lots of work.  Not only would I not be the writer I am today if it weren't for taking the Diploma, but I wouldn't have even known that I had that talent.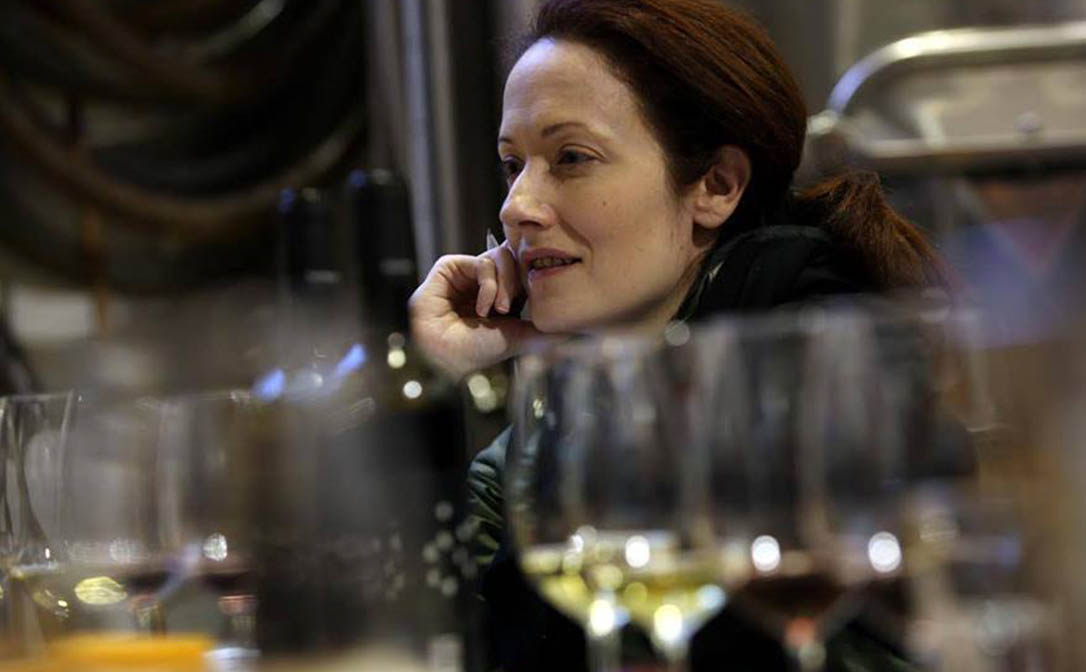 Cathrine attends a wine tasting. Photo Credit: David Silverman DPSimages
What role has education and qualifications played in the development of the drinks industry in the USA?
Pretense does not fly anymore – social media and the internet have changed everything! Wine consumers know so much more now and so wine professionals need to have a decent amount of knowledge and be able to admit when they don't know something. They should be honest, authentic and have confidence that is based on real knowledge and education.
Qualifications are necessary for anyone calling themselves a wine professional/expert who are not able to be self-taught. Although I needed formal training, I do have to admit that there are some special people out there who are brilliant wine experts who have never taken one wine course - but I could have never done that.
What's your prediction for the next big thing in wine and spirits communication in the USA?
Social media, blogs, forums and apps are becoming the new way for people to find recommendations and learn about wines and spirits.
Because of this, the world is a smaller place. We no longer are in our own little bubble only affected by trends in our own region or even country; we are now affected by not only wine experts but also consumers from other countries. 
So what does this mean? Brands need to be on social media and putting real thought into posting messages and pictures that are appropriate for a global audience, reaching out to the people talking about their product – connecting with them.
The days of building loyalty by placing glitzy advertisements are coming to an end and a new day of telling real stories with real people, including a journey with highs and lows that builds bonds between consumers and producers, will begin. We may have lots of differences when it comes to what is superficially appealing to different cultures around the world, but everyone can relate to the struggle of the human condition – that is the universal language.
This Q&A was prepared for #WSETweekUSA as part of our #grapetograin series.