Sarah Heller is a communicator, designer, entrepreneur, e-commerce expert and now the world's youngest Master of Wine, winning no less than four awards for her outstanding performance in all areas of the MW exams. Here, she talks to us about taking on the Asian market and performing the perfect balancing act between work, life and education.
What was your first job in the wine industry and how did it lead you to where you are today?
It was at an importer in New York while I was still at university. I did odd jobs – lots of design (I was an art student) and sales if I could convince a rep to let me tag along. The summer I graduated they sent me to a winery in Provence where, awkwardly, I fell into a wine tank and fractured my spine. Luckily, I was undeterred (it was a relatively minor fracture), but I did have to return to Hong Kong to convalesce. Thus I "fell into" the world's buzziest wine market, started working with Debra Meiburg MW, somebody I admire immensely, and eventually built up my own agency while pursuing the MW.
Your design agency, Radix + Folium, specialises in consulting businesses on the Asian wine market. What makes this audience unique?
I mainly work with the Chinese market, which is vast and diverse enough all on its own! An underappreciated fact about China is that although individual wealth has soared over the last few decades, most drinking-age people can still remember having less, or at least their parents can. Whereas many Europeans, Americans and Australians prize "value for money," Chinese still see wine as a luxury, especially imported wine, and they want it to feel luxurious even if it's inexpensive. And so, much to many industry members' chagrin, the packaging matters as much as what's in the bottle; sometimes more. 
Wine is not a simple product, and it's not a cheap product, so my message is to respect the complexity and learn the tools you need to suit your purpose. 
China is the world's fastest growing e-commerce wine market. What are the main issues that need to be addressed with the rise of online wine sales?
Despite some growing pains, I think online is clearly China's channel of the future. It has such a head start relative both to other markets and to physical retail that it doesn't have that "acceptance hump" to get over. Digital payments, social media-driven purchasing and Chinese internet platforms' investment in distribution tracking also help. 
The next phase will demand clearer communication and better brand differentiation. If you look at the product pages themselves (the subject of my MW Research Paper*), it's clear how much more could be done with visuals, language, multimedia, etc. Obviously provenance and authenticity are concerns, but because e-commerce potentially allows brand owners to regain control of their own distribution, it could ultimately be better than traditional distribution channels. 
As a writer and communicator, how do you encourage consumers to become more educated about wine through your articles and videos?
Reassuring them that it's not as scary as they think it is. However, there's a fine line between "demystifying" and "dumbing down" – wine is not a simple product, and it's not a cheap product, so my message is to respect the complexity and learn the tools you need to suit your purpose (whether that's finding a nice bottle to share with friends or impressing your boss).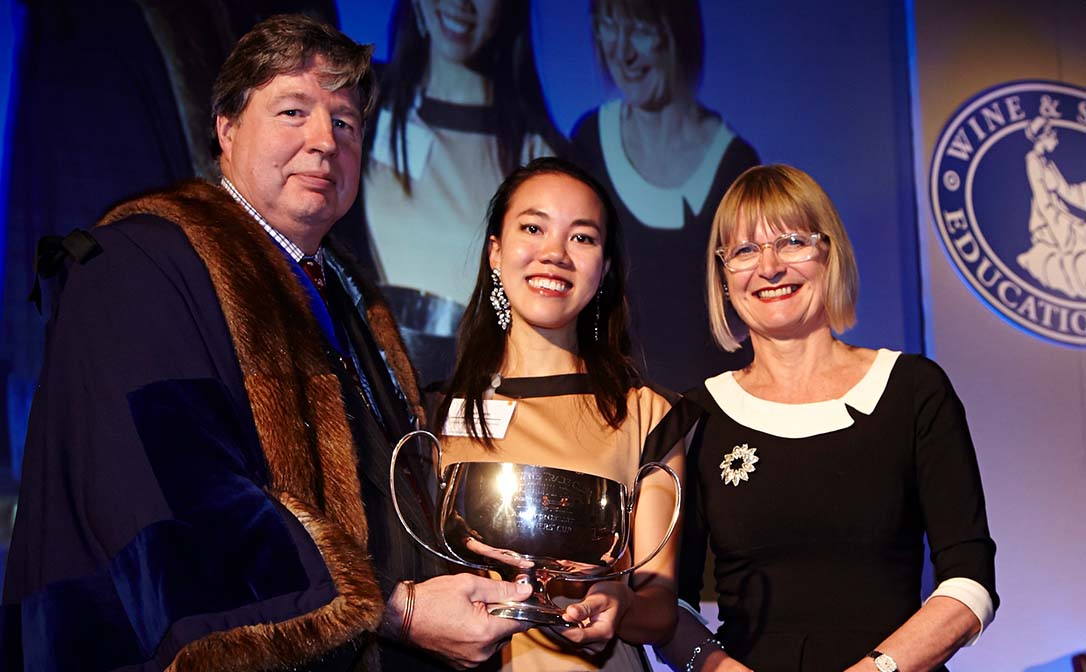 Sarah Heller receiving the Vintners' Cup from Master of the Vintners' Company, Anthony Sykes, and WSET Honorary President, Jancis Robinson MW, at WSET's Award and Graduation Ceremony 2014
Achieving the WSET Vintner's Cup 2013 and then a Masters of Wine, while juggling your day jobs and having your first son is very impressive! What's your advice on how to balance studying alongside other commitments?
Sign up for way more than you think you can fit in and then muddle your way through. But more seriously, I sometimes find having a full calendar forces you to be more efficient. That said, I was lucky enough to be able to take a year before sitting the MW exams to focus heavily on my studies and build my library of notes, and I know people whose employers allowed them to spend part of their week studying because they appreciated the value it can bring a company. For something important like studying or spending time with your baby, if you're not ruthless about protecting that time it often gets frittered away. 
*You can request to read Sarah's full Research Paper 'Purchasing cues of millennial Chinese online wine consumers' through the Institute of Masters of Wine by completing this form.