After a year tasting his way across a hemisphere of wine harvests, 'Vintage Sixteen' Filmmaker Dan James takes us through his discoveries during his journey Around the World in 80 Wines, revealing the hidden stories of winemakers in their search for perfection and opening the book on tales waiting to be told.
What inspired you to embark on the WSET Level 2 Award in Wines and Spirits, and how do you think it influenced you when making the film?
I had already completed (and enjoyed!) the Level 1 Award in Wines, so when I had the idea for the film I knew I wanted to improve my tasting skills further in order to take better advantage of the journey.
Level 2 gave me a better appreciation for quality wine and we certainly did seek out some of the producers who were getting recognised for quality production. It gave the trip an extra purpose too, as we set out to go around the world and find 80 wines. In fact, I tasted around 300 but we ended up with a list of our favourite 80.
Has filming Vintage Sixteen inspired you to continue your wine education, or perhaps even make wine?
For sure! I would like to continue my tasting education as blind tasting fascinates me.
Guy Hooper, who appears in the film, makes wine in his back garden in Chile. He and his family put a huge amount of work into making just one or two barrels but the fulfilment he gets is clear, and I have to say I was envious of how happy it makes him. Maybe that will be my retirement project…
Some of the highlights of the trip were watching the sun set while tasting some of the best wines, right at the heart of where all the magic happened.
Who did you set out to make this film for?
I think the film could appeal to both professionals already working in the wine trade and enthusiastic drinkers keen to know more.
Based upon the feedback we have had so far, it seems to really resonate with those learning about wine and drinkers who are curious to find out more about what goes into their glass.
It's not a film full of facts, it won't teach you about malolactic fermentation! It's more of an artistic reflection about the people – and passion – of the 2016 vintage.
The theme that also comes through is of the hard work and dedication of those involved in making wine; the search for perfection is prevalent.
In the making of Vintage Sixteen, what was the most surprising thing you learnt about winemaking?
The genuine passion for the subject soon became clear when interviewing winemakers, and also the respect they have for one another.
It can be tough. Any job that exposes you to the weather can be full of challenges and I think there is camaraderie in the industry because of this.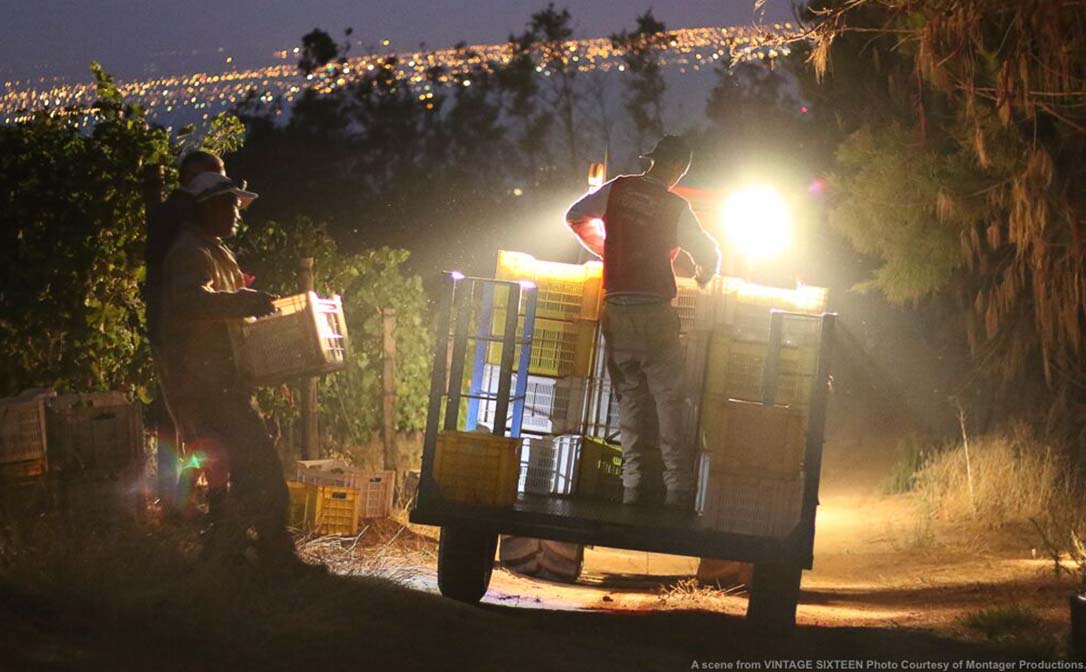 A scene from VINTAGE SIXTEEN, Klein Constantia harvest in South Africa.
If you could choose one favourite wine and one favourite region from your trip, what would they be and why?
This is a really tough question; I don't think I could choose! I have many favourite wines from the different regions and different experiences along the way.
Wine aside, we met some really fantastic people. A lot of them are in the film but some are not. A few times we were invited to pull up our camper van and virtually stay at the back of the winery.
Some of the highlights of the trip were watching the sun set while tasting some of the best wines, right at the heart of where all the magic happened.
Wine is an emotive topic, is often made in stunning environments, and is consumed and celebrated around the world – as a filmmaker, why do you think there are so few films on the subject?
I think there are probably more wine films out there than you first realise. However, there are definitely some great stories out there which haven't been told yet as well.
Hopefully I will get a chance to explore the subject more in the future…!
Vintage Sixteen will be released on 12 October 2017. To view the trailer and pre-order the film visit: https://vimeo.com/ondemand/vintagesixteen