London Cocktail Week may have come and gone for another year but the capital's cocktail mania thrives all year round for founder of London Cocktail Club, JJ Goodman. Here, he shares his secrets to success for aspiring bar tenders and owners.
How did you first get into the bar scene, and what inspired you to launch LCC?
I began my bartending career aged sixteen as a glass washer in my hometown of Worcester. At seventeen I poured my first pint, and at eighteen made my first cocktail. That was in Keystones – a bar I now own under the name of Keystones Cocktail Club! I started entering and winning flaring championships and after moving to London it went from there really - I won the Cocktail World Cup in 2008, which is the same year my business partner James Hopkins and I went on BBC's The Restaurant and opened Covent Garden Cocktail Club.
LCC was built on my dream to recreate those insane, unbelievably awesome nights out with your mates and bar staff that you'll never forget; the music, the banter, the incredible drinks, the electric atmosphere.
How did winning BBC's The Restaurant influence LCC's trajectory?
Most significantly we gained two incredible business partners that LCC wouldn't be the same without: Raymond Blanc and Sarah Willingham. Although we weren't chefs, Raymond and Sarah recognised the infectious drive we had for bartending and business - looking back, it could be considered as a prediction of the bar industry's future ahead of its time; bartenders and chefs' worlds are increasingly merging and bartenders are now taken just as seriously as the world becomes more obsessed with cocktails.
A symbol of their influence is one of LCC's best-selling drinks, the Bacon & Egg Martini. At the time it was put on our menus, customers were still incredibly weary about culinary cocktails but to date it's gotten more attention than any other drink on the menu.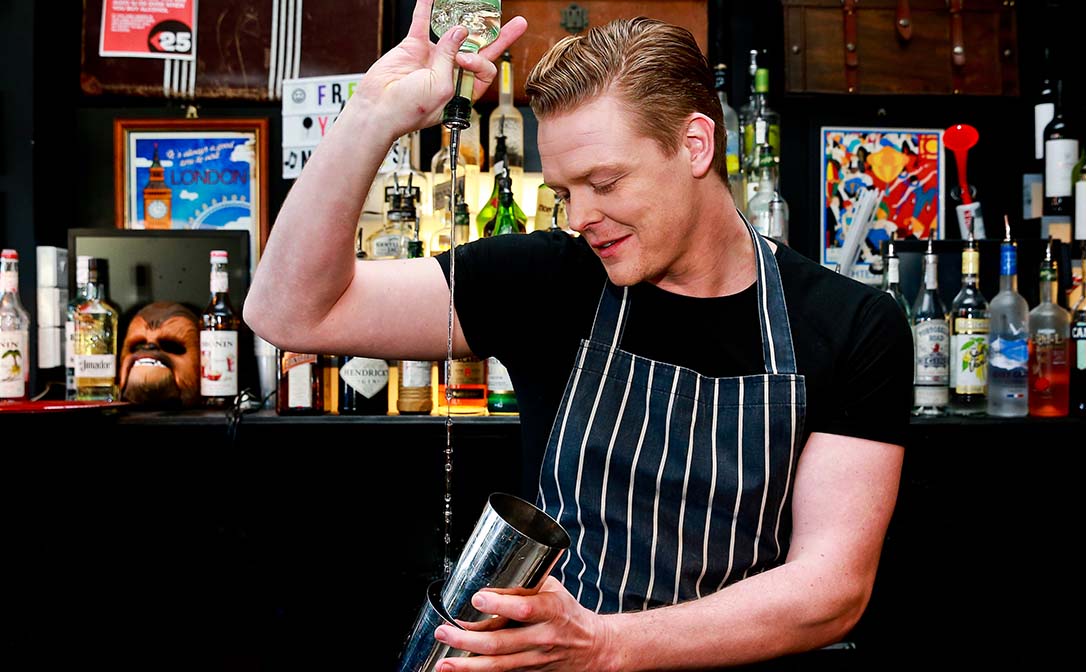 JJ Goodman preparing a cocktail
You're one of the guest speakers on the Jigger, Beaker, Glass tour – what role does education play in the drinks industry today?
Education plays a vital role in the drinks industry today. It's an absolute priority at LCC where we are very committed to career bartending, we had the luxury of attracting great talent in the early years, and we still do for the very simple reason that we can teach talented bartenders to open their own businesses, even if when they join us they've never mixed a cocktail in their lives. Our training program is intense, and unlike any other in the world. We have a fortnightly training program for bartenders, and have recently been approved to offer WSET courses. We're also involved with a number of organisations and charities that share a similar goal. We started working with The Prince's Trust's Get Hired program when it launched in 2014 and we're also partnered with Springboard UK and the British Institute of Innkeeping, as well as Diageo's Learning for Life programme.
I want to encourage more bartenders into business, we've got general managers who are 23 or 24 years old looking after million-pound turnover businesses – it just does not happen anywhere else. Training bartenders from a junior level to a senior level is important and intrinsic to what we do.
What do you think is key to inspiring young people to pursue careers in hospitality?
It's imperative to let them know what's out there, to put the opportunity in-front of them, let them know there's room for mistakes and growth; there are so many education resources right at their fingertips. At LCC we place a lot of emphasis on the bartending lifestyle, what it's like to be part of a family style team, where everyone works hard and plays hard — we're really open in our training and recruitment materials about what employees can expect from the role. The training will be rigorous and intense, the hours are long and the job is constantly demanding but it is ultimately one of the most rewarding industries you can be in. It's about being transparent and demonstrating the richness of the career - leading by example.
LCC was built on my dream to recreate those insane, unbelievably awesome nights out with your mates and bar staff that you'll never forget; the music, the banter, the incredible drinks, the electric atmosphere.
As consumers know more, how have you seen expectations of bartenders change, and has this impacted what attributes you look for in staff?
What we look for in staff has always simply been enthusiasm for the industry and a willingness to learn. With these two things, we can adapt our staff to consumer demands in any which way the market may go.
In terms of expectations from bartenders, we're required to know much more about ingredients than when I was training. This is a natural and welcome evolution; as consumers become more health-conscious and concerned about what they are drinking; quality has now reigned over quantity, and whether it's the spirit, fresh ingredients or sugar content, ice or equipment used, bartenders are required to know about each element to the finest detail.
New "hot" trends, gimmicks and Instagram-worthiness are also playing a role as "millennials" become more sophisticated and selective in their purchasing choices. Bartenders are expected to fit that mold, personally match what they're serving with creativity and charisma - to make it a social media-worthy experience being actively sought.
The LCC brand is expanding at what seems like a rate of knots! What advice would you offer small businesses looking to grow into a multi-premise operation?
Learn! Get as much information as possible from those that have done it, look at other businesses that have done it successfully. Make sure your team is solid and you have the best advisors available. Do not underestimate how different it is to turn a single unit, or even two or three units into a 'bar group,' there's a huge difference.