There are few career paths more enticing than working in the wine and spirits industry.
Envious friends will imagine your life to be one long string of hedonistic parties and picture you as some sort of cross between Prince Harry, Lindsay Lohan and Charlie Sheen. But in reality, you do not get paid to simply drink and have fun – far from it! While the work is exciting and sociable, the vast majority of your time will be spent working hard, putting in long hours and learning from extremely talented business people in a dynamic – but mostly sober – environment.
Getting into the industry is equally hard work, largely because it sounds so desirable that it attracts a high volume of bright hopefuls, but also because it is so warm and convivial that few ever choose to leave and openings as a result are few and far between. One great way to break into this competitive sector is to apply for a graduate or apprentice scheme. They can give you a foothold in the industry and set you on your way to a long and dazzling career.
What schemes are available and how do I choose the right one?
Anyone keen to break into the drinks industry can choose from a wide range of graduate or apprenticeship schemes (we've listed some examples here), but first it is worth figuring out what you want to do. Ours is a broad industry that supports millions of jobs around the world, so the possibilities are manifold. But you can break it down into some general categories: production; the supply side of things, which takes in sales, marketing, logistics, distribution and finance; hospitality; and retail.
If you have a desire to craft wines or spirits with your own hand, an apprentice winemaking programme or a graduate distilling scheme at a firm like Diageo or William Grant & Sons would be a great choice, or simply working a harvest at a winery, known as "doing a vintage".
If you want to be on the frontline, sharing your passion with the general public, a graduate scheme at a retailer like Naked or Majestic Wines, a state monopoly or a bar or hotel group sounds great.
If you have an appetite for sales, marketing or logistics, there are plenty of excellent suppliers to explore, from huge multinationals like Pernod Ricard to thriving suppliers like the UK's Liberty Wines, offering very successful graduate schemes.

The Pernod Ricard Graduate Wine Ambassadors team enjoy one of the perks of the job
Why choose an apprentice or graduate scheme?
"Our wine ambassador programme is a once in a lifetime opportunity to live the dream, and offers the opportunity to kick-start careers in the wine industry by developing a broad range of skills, gaining valuable international experience, and working with iconic wine brands," says Alicia Partridge, Global Graduate Programme Manager at Pernod Ricard. Not only is it an amazing opportunity, you learn skills that will stick with you for the rest of your career and make vital contacts.
Jessica Berry, talent manager at Firmdale Hotels, says: "Our graduate scheme is amazing. It's an incredibly operational programme geared towards getting people to general manager level. There are great success stories still in the business. We have been running it for 16 years and there are 33 people who did the graduate scheme and are still with us. Two ladies in the inaugural programme are still with the company today."
From lugging around crates in a storeroom to wrestling with giant hoses in a winery, nothing gives you an appreciation for the industry like getting your hands dirty.
How do I boost my chances of securing a place and thriving on a scheme?
"We look for wine-passionate individuals who might not know where they would best fit in the wine industry," says Liberty Wines Managing Director David Gleave MW. "Previous wine apprentices have come from varied backgrounds, both inside and outside the wine trade and have all brought individual skills with them."
Berry at Firmdale Hotels, which has hotels in the US and UK, adds: "You need to have an amazing attitude, great personability, warmth and a genuine character. If you have the passion, drive and understanding of the type of service we are looking to deliver then you will excel."
Candidates should be aware that a lot of 'out of hours' work is required, but they will often find these moments highly rewarding and convivial, according to Partridge at Pernod Ricard. She says:
"Pernod Ricard Winemakers is seeking people who are comfortable working in a multicultural environment, are willing to explore the world and those who have a proactive approach to work. Many roles within the wine and spirits industry require you to be a self-starter who can work day-to-day autonomously but also together as a wider team. Those in the industry are driven by a passion for what they do and understand that each role is vital in creating an industry we can all be proud of."
For many bright young hopefuls across the world, a graduate training programme at a retailer is an entry point into the industry, be it at Systembolaget in Sweden, Majestic Wines in the UK or at Sotheby's in North America. Majestic Wines Director Richard Weaver says: "The most important thing we look for is wanting to help customers. That sounds trite, but that attitudinal test is the biggest thing we do. For store staff and the customer team our recruitment is absolutely based on how we deliver great sales."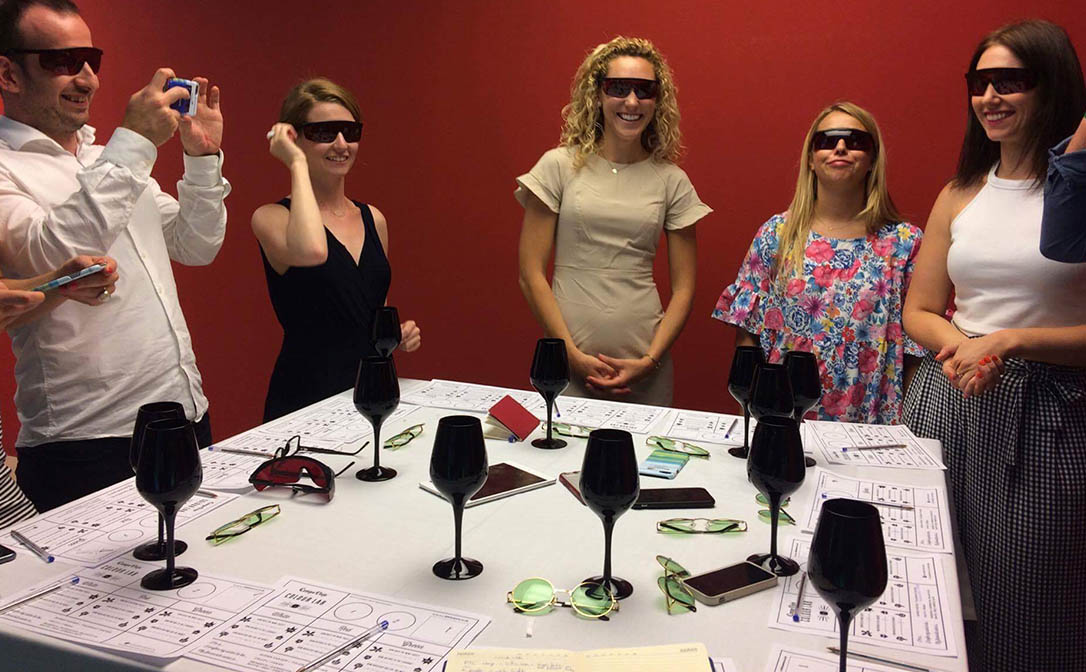 Experimenting with wine tasting and changing colours of the environment in the Campo Viejo Colour Lab 
So what's it really like?
Jo Black developed a love of wine while working at a restaurant in Bristol in the west of England and wanted to get into the industry. She hoped to undergo the Majestic graduate programme but was scuppered by the lack of a driving licence. She discovered the Liberty Wines apprentice scheme and was chosen ahead of 100 rival applicants to embark on the two-year journey, which saw her work in various departments at Liberty, work a harvest in the south of France and another in New Zealand with producers that are part of the Liberty stable, and complete the WSET Diploma. She now works in the marketing team at Liberty and is loving life. "I'm just glad I didn't learn how to drive!" she says. When asked what skills aspiring graduates need to thrive in the industry, she says:
"You need to be really flexible and be able to get up in the morning and do something different and be fine with that. You need a mind that rebels against rigidity. You have to be really enthusiastic. A foreign language helps, but it's not essential. You have to demonstrate that you know how to work hard. The wine industry works on such small margins that everyone is doing an enormous amount of work and has to be flexible. An apprenticeship is a really good way to push people to be as multifaceted as possible. It's pretty full-on, but working those harvests added so much to my Diploma studies, the combination was incredible."
For Stephanie Jordan, joining the Diageo Sales and Marketing Graduate Scheme in Spain would eventually lead her to become the Global Brand Ambassador for Tanqueray, the world's 4th best-selling gin brand. She says: "Grad schemes are great for those seeking an international business career as you get to dip your toe in sales and marketing and work out where your forte is." She recommends that anyone wanting to get into brand-focussed roles "get a solid business grounding as it will help you navigate the corporate world and get the budgets and freedom you need to go out and rock the on-trade".
Ben Pollard did not have a set career path in mind, but stuck with Majestic after the graduate programme because it spiked an interest in wine and spirits and allowed him to settle into an enjoyable career. "You start off as a trainee manager in a smaller store and you do around six months in each position," he says.
"You move to being a trainee manager in a larger store, and then you can apply to be an assistant manager in a smaller store, move on through slightly larger stores and then to manager level. Generally people sit their WSET Level 3 Award in Wines in the first nine months at Majestic and it's a really cracking grad scheme, because you are learning business management and retail management as well as learning about wine at the WSET, so it's really well rounded. We really put an emphasis on having highly trained staff in-store that can recommend wines to customers. It's a really enjoyable working atmosphere."
Get out there, observe, learn, meet as many people as possible
What about unpaid opportunities?
Not everyone is in a position to secure a place on a paid graduate programme, and some might consider taking on an internship as it can provide vital experience, contacts and knowledge. If you decide to take on unpaid work, weigh up your options, make sure it will benefit you and that you know your rights, while also ensuring you are in a position to support yourself throughout.
Cammie Jones, Product Development Scientist at Brown-Forman, says the unpaid internship at the non-profit Kentucky Distillers Association (KDA) gave her a variety of learning experiences that have helped her in her career. She was able to interact with people in various different departments and learn from master distillers and brand ambassadors, which is an invaluable opportunity for anyone starting out.
Max Stefana, Associate Brand Manager at Heaven Hill, adds: "Being a KDA intern gave me inside exposure to key players in our industry that ultimately helped me obtain a great job. I think back fondly on my time working at KDA and their Kentucky Bourbon Trail tour, as I now have the opportunity to work each day to promote Kentucky Bourbon."
How else might I get into the wine and spirits industry?
Typically, you have to start at the bottom and should not be afraid to take on any task, however menial, if it gets you a foothold in this magnificent industry. From lugging around crates in a storeroom to wrestling with giant hoses in a winery, nothing gives you an appreciation for the industry like getting your hands dirty. Apply to work a harvest at dozens of wineries, or email every wine store or supplier you can think of asking for part-time work. Be persistent and you will eventually break in.
"Look for the opportunities and get involved," says Partridge at Pernod Ricard. "Perhaps look for local wine clubs, opportunities to speak about your passion, create moments for networking with those that share your passion and learn as much as you can. Be passionate and enthusiastic, your opportunity will come along."
Working in bars, restaurants or hospitality, even casually, is a great way to get into the industry, as Jo Black illustrated earlier. Build your product knowledge, read widely on the subject and consider undertaking a WSET course or similar as all of this will show potential employers how serious, diligent and proactive you are. Befriend people in the industry – we are a friendly bunch! Everyone in the industry knows how hard it was to get started and most will be happy to offer advice and help you.
If you show enthusiasm and the desire to learn, most industry insiders will be happy to work with you in your mission to get into wine and spirits. They all have lots of contacts from across the different categories, such as supply, production and retail, and many opportunities come from word of mouth. So get out there, observe, learn, meet as many people as possible and your opportunity will eventually arise.