Recently crowned this year's Tattinger UK Sommelier of the Year 2018, Alexandre Freguin, Head Sommelier at Moor Hall in Lancashire, UK, tells us what it takes to be a successful sommelier and how to prepare your mind and body for competitions.
What sparked your desire for a career in the wine industry?
I believe it was really a desire for curiosity. I was studying law and wasn't fully passionate about it but always interested in the origins of everything (history, culture etc.). I left university and took a job in a restaurant. It had a great atmosphere, so I decided to go to hospitality school. This was the best decision in my life because at the same time I started an apprenticeship in a Michelin starred restaurant named after the chef Pierre Reboul in Aix en Provence.
Here, my passion started to evolve for the simple reason that I was surrounded by talented and passionate people. When you spend 14 hours at work you better be passionate about what you do. I started to understand the combination of food and wine together and the pleasure it gives guests, which is most important above all else. At the end of the day I understood that wine sums up everything I like. History, skills, knowledge, humility, and wine never cheat, they're real things. So serious to make but so simple to enjoy!
A sommelier is not someone drinking wine all day and making up stories to make ourselves look good.
Having recently been announced as Taittinger UK Sommelier of the Year 2018, tell us about what the competition entailed. What do you feel was the secret to your success?
The beauty of the competition is that it involves every aspect of the sommelier role, not just wine. From a theory paper to blind wine tasting, you also do a spirits tasting and practical tasks where you must deal with an unhappy customer or a scenario regarding the gestion of a wine program. You need to think fast on your feet, as in a restaurant scenario.
As for a secret to success, I think we are all different. What worked for me was the theory, I love studying. But some other sommeliers show their best skills in other tasks. I also focused on mental preparation. I stopped studying a month before the competition and just got myself ready mentally and physically. I did a lot of running and relaxing to make sure that on the day no matter what happened I would be prepared. If you're ready in your head and your mind is set, you can achieve many things. I wanted to build a real desire to win.
I had such great support from my friends, family and colleagues as well which made me want it even more. I don't think I was the best at every task, but I tried to be as consistent as I could until the final.
I think you need to be conscious that it's impossible to know everything. It's important to be confident and listen to yourself. This really made a big difference for me during the tasting in the final.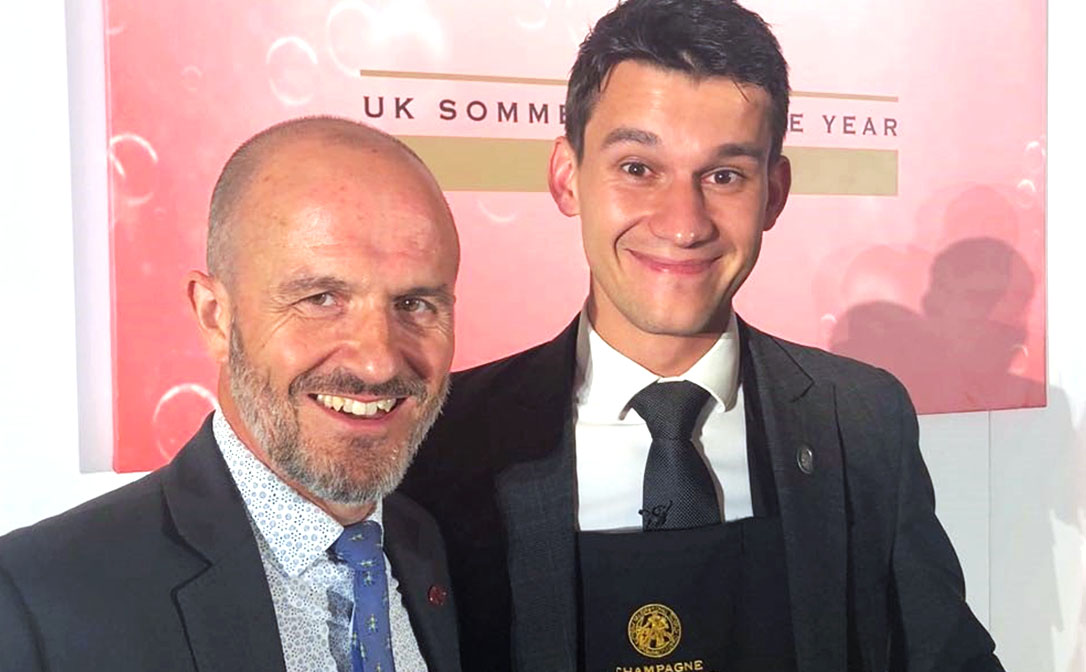 Alexandre with WSET UK Business Development Director Graham Cox DipWSET at Taittinger UK Sommelier of the Year 2018 
Do you think competitions such as these are beneficial for wine professionals' career progression?
Above anything I believe that they are good for a personal challenge. That's what makes you better. But yes, the exposure is fantastic and gives you credibility, though you need to remember that being the best one day doesn't mean that you're the best for the rest of your life, it should remain a motivation rather than resting on your laurels.
Also, I think it's great for the industry to give consumers, through those competitions, an idea of what a sommelier is. A sommelier is not someone drinking wine all day and making up stories to make ourselves look good.
As you prepare to take you WSET Level 2 Award in Wines and Spirits, what do you think formal wine education will give you that that will aid your development?
Any type of education is great. Knowledge is something that you need to reassess all the time. Taking examinations such as WSET gives you the chance to study the basics again. Sometimes you can forget them. Also, starting WSET qualifications is a good thing for me personally because when I start something I love to finish it, so I will probably try to pass as many levels as I can!
What advice would you give to someone hoping to become a sommelier?
Hard work and dedication is very important but so is remaining humble and honest. You need to never forget that no matter where you are working or the price of the wines that you are selling, wine is still a product of Mother Earth and, as knowledgeable as you might be, you can't control it. It also takes a long time to get into wine, so you need to be patient and learn step by step.
My final piece of advice is relish the curiosity and never shut the door to anything. You must taste as much as you can.
Follow Alexandre on Instagram here or connect with him on LinkedIn here.
Interested in becoming a sommelier? Find out what it takes in our career piece here.
Top image by David Cotsworth