An immersive study trip into the food and wines of Italy led chef Matthew MacCartney DipWSET to officially catch the wine bug. Having worked in some of the world's leading restaurants, he now runs his own establishment in Rhode Island. He tells us how he curates his award-winning wine list and prepares staff to cater to savvy guests.
As a chef by trade, what sparked your interest in wine?
There was a pivotal moment in 1993 while studying for my B.T. in Hospitality Management at NYC College of Technology and working part-time at the newly opened Restaurant Daniel. The Italian organisation SLOW FOOD hosted a stagiaire program that focused on the Wines and Food of the Langhe in Piedmont and ten students from various Culinary and Hospitality Schools were chosen to attend. We visited 35 wineries in 21 days and at each we broke bread, heard the family history and tasted an array of wines. We met with small producers that did not have a large market presence as well as legends like Bruno Giacosa, Angelo Gaja, Bruno Ceretto, and both Aldo and Giacomo Conterno. After that full immersion, it is not hard to understand how I had officially caught the "wine bug."
How did you gain your wine knowledge?
I had taken the requisite wine courses while at college, but during a semester abroad at the Birmingham College of Food I had the opportunity to take the 'WSET Certificate' in 1992 (now equivalent to Level 2 Award in Wines and Spirits). In 1994 the courses were available for the first time at the International Wine Center in NY and I decided to continue with the Higher Certificate (now equivalent to Level 3 Award in Wines). When the time came to embark on my Diploma I felt the only way to succeed was to step out of the kitchen and move to the front of house where I would be handling wine on a daily basis.
My first position was that of a server and "cellar rat" at Danny Meyer's Gramercy Tavern which led to being offered the Beverage Director position at Tom Colicchio's Craft. All the exposure to the wines of the world as a NYC restaurant buyer, in concert with being part of tasting groups with other WSET candidates, facilitated my passing the Diploma exam in 2002.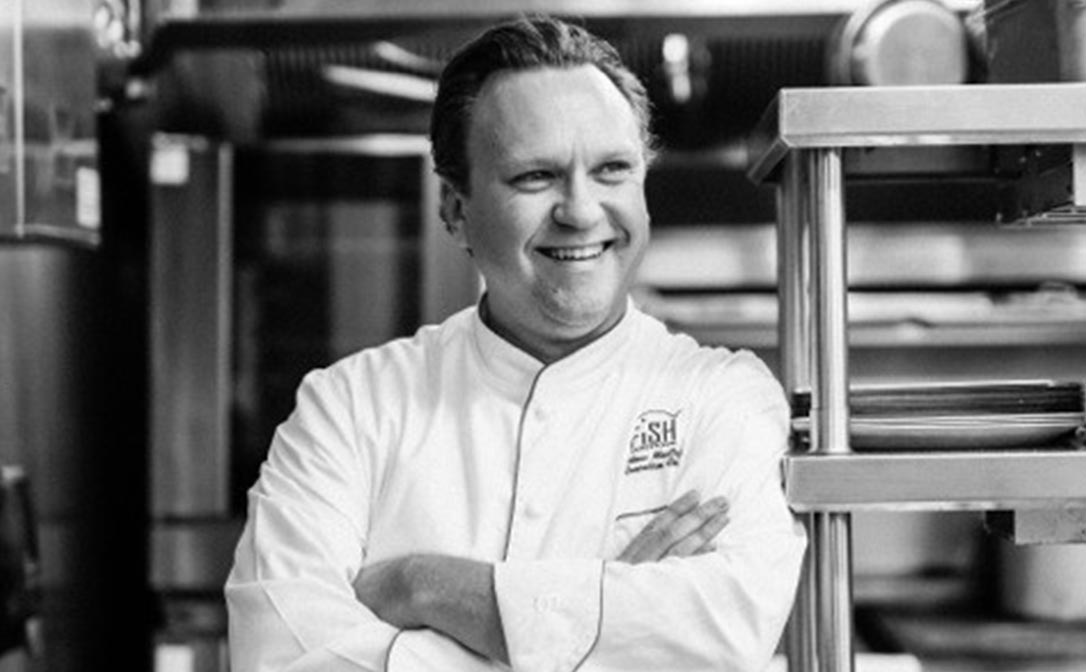 Matthew MacCartney DipWSET in the kitchen of Jamestown FiSH
Why did you decide to start your own venture, Jamestown FiSH?
In 2010 my future partners approached me with the notion of opening a restaurant in Jamestown, Rhode Island. It is a spectacular place to live and it gave me the chance to combine my kitchen experience and wine knowledge into one. I jumped at the chance.
As winner of Wine Enthusiast's 2018 Best Wine Restaurant list, what is your secret to curating a standout wine program?
Constantly tasting and keeping an open mind. I have been a buyer in three different states over 17 years. I have obviously tasted countless wines, travelled, met many winegrowers, importers and distributors and therefore have preferences which makes things slightly easier in terms of pedigree wines, but I am still amazed at how many wines are, "new to the market," which means I must taste, taste and taste some more.
I constantly taste to re-calibrate my palate to be certain that I am giving my customers a quality wine at a good value.
How do you decide which wines make your list?
I constantly taste to re-calibrate my palate to be certain that I am giving my customers a quality wine at a good value. Being close to two important wine markets, Boston and New York, I am fortunate to be presented with more wine than I can purchase, and I end up saying "no" more often than "yes". I have 600 selections on the list and there are probably five wines of equal value and quality in the market that could be in their place.
I pay attention to trends, but I only follow the ones that I believe in. I then have to consider whether I have enough customers that will enjoy the wines. For example, I may want to offer a few "naturally produced" wines. The flavour profile of these wines is not what most expect, so I have to be careful that the guest understands the wine before we pull the cork.
Have you noticed consumers becoming more knowledgeable about wine? How do you prepare your staff to cater to savvy guests?
Knowledge used to be in the hands of the sommelier or derived from books, classes, travel and tasting experience. These sources are all still relevant, but in the smartphone age the guest has a plethora of information available to them right at the table! I have one regular customer that immediately looks up every new bottle I serve so that he can read about what others say and catalogue it. On one occasion I served a bottle of Boca to a guest. They loved the wine and purchased 18 bottles online at a discounted price from a bottle shop in another state before having dessert!
As we are a seasonal restaurant, it is virtually impossible to teach the young summer staff about every single wine, but I try to arm them with generic information about stylistic differences between regions or flavour profiles of grape varietals. If a customer wants to dive deeper into conversation there is always myself or a sommelier on the floor to aid the guest in making a choice.
Learn more about Matthew MacCartney DipWSET's restaurant venture Jamestown FiSH here.