After 23 years in Supplier Relations at Kobrand in New York, Constance Savage has moved to Walla Walla to lead the team at award-winning winery, L'Ecole N°41. With a strong education and wide world-view aided by 11 years as USA representative on the VinExpo board, she tells us her hopes for the future of the winery, and industry.
As holder of a master's in marketing communications, MBA in international business and WSET Diploma, why did you decide to prioritise formal education for your career?
I have always felt that money spent on education is never wasted. Perhaps that's clichéd, but it's also true.
The studies for the WSET Diploma were gruelling, however it was made easier by the fact that I was (and continue to be) passionate about the subject matter. The more I learn about wine, the more I see the similarities and understand the distinctiveness between producing regions, choices in viticulture and vinification, industry evolution, etc.
After completing the Diploma, one year into the MW program, approved to sit for the exams, we found out we had our first child on the way, and I decided that I wouldn't be able to give 100% to learning all I wanted to about wine and honing my pallet. I instead decided to pursue the MBA, which (compared with the MW) I could practically do with my eyes closed.
Following 13 years as Director of Supplier Relation at Kobrand in New York, what made you move to Washington to manage L'Ecole N°41??
With 20+ years at Kobrand, I knew that I was essentially mid-way through my career, and if I ever wanted to make a change, it should be sooner rather than later.
I first visited Walla Walla in 2012, and immediately felt an affinity for the region – whether it was the size of the city, the climate, the topography of the land, the amount of "culture" in such an isolated place, or the warmth and hospitality with which many wineries received me – I knew that I'd be connected to the region in the future. L'Ecole N°41 struck me during my first trip. The winery's history as a pioneer in the region, combined with the consistent and reliable quality, the strong stake in estate vineyards and the "reserved" personality were extremely appealing to me. The Clubb family (owners) are major figures in this dynamic city, a role which they don't take lightly.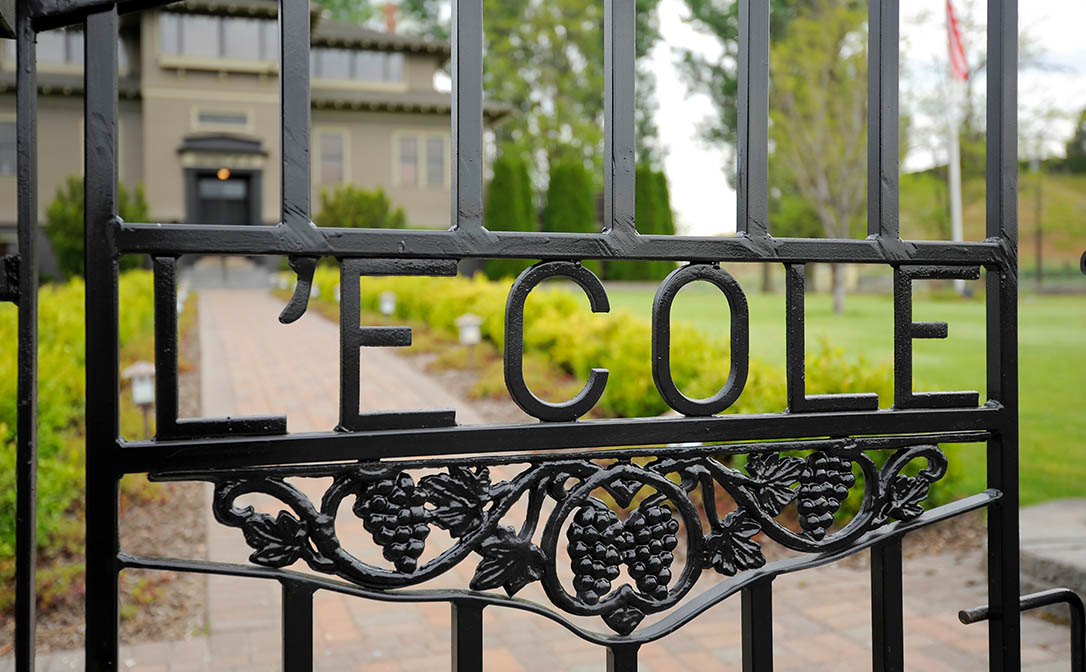 L'Ecole N°41 winery in Washington State, USA
What are your key aims for the future of the winery?
Our goal at L'Ecole is closely tied with being at the forefront of the growing recognition for the wines of Washington State. While we are nationally distributed, I see great opportunity to continue to expand business outside of the state.
Washington is very little understood in export markets, but this will also change in time. The Asian markets are a step ahead of Europe in grasping the potential for Washington State wines. L'Ecole's reputation for consistent quality puts us in a good position to further diversify our sales beyond the US.
On site, our team is amazing, and I am fortunate to step into a company that has been excellently run under the leadership of outgoing General Manager, Debbie Frol. Her attention to detail and professionalism put L'Ecole in a position to have developed excellent talent. My aim for the future is to perhaps bring a broader point of view, including my understanding of the national market. Likewise, I feel that we could benefit from studying the great wines of the world with more determination.
Thanks to my time with Kobrand, my relationships will allow us to confer with some of the most talented producers of the world.
What have you observed to be the most notable changes over your time in the industry?
I have seen changes for the better and worse over the past 20 years. On the collector side, it has become increasingly difficult to jump into wine for pleasure. Hedge funds organised to collect wines for the pure purpose of investing means that wines which were within reach (even if expensive) 20 years ago, have been driven up market and now are stratospheric. This escalation of prices has been exacerbated due to increasing demand from newer markets.
On the bright side, there is more great wine produced than ever thanks to both technology and an overall higher level of understanding and education across the globe. As a consumer, it is an excellent time to explore new varietals or new countries or appellations of origin.
I have always felt that money spent on education is never wasted. Perhaps that's clichéd, but it's also true.
What changes would you most like to see?
I would love to see people drinking their best wines, not collecting them purely for ego or investment.
I would also love to see increasing exchange of ideas and know-how across producing regions. I recently learned about an annual event organised by the Walla Walla Valley Wine Association: "Celebrate!", focused each year on a key varietal. My hope is to help them attract top producers to come to our magical valley, and to thereby seed the local producers with some unexpected or fresh ideas.
Enotourism has been steadily growing since the late 90s, and I would love this to continue. It is through hands-on experiences that new consumers get a fast track to expertise.
Finally, I would love to see consumers be more open-minded beyond their traditional "safe" categories. In my mind, consumers would profit greatly by embracing adventure, drinking across countries of origin, price points and varietals more readily.
Learn more about Constance Savage DipWSET at L'Ecole N°41 here.