Fortunately for all of us, wine is a product that's perfectly suited to holiday gift-giving. However, when choosing a gift for the wine enthusiast in your life, you may feel unsure of what to buy.
Sometimes buying wine can be intimidating, but if you are planning to gift a bottle or two this year, here are a few suggestions from the wine buying team at our flagship school, WSET School London.
The classics: With the upcoming celebrations, Champagne or another 'traditional-method' sparkling wine is sure to be greeted with a smile, though you could go for a Prosecco if they tend to prefer fruitier wines. Pinot Noir, perhaps from Burgundy or the USA, makes an elegant red wine pairing with festive meals. If you're leaning towards white, you could go for a powerful Meursault from Burgundy or a more delicate Soave from the Veneto in Italy.
The eccentric: Trying new wines can be exciting and fun, so why not go for an orange wine, a natural wine or an offbeat grape variety. Ask at your nearest wine shop what they have that's new or different – this can be a great way to explore new wines and can make for an interesting gift for your friend or loved one.
If you really want to wow your wine enthusiast friends and family and go the extra mile, below are some gifting ideas that are sure to please:
1. Read all about it
There are many great wine books out there, and it's possible that your wine enthusiast already owns a few. They range from richly detailed and scientific to the more irreverent and humorous. Here are a couple of our recommendations:
For the curious but as yet uninitiated oenophile (wine connoisseur), try 24 Hour Wine Expert by Jancis Robinson MW. A small book by one of the wine world's most well-respected writers, this is a fantastic foundation from which to start learning more about wine.
For those interested in the process of making wine, Understanding Wine Technology: The Science of Wine Explained by David Bird MW is technical without being dry and will appeal to those with a solid science knowledge base as well as those without.
For the burgeoning wine expert, Vines & Vinification by Sally Easton MW, commissioned by WSET as a companion to the Level 4 Diploma in Wines, is a comprehensive and in-depth reference text examining all aspects of wine production. It's ideal for the wine lover whose passion may lead them to higher-level wine courses.
For avid tasters, why not give them a wine journal? There are many different sizes and layouts available, and they could use it to keep track of all the wines they try.
2. Wine accessories
Decanters: Let's face it, they're just classy. Not only do they look good, but they serve the purpose of mellowing a bold red wine or bringing a wine from the cellar closer to room temperature. These days they come in all different shapes and sizes, some classic and others more experimental. If your wine enthusiast has a second hobby or interest you know of, you may even be able to find a decanter that pays homage to it.
Wine openers and/or preservers: This makes a very practical and thoughtful gift. In terms of wine openers, maybe they would enjoy an upgrade from the classic waiter's key to a more mechanised one or one with a lever. They vary in style and price and some, such as Coravin, can act as both an opener and a preservation system. If you don't have a huge budget, a vacuum pump wine saver is an effective and relatively inexpensive way to keep wine fresher for longer.
Visit our Where to Study page to find the right course provider for the wine lover in your life. With courses ranging from beginner to expert level, online and in-classroom, you're bound to find the perfect gift.
3. Journey to the vines
It is a fact universally acknowledged that people grow vines in beautiful places. This means that a visit to a vineyard can be a wonderful holiday destination in addition to an educational one. Around the world there are opportunities to visit local vineyards or wineries where you can take a tour, meet the winemaker and get a real sense of what goes into each bottle.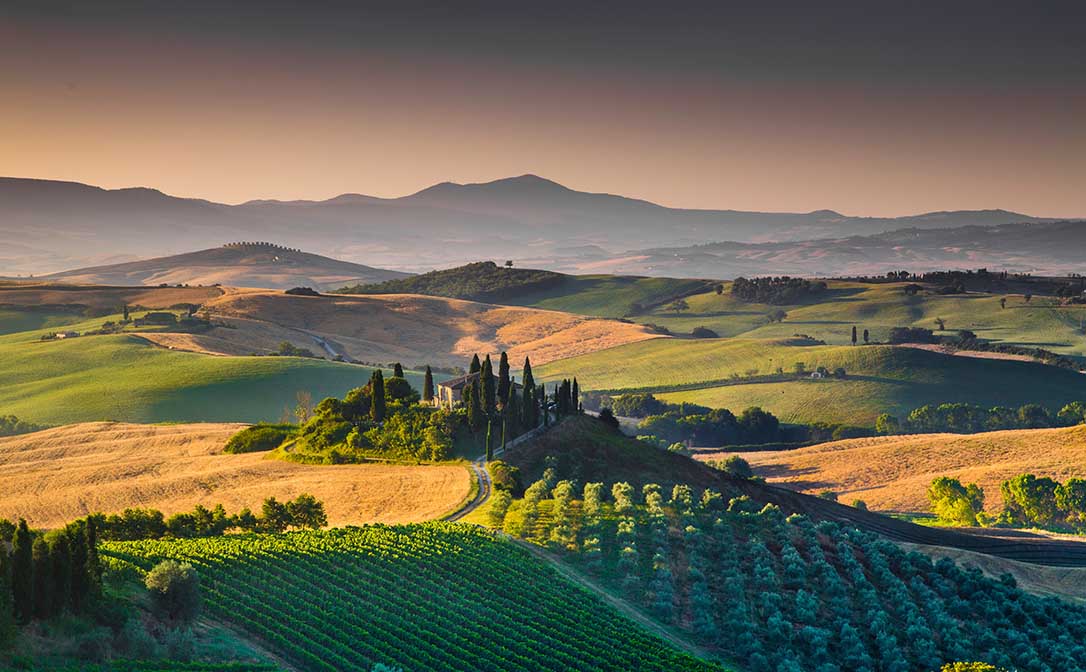 Val D'Orcia, Tuscany
This is a gift that your wine enthusiast is sure to treasure, whether it's visiting a winery near your home or jetting off to Tuscany. Many wineries also have their own wine clubs - a membership to your loved one's favourite could be a wonderful idea too!
4. The gift of knowledge
Every wine enthusiast knows that there is always more to learn when it comes to wine. From the history and traditions, the language and eccentricities, to the technological innovations and artistic expressions, the educational possibilities in wine are rich and evolving.
Here at WSET, we provide qualifications ranging in complexity from beginner to advanced which are suited to professionals and hobbyists alike. Signing up your friend or loved one for a course is a great way to show you care, and could even be a wonderful experience for you to share! The knowledge they gain will stay with them forever and they'll never forget the gift you gave them this festive season!
Written by Mackenzie Perer, Resources Manager, WSET School London