Now we've got to grips with the common features of wine labels, we'll take a close look at two examples, using the information they offer to help us predict how the wines will taste.
(If you missed part one of our guide, click here)
Note: we've created these labels for demonstrative purposes.
1. Brand/Producer name: Château Joseph
2. Wine name: Vouvray Demi-Sec
3. Geographical Indication: Vouvray AOC (Appellation Vouvray Contrôlée). Vouvray is a wine region in the Loire Valley in the north of France. Due to its latitude, it has a cool climate.
(In this case, the grape variety isn't stated on the label, but a little research tells us that Vouvray AOC is made from the Chenin Blanc grape. In a cool climate like this, Chenin Blanc typically produces wines with high acidity and flavours of apple and lemon.) 
4. Vintage: 2014 - this wine has been ageing for a few years. Over time, Chenin Blanc can gain flavours of honey and dried fruit in the bottle.
5. Other terms: 'Demi-sec' - as we discovered in part one, this term means 'half dry' in French, so you can expect some sweetness in this wine.
Piecing all these clues together, we can expect this to be an off-dry or medium sweet wine with high acidity and flavours of lemon, apple and honey.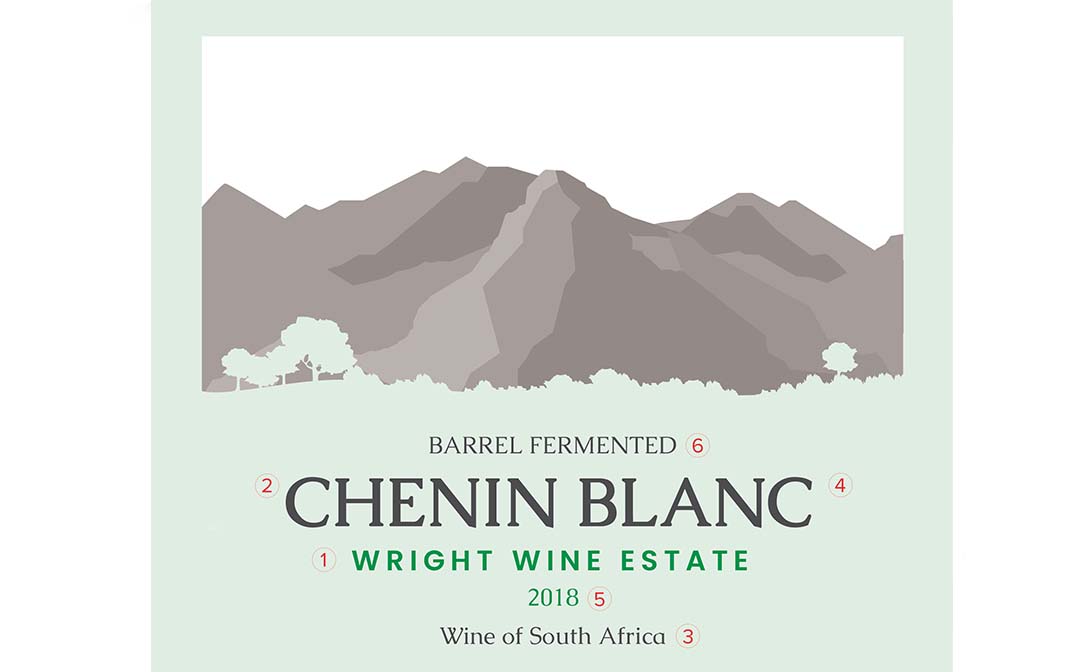 1. Brand/Producer name: Wright Wine Estate
2. Wine Name: Barrel Fermented Chenin Blanc
3. Geographical Indication: Wine of South Africa. As you can imagine, most of South Africa's vineyards experience a warm and sunny climate.
4. Grape Variety: This wine is also made from Chenin Blanc - this time it's clearly stated on the label. In a warm, sunny climate, Chenin Blanc retains high acidity and typically produces wines with ripe tropical fruit flavours like pineapple and mango. Most South African Chenin Blanc is made in a dry style.
5. Vintage: 2018 - this is quite a young wine and will most likely taste fresh and fruity, with few if any flavours from maturation.
6. Other terms: 'Barrel Fermented' - this tells us that the wine was fermented in oak barrels. We can expect the oak to have given flavours of smoke and spices to the wine.
Piecing all these clues together, we can expect this to be a dry wine with high acidity and ripe flavours of tropical fruit (mango, pineapple) and spicy, smoky aromas from oak.
As you can see, a little wine knowledge and some basic wine vocabulary go a long way when it comes to reading wine labels. Our Level 2 Award in Wines course offers great insight into the major grape varieties and wine regions of the world and introduces many more useful wine labelling terms that will have you selecting wine bottles with confidence.
Looking for more guidance on the common types and styles of wine? Read our guide here.